I can't tell you how many of you are going to love this week's new feature.
I am happy to announce that CaterZen now has an Option for an Option!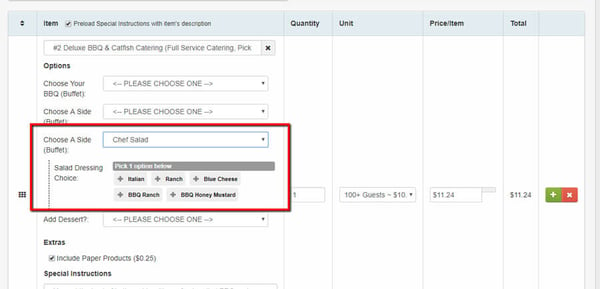 What is an Option for an Option? Here's an example: A customer has ordered the #2 Deluxe BBQ & Catfish Catering. The customer will get a side choice with their order. There are 9 side choices and one is a Chef Salad. In the past there would have also been another option for the Salad Dressing choice. Even if the client did not order the Chef Salad, they would still have to select from the Salad Dressing Choice option (they would have selected No Thanks).
Well not anymore! Now if the customer chooses the Chef Salad then another drop down box will automatically appear for the Salad Dressing choices once selected. If the customer does not choose the Chef Salad then the Salad Dressing choice will not be a drop down that the customer will need to select.
Below is a video on how to turn this new option feature on:
Here is the article for step-by-step instructions as well.
We hope that this new feature will make the ordering process easier for you and your customers.