There is a saying I have: "All customers are created equally, but some are more equal than others."
If we are assessing my statement through a black and white lens, then what I am espousing is totally wrong.
Like life itself, most things are rarely black and white; rather shades of gray.
Customer Service, Designed for Each Customer
One of my biggest challenges in years of owning different companies is coaching my team on the nuances, shades of gray if you will, of issues that arise. Most of your team members want rules. If X happens, then apply rule Y to it.
We both know that's not how it works. Rules serve as a starting point and common sense should guide you in the right direction.
As I split time between Nashville and 30A, I use a mail service that scans all of my mail and emails it to me. No longer do I have to worry about what gets sent where.
Last fall I bought a new vehicle. Like I have done for the past eleven years, I instructed my insurer Geico to set me up on auto-pay.
I get a lot of mail from Geico and mostly ignore it as my insurance cards are on their app.
To my surprise on a drive back to Nashville, I decide to actually read one of my Geico notices and discover I am driving my car with no insurance. Can you imagine the pit in my stomach?
So I called Geico to explain the situation: I asked to be put on auto-pay. Never got a notice. Please reinstate me and backdate it.
Nope. They can't do that.
I got elevated to a supervisor. Same spiel.
I explained that I have been a customer for eleven years. Never missed a payment. Obviously, I am no deadbeat. I urged the supervisor to go listen to the call.
She goes to pull up the call and it's not there. But since the agent has no notes on auto-pay setup, I am offered an opportunity to get insurance for an extra $300 a period.
So a 60% increase and a ding on my record, because of their error... and not seeing me as a valuable client for the last eleven years.
Let's not forget the lifetime value of my business, my kids' business, and my referrals.
The supervisor should have applied some common sense to this situation.
To spare you the details besides being pissed and ready to trash Geico, I decided to call back a few days later and speak to the supervisor's manager.
Totally different experience. Apologetic. Super nice. Reinstated me to the original renewal date at the original price. Explained that they were working to teach their team to better handle these "shades of gray" situations.
With all that said, what's your strategy to coach your team to be "shades of gray" experts?
I would love to hear from you in the comments, and maybe I'll share the best responses in a future post.
Get a 360-Degree View of Customers in a Robust Catering CRM
But in the meantime, I want to highlight a CaterZen feature that will allow you and your team to know which catering clients should be treated a little more "equally".
We call it the "Details View". It is available in your CaterZen CRM, but more importantly in the order entry interface.
When a client calls and you type in their name in the Order Entry screen, you can choose to have the Details View automatically appear or click for it to appear. (See Details View below).

Emotions play a large part in buying decisions. All things being equal, we choose to work with people we connect with; those we know, like, and trust.
Whether you have hundreds or thousands of clients, having some "inside information" allows you to connect in a way most of your clients can't.
With our Details View, you instantly see the big picture of the client's value.
Let me highlight a few things:
1. Client Catering Sales Info at Your Fingertips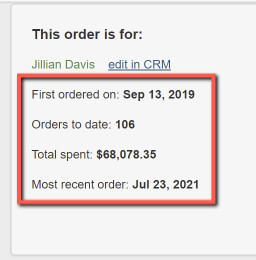 If you'll notice the left side of Details View, you get a quick stats view of your client:
First Order Date
Total Number of Orders
Total Dollars Spent
Last Order
This would be virtually impossible to track manually.


As my background is direct marketing and sales, I understand everything in business is marketing. So we developed CaterZen to give you every and any sales and marketing advantage possible.

I promise your competitors don't know this valuable information about their clients.

With your coaching, when a special request arises, your black and white employees will understand which ones to ignore, which ones to grant, and which ones to run by you.

You may not sell watermelon slices, but for a client that has spent over $68,000 in the last two years, you'll make a run to the grocery store to accommodate them and lock in their loyalty.

The same can be applied to issues that arise. Whether from the order entry screen or the CRM, you have some inside information that will be invaluable.
2. Highlighted Client Notes Give You Superpowers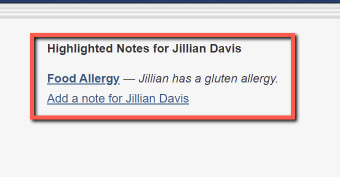 We built Highlighted Client Notes into the CRM and Details View. This feature alone will make you look like a hero! We allow you to keep up to five highlighted notes in this view.
Let's discuss some ideas to monetize this feature:
Food Allergies/Special Needs: Whether the client always needs some gluten-free options or always needs to have the invoice sent in advance, you have that at your fingertips. You look like a genius when you remind them to not forget the gluten-free meals.
Previous Issues: As hard as we try to not drop the ball, stuff happens. Imagine you accidentally forgot the forks on an order. Your client calls to let you know. They have forks at their office, so don't make a big deal out of it, but it's a big deal to you. You apologize profusely and let them know dessert's on you for the next order. Most clients ignore what you say, as they really aren't worried about it. But the next time they call you to order, you let them know dessert is on you because of the missing forks on the last order. This takes you from provider of food to trusted vendor that makes their life easier... someone they can count on to make their job easier.
Personal Notes: Whether you want to catalog that your client's son is an all-star little leaguer or their hobby is quilting, nothing makes someone feel more important than asking about their family or interests. A few minutes of getting personal pays off in high dividends.
3. View and Update Client Info Easily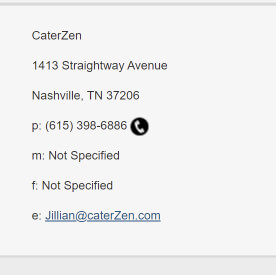 The Details View allows you to see, verify and edit (if need be) client information like address, phone, and email.... all within the Order Entry section.
This streamlines customer interactions.
In the grand scheme of CaterZen's catering software features, this is minute, but in the grand scheme of being the only catering software company that gives you over twenty tools to grow sales, it's huge!
You can get started today and see the benefit right away, as you start adding your clients and prospects to our CRM, and seeing how it connects to our sales, operations and marketing tools.
Sign up for a free trial, or schedule a personalized product walkthrough, where we'll help you get set up and see where your specific business can benefit from our tools and systems.