If we all bought just what we needed, we'd all drive Yugos, never go out to eat, live in small houses and attend public school.
We are a country of "want". Our kids want, want, want more than their parent's generation. This want is disguised under the whines of, "I need an iPhone. All my friends have one," and other assorted pleas used to play on the sympathy of dual income families and divorced parents.
Our "want" culture fuels our economy. I am no exception.
I love my iPhone. Yes. I don't need it, but sure want it. While doing chores around the house or while exercising, I plug in my headphones and listen to podcasts. The headphones that came with the phone suck. They were always popping out of my ears.
So I went to the Apple Store and bought a set that have a piece of plastic that fits around your ears. This makes it very difficult for them to fall off. Leave it to me. I figured out how to get them to fall off. The long cord will catch on something and cause them to fall off.
Though frustrating, this was a much better solution than sticking with Apple's headphones.
Last week I noticed the headphone controls stopped working. I could no longer push a button to adjust volume, turn off the sound or make calls with my pal Siri.
Off to the Apple Store I went to by a replacement. What I bought was not what I needed, it was what I wanted. Instead of buying another behind the ear corded headset, I fell in love with a Bluetooth cordless set of headphones.
I'm not talking any set. These were Dr. Dre Beats. As much as I am into function, aesthetics do play a role in my decision making process. I love anything in the color black.
This headset looked like a piece of art. It was cool looking. I was ready to ditch the nerd looking cord for a cool headset.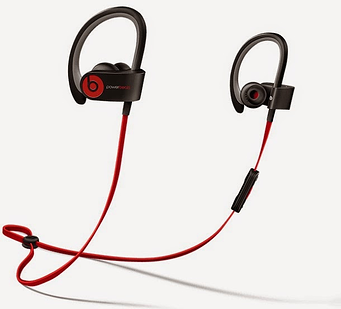 But two hundred dollars? That's a lot of dough to listen to podcasts. I wasn't sure, but the salesperson knew how to hook me.
Just like a drug dealer, she gave me a free sample of the goods. She offered to open up the box and let me try them out. I slipped them into my ears, paired the headphones with my iPhone and threw on some songs from iTunes.
The songs sounded incredible! I even had my girlfriend call me from across the store to evaluate the quality of the conversation from my soon to be new toy. She gave me a thumbs up, but wanted to give me a hard time about spending two hundred bucks on a pair of headphones…
That was until she tried them out. I think she wanted them for herself. She was impressed with the quality and comfort.
I ended up buying what I wanted; not needed. There. I said it.
Over and over again we buy what we want.
Your catering clients or potential catering clients are no different. They buy what they want to buy. It's called emotional logic. They buy based on emotion, but justify with logic.
It's your job to create the "want" in your clients.
Sampling is a very basic way to create "want". If I taste the carved roast beef and the filet side by side, I'm going for the filet. I just need to justify how I'm going to pay for it.
What about ego, envy and keeping up with the Joneses?
There are basic emotional drivers that help create want.
How will this make you look like to your clients or prospective clients?
How will this make you feel, when all of your relatives are ooing and ahhing over this meal?
When it comes to food, I do the same thing.
A few weeks ago, my girlfriend's sister was in town from Alaska. We had about eight people over for a last minute simple dinner.
I threw together baked penne pasta and garlic bread. As my identity is tied to my culinary skills, I wasn't going to run to Costco and pick up a Stouffer's lasagna.
I use Barilla pasta and San Marzano tomatoes. I pull the core from each tomato and crush them by hand. My garlic bread is grilled outside. A simple meal is never simple for me.
What are you going to change in your sales and marketing approach to turn your catering client's needs into wants? The real money is made in selling the "want".
NOTE: Podcast progress report. I am going to move forward with creating a podcast. I now need your help in coming up with a title. I would like the following key words in the title: restaurant, catering and business. As my company sells catering software to the restaurant and catering industry, I need a title that will be easy to find with a key word search. So if someone is looking for a podcast with the term "restaurant business" or "catering business", I want my podcast title to come up.
Any and all suggestions would be appreciated.
Well That's All For This Issue!
Michael Attias
Restaurant Catering Software
P.S. – If you need help growing catering sales, then please go to www.RestaurantCateringSoftware.com and download my free eBook: Cater or Die!
P.P.S. – I make a limited number of time slots available each week for a free Catering Strategy Session with me. (You also get a catering menu critique and free analysis of your website for "Catering Effectiveness"). For complete details and to grab one of the limited spots, please go to:
http://www.restaurantcateringsoftware.com/catering-planning-strategy-session
P.P.S. – Anyone wishing to reprint my articles may do so. Please email me for the bi-line to use for proper author's credits.