When I was in seventh grade, my buddies and I loved roller derby. It came on every Sunday night and was the equivalent of wrestling on skates. The Fabulous Thunderbirds were the star team.
Nothing was better than watching someone get whipped around the track to be met with an elbow drop.
My girlfriend Denise's uncle is an attorney here in Nashville. One of the gals at the courthouse plays for the Nashville Roller Girls. She goes by the name of E. Lemonator. Considering she took up the sport less than a year ago, she is a really good jammer. I had my picture taken with her for this blog post.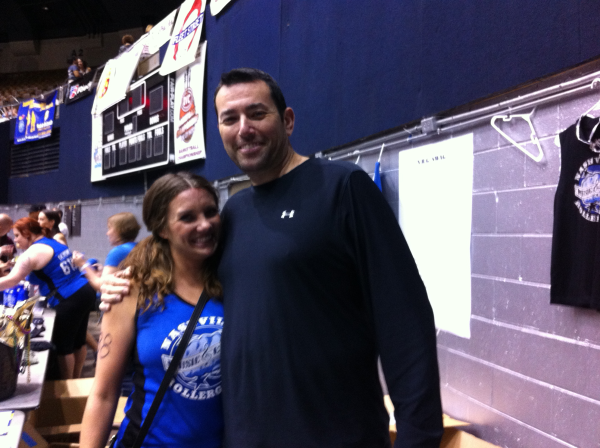 Roller derby is played on an oval track with five players per team on the track per heat. Each team has a jammer and four blockers. The jammers start out behind the blockers. When the whistle blows, each jammer is trying to skate through the pack of blockers. The blockers try to prevent the opposing jammer from getting through.
The first jammer to break through is called the lead jammer. She can call off the heat at any time.
Usually the lead jammer works her way back around the track and through the pack, picking up a point for each opposing team member she passes. If it looks like the opposing jammer is about to come back around, she'll usually call off the heat. That way her opponent won't accumulate any points.
A few times we saw the blockers do such a good job, their jammer was able to circle three or four times, racking up tons of points. If one of the jammers gets ends up in the penalty box, the other has free reign to really earn points.
There is a marketing point to this roller derby story. When you are first starting out marketing your catering, it takes a lot of maneuvering and effort to cut through the clutter to become the lead "jammer" in your market place; cookie drops, four walls marketing, Chamber functions and direct mail.
Then something happens. You pass one opponent (get one catering job), then another, then another…
Before you know it, all the hard work and practice pays off.
Just like a lead jammer with an open track, you have catering momentum in your market place. You can start to put some of your marketing efforts on auto-pilot.
I have always loved action sports. That's probably why roller derby still fascinates me as an adult. OK. Maybe the cute roller derby girls enhance the experience.
Sales and marketing are the action sports of business. It's where you can really make things happen.
Now go put on your skates
Well That's All For This Issue!
Michael Attias
Restaurant Catering Software
P.S. – If you need help growing catering sales, then please go to www.RestaurantCateringSoftware.com and download my free eBook: Cater or Die!
P.P.S. – I make a limited number of time slots available each week for a free Catering Strategy Session with me. For complete details and to grab one of the limited spots, please go to:
http://www.restaurantcateringsoftware.com/catering-planning-strategy-session