Late last night I flew in from a mastermind meeting in Buffalo. Three times a year I meet with some of the sharpest marketing minds who get "our type of marketing".
After two days of analyzing each other's businesses, I was physically exhausted. But I literally jumped out of bed at 5:30 this morning to get working.
There are so many large and small details to marketing, selling and growing your catering business.
Nothing can happen unless you have a great catering menu. Lately, my schedule has been swamped with Catering Menu Engineering sessions for new clients. I have three booked today.
If you were to ask my designer the biggest problem she encounters, she'd tell you it is the quality of the graphics they provide. Often, logos are too small to use.
Color food pics, if they have them, are low resolution. She does the best she can, but nothing beats high quality images. Believe me. Your customers and prospects can tell.
After doing some research, we decided to invest in a subscription to www.ThinkStock.com to help our members. Think Stock is owned by Getty Images and provides an almost unlimited searchable database of images. We can use these images for designing our client menus, table tents, washroom signs and other marketing pieces. (See sample image below)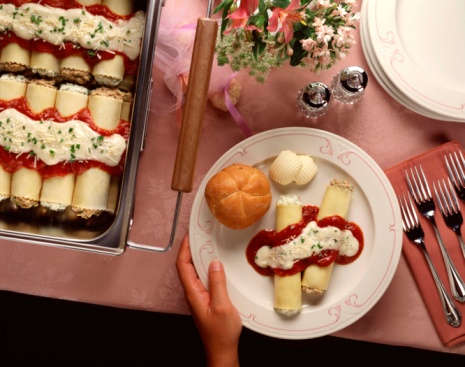 A few months ago I interviewed Nick D'Antona for the Profit Points Interview series (MP3 available at our member's only site, www.RestaurantProfitPoint.com)). He is an incredible photographer and produced some of the best food shots I've seen for his brother Frank, member and owner of Cantina Mama Lucia.
If a guy like Nick is out of your budget, using the images on Think Stock is a great way to go. Though the subscription may be out of your reach, you can license individual images. Of course, our clients get free access to the images for the projects we create.
However you choose to get your images, make sure the picture represents you well. Nothing will turn off a prospective client quicker than cheap!
Well That's All For This Issue!
Michael Attias
Restaurant Catering Software
P.S. – If you need help growing catering sales, then please go to www.RestaurantCateringSoftware.com and download my free eBook: Cater or Die!
P.P.S. – I make a limited number of time slots available each week for a free Catering Strategy Session with me. For complete details and to grab one of the limited spots, please go to:
http://www.restaurantcateringsoftware.com/catering-planning-strategy-session