Though Napoleon Hill coined the term "Mastermind Group" in his classic book, Think and Grow Rich, many successful business owners have chosen to utilize this timeless principle. The theory is to surround yourself with a trusted group of peers/advisors to help you grow your business, like our RCS Monthly Group Coaching Call.
Locally, I've been part of the Chamber's CEO Roundtable. We meet once a month for breakfast and take turns sharing what's going on in our business. This group contains some very high achieving, successful business owners. Because we all bring a different skill set and point of view to the table, each of our challenges receives the benefit of multiple sets of eyes.
They also happen to be a great group with which to socialize. Some of them come to my monthly Texas Hold 'Em game. Though I never win, it's an excuse to cook for and hang out with my buddies.
Any way, last week was my turn to host the meeting. I Googled "Breakfast Catering Nashville" and started clicking on the top results. I knew I didn't want to get the typical bagels or breakfast sandwiches.
I recently lost some weight, and am making a lifestyle change to avoid the bad carbs and sugars…except for an occasional glass of red. (See before and after weight loss pics below).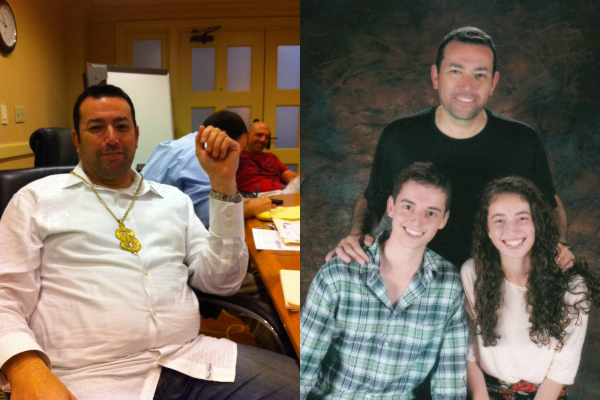 There is a small café near my home that offered a great breakfast package with scrambled eggs, sausage, bacon, fruit, biscuits and mini blueberry muffins with butter and jam.
The food was presented in aluminum pans. Each pan was lined with a nice, patterned paper napkin. They then put a layer of plastic wrap to keep the food from coming in contact with the napkin.
For this particular event, I wanted the presentation to look a little nicer. I pulled out a chaffing dish and some serving pieces from my collection. (Below is a shot of the breakfast after I fixed it up a bit).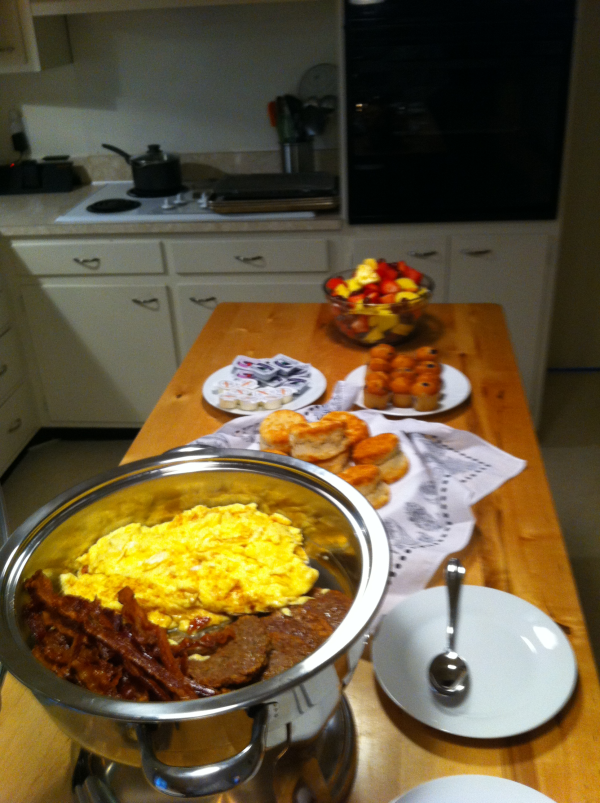 Now did the restaurant do anything wrong? No. Not exactly.
I would have put the fruit in a black plastic disposable catering bowl and the muffins and biscuits should have been on a platter. That would have left one aluminum pan for the eggs and meat.
On a side note, the jelly was your run of the mill, no name plastic single serve portion with peel back foil top. The butter was actually a butter like spread.
If you are going to provide condiments, use brands people know, like and trust. I would have used Smucker's at a bare minimum. If you are commanding a premium price, invest in those mini jam jars. And absolutely, always use real butter. Fake butter screams CHEAP!
Since I spend more time on the "restaurant" side of the catering equation, it was eye opening to be the consumer. I guess I need to cater in more events for "R&D". Party anyone?
My advice to you is to ask about the event. Provide a level of service and packaging commensurate with what the client needs.
Level 1: Basic Disposable Packaging. Keep in mind consumers have their sights set higher. If you examine some of the chains making a big impact with catering, they've all raised the bar on the "look" of their packaging. We do eat with our eyes.
Level 2: Drop Off Serving Pieces: This can range from chaffing dishes to real serving bowls. Don't be scared to make it available at a premium price. After all, they're getting use of your nicer pieces, as well as, delivery and pick up of the items. For catering clients meeting certain monthly minimums, you may wish to keep some nice pieces permanently on loan to them. This way your delivery driver can access the pieces and fill them with food from disposable pans.
Level 3: Full Service. This involves all of the nicer table pieces with set up, serving and clean up of the buffet area. This will go for the most premium price.
Regardless of which route you choose, it takes very little to raise your game. Packaging is just on of the many non-marketing, marketing tools at your disposal. Be sure and ask each catering client to paint you a picture of what they need.
Well That's All For This Issue!
Michael Attias
Restaurant Catering Software
P.S. – If you need help growing catering sales, then please go to www.RestaurantCateringSoftware.com and download my free eBook: Cater or Die!
P.P.S. – I make a limited number of time slots available each week for a free Catering Strategy Session with me. For complete details and to grab one of the limited spots, please go to:
http://www.restaurantcateringsoftware.com/catering-planning-strategy-session