I set an alarm just about every night to make sure I'm out of bed in time for whatever the day holds. I find it interesting that most of the time I awake just before the iPhone alarm goes off. I'm guessing my subconscious mind is watching my clock as I get some sleep.
Yesterday was no different. I needed to be up, showered and out the door before six am for a half day of consulting/training with clients Jennifer and Skip, owner of Pie Slingers. On the way out of town, I pulled over to fill up.
As I was pumping gas, my attention was grabbed by the make shift sign on the pump. (See image below).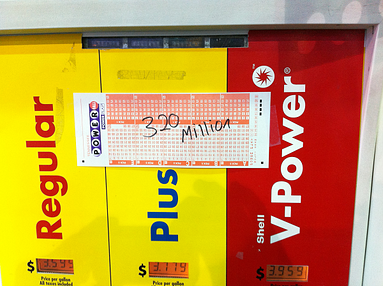 For the last three days I was meaning to get a Power Ball lottery ticket. After all, $340 million is enough to change my life. But for whatever reason, I kept forgetting to grab a simple two dollar ticket.
This make shift sign forced me to stop what I was doing, run to the counter and get one ticket. As I discovered this morning, I had a losing ticket. Hey. I play just for the dream. With my odds of winning at 170 million to one, I'm better off focusing on helping you make more money.
Do you have signs in your restaurant promoting catering, take-out, gift certificates, menu specials, events, party rooms, etc? If not, why.
A sign is very inexpensive. They come in many forms: signs, banners, table tents and washroom signs to name a few.
You can rotate them in and out depending on the promotion and reuse them next year.
I guarantee some well placed; well crafted signs will make you more money than playing the Power Ball. Believe me. I know.
Well That's All For This Issue!
Michael Attias
Restaurant Catering Software
P.S. – If you need help growing catering sales, then please go to www.RestaurantCateringSoftware.com and download my free eBook: Cater or Die!
P.P.S. – I make a limited number of time slots available each week for a free Catering Strategy Session with me. For complete details and to grab one of the limited spots, please go to:
http://www.restaurantcateringsoftware.com/catering-planning-strategy-session