Every woman is talking about Fifty Shades of Grey. To the guys reading, without going into great detail, this book is half romance and half smutty novel about a man named Christian Grey and the multiple layers of his complex psyche. Thus, fifty shades of Grey.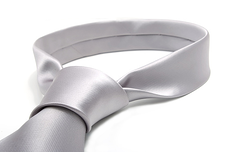 Some people can only operate from a black and white play book. If A problem presents itself, you must do B. Using solution C, D or dare we make it to Z would cause these people panic attacks. Yesterday I had the displeasure of walking into a black and white company, Jo Ann Fabric & Crafts store.
I needed a flower vase for an arrangement I was creating for a dinner party hostess. I also offered to help a lady friend of mine reupholster a cushion for her bench, so I needed some upholstery foam.
When I walked back to the upholstery department with my bench top, I asked a saleswoman for help with a cushion. She pointed to three o'clock to show me where to find them. I told her that I needed some help.
She escorted me over and showed me a few different thicknesses. I settled on a two inch cushion, but needed her to cut it to size. I was politely told, "We only make one cut. It's against store policy."
When I asked how best to cut it myself, I was told to use an electric knife. Now, this volunteer project was going to involve me purchasing an electric knife for one cut. I could then send it to Goodwill.
I can understand not wanting to custom cut foam all day long. The lady in front of me was refinishing six chairs. This was one extra cut, maybe two feet at the longest. It would have saved me the cost of an electric knife.
I asked nicely, used logic and a little bit of charm to no avail, "I'm sorry. That's our policy. I can get in trouble."
Fine. I didn't want this woman to lose her job. I requested to speak to a manager. Three times she radioed the manager on duty, who was stuck working the register. Finally, he told her to tell me, "That's our policy."
Maybe they knew I wasn't a member of the Martha Stewart Fan Club, so I wouldn't be a regular coming back.
I guess they don't know I control a blog with almost ten thousand subscribers. I don't say that to be a shit, but to point out the problem with making people check their common sense at the door.
It was one lousy cut. The knife was out for the free cut. I told them I was even willing to pay for the cut.
To make matters worse, there was no suggestive selling. Let's see. Mr. Tall, Dark and Clueless walks in asking about cushioning a bench. She didn't ask me if I needed tacks or a staple gun. When I asked her about staple guns, I received an outstretched hand "point". I insisted she walk me back there.
Reluctantly, she did. She reached for the cheapest staple gun. I saw one twice as expensive below it. I asked her if that was the best staple gun they had. It was, so I asked for that one. I asked her if the staples included with the gun were enough.
She told me to get an extra pack. I was doing this woman's job. We do not have a recession. We do not have a problem with our business. We have a problem with people doing their job well.
I ended up leaving and going to three stores to find an electric knife to no avail. And yes, I know I could have used a razor knife, but I wanted a cleaner, simpler cut.
I guess the upholstery gods ended up smiling down on me. My retired neighbor Suzanne was out front when I drove up. I asked if she had an electric knife.
When she found out what my project was, she invited me in and lent me an arsenal of tools from a fabric stretcher to upholstery sheers. She even offered to let me use her magnetic tack hammer.
So while the board of directors at Jo Ann's are wondering why they won't make their numbers this quarter, little ole Michael Attias knows they easily left forty bucks on the table by not educating me on the tools I may need and not making one cut!
When I owned my restaurant, my team and I developed policies and procedures. We were constantly faced with situations that questioned them, usually by our customers.
My policy was to follow the policy, but let your common sense dictate your decision. For instance, as a rule we would not accept expired coupons. Now what do you do when your best catering client presents an out of date coupon? You accept them.
Friend, unless you work for the government or it's a life or death situation, your business will be filled with "gray" decisions. Embrace them. Teach your team how to make good, common sense decisions. It's what will make ordering catering from you a no brainer.
No one likes road blocks. If at all possible, work to find win/win solutions. This shift in attitudes is a tremendous competitive advantage.
Remember, the answer is yes. What's the question?
Well That's All For This Issue!
Michael Attias
Restaurant Catering Software
P.S. – If you need help growing catering sales, then please go to www.RestaurantCateringSoftware.com and download my free eBook: Cater or Die!
P.P.S. – I make a limited number of time slots available each week for a free Catering Strategy Session with me. For complete details and to grab one of the limited spots, please go to:
http://www.restaurantcateringsoftware.com/catering-planning-strategy-session