Thanksgiving has always been my favorite holiday. It's not about religion or gift giving. It's dedicated to family, food and for being thankful for everything in our lives.
On a broad scale, I am thankful for finding catering. It turned owning a job into a business while at Corky's.
I started my path of speaking, publishing and consulting with restaurant marketing. An invitation to a restaurant marketing boot camp led to a simple question that has truly changed my life, "My members are asking me about catering. Can you put together a presentation and manual about that?"
I rushed to take my real life lessons and create what has been known as The Catering Magic System back in 2003. That three-ring manual led to many things including RCS.
Many of you have to be thankful for catering. I personally know members who have transformed their restaurants and lives through extra catering profits.
What else do you have to be thankful for?
I have a wonderful staff and incredible kids. Last week I attended a sports banquet for my daughter Jordyn. (By the way, how many sports banquets did you cater this fall?)
Though not the fastest cross country runner on her team, she made great improvements in her time and always has a great attitude. She was awarded the Coach's Award.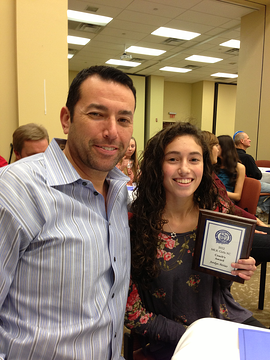 My son Jerrod's Model United Nations team had their resolution passed by the greatest majority during the competition.
Frankly, I don't care if my kids become doctors, lawyers or plumbers. I just want them to wake up each day loving what they do.
Yesterday, I underwent surgery to repair my torn meniscus. I am thankful for the doctors, nurses and technology responsible for a quick, painless procedure. I was walking around last night after the anesthesia wore off. My son drove us to dinner.
I could go on and on, as I truly believe we live in a country that affords us a charmed life. You just have to go get it!
Last, but not least, I am thankful for you…my current and future members. I love the opportunity to constantly create and provide tools and services to help you grow your profits with catering. For without you, I don't know what I would be doing today.
My wish for you and your family this Thanksgiving season is good health, wealth and prosperity. As you sit at your own Thanksgiving table, realize we all live in a country with limitless opportunities.
Thank you for being part of my life!
Well That's All For This Issue!
Michael Attias
Restaurant Catering Software
P.S. – If you need help growing catering sales, then please go to www.RestaurantCateringSoftware.com and download my free eBook: Cater or Die!
P.P.S. – I make a limited number of time slots available each week for a free Catering Strategy Session with me. For complete details and to grab one of the limited spots, please go to:
http://www.restaurantcateringsoftware.com/catering-planning-strategy-session