I am so glad all of this talk of the top one percent has died down some.
Does anyone grow up wishing to be poor? Though money can't buy you happiness, it sure opens up options…like being able to craft a quality of life that suits you.
Any time I have an early breakfast meeting that requires a shower and commute, I thank my lucky stars for my home office. I had one when I owned my restaurant. You get more done with a closed door policy.
This past Sunday, I attended a fundraising event for Our Kids, a Nashville based non-profit that helps sexually abused kids. Each year they hold a soup tasting event.
Fifty area restaurants donated soup and manpower for the sampling. If I could have physically consumed all of the samples, I would have consumed a hundred ounces of soup. This will now make it to my "must attend" list.
At twenty bucks a head, I'd have gladly paid double for the incredible soup produced by some of Nashville's greatest chefs. My personal favorite was the apple, champagne brie soup topped with bacon bits and scallions. That is the best two ounces of food I've put in my mouth.
Half way through the hall, I developed Buddha belly. I didn't stop, but slowed down greatly; sharing soup.
There were some great displays to go with the great soup, but only one out of the fifty restaurants knew how to market themselves. Yes. That equates to two percent.
Only one restaurant, located in a Marriott, bothered to market themselves. They held a drawing. All they wanted was your name and email address. When asked, the manager told me they were going to use the emails to send out a bounce back offer and promote their Easter buffet.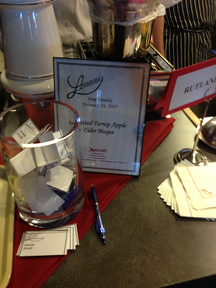 It takes so little to be better than everyone else, especially when marketing your catering.
Frankly, the independent has a huge advantage over the chains, because they can use results based marketing.
I meet with a lot of franchises and chains more interested in image and CYA, than results. For my new clients like Len Ruggiero who is hitting the ground running, this is great news. For those too lazy to do the basics, you'll end up in the bottom 98%.
Please let me know when you want to be in the Top 2 Percent. I'm here to help you. In fact all of my previous blog articles and my free copy of Cater or Die! is chocked full of free ideas.
Now go sell some catering!
Well That's All For This Issue!
Michael Attias
Restaurant Catering Software
P.S. – If you need help growing catering sales, then please go to www.RestaurantCateringSoftware.com and download my free eBook: Cater or Die!
P.P.S. – I make a limited number of time slots available each week for a free Catering Strategy Session with me. For complete details and to grab one of the limited spots, please go to:
http://www.restaurantcateringsoftware.com/catering-planning-strategy-session