Monday, a lady friend of mine took me out to the country to experience a Himalayan salt cave where there are supposed health benefits. I'm always game for a new adventure and leaving work a little early on a Monday.
At first I wondered how Himalayan salt made it to Tennessee. It turned out to be a room in a spa. The room was lined with the salt on the floor and walls. The humidity is controlled and fine salt dust is blown into the room to be absorbed into your sinuses. You lay in a zero gravity chair and basically take a nap. I love naps.
After the salt cave, I still can't play the piano. I couldn't before, so I wasn't too disappointed.
They sell a lot of items made from the salt. I bought a giant block of Himalayan sea salt. It's used for grilling, marinating and if cold, a great tray for sushi. One of my favorite Mediterranean restaurants, Café Rakka uses them all the time.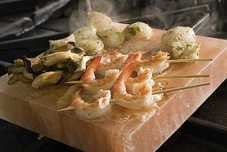 As a way to reciprocate the cave outing, I decided to treat my lady friend to dinner. She is a fellow foodie and wine aficionado with over a thousand bottles in her collection. I think I have a few bottles of Two Buck Chuck and Mogen David for Jewish holidays.
I am lucky to be on a PR list for new restaurants in Nashville, so we decided to try out this new German/Austrian place. I love sausages and pretzels.
We started off with pretzel bites with beer cheese dipping sauce and a sausage sampler. Immediately, we were brought out complimentary pretzel bites with mustard before our appetizer of pretzel bites with the beer cheese sauce.
I don't know. Call me crazy. But if a customer orders garlic cheese toast off the appetizer menu, do you bring them a basket of complimentary breadsticks? Uh, no. After two baskets of pretzel bites, we were stuffed. And that was a good thing.
The beer cheese dip was really good, but I could tell the pretzel bites came out of the freezer. They were too perfectly shaped and tasteless. I could have twisted some Pillsbury crescent rolls into pretzel and done a better job.
The sausage was ok for "bought from somewhere".
We decided to cut our losses after the apps. I didn't need the extra calories any way.
Now why is this story important to you and helping you build catering sales?
Simple. If I want German food, I expect it to be authentic. Otherwise, I'll get a hot dog from Sonic, add sauerkraut and mustard…grab a quart of beer in a brown sack and fool myself into believing I'm at Oktoberfest.
No one wants to go to an Italian restaurant and be served Chef Boyardee ravs or frequent a bbq restaurant whose smoked meats come in on a reefer truck.
So if you are going to specialize in a particular cuisine, please make sure you execute it very well.
I have a saying, "Never order a hamburger in a Chinese restaurant."
The advantages most of my restaurant clients have in catering are their specialties. If I want fajitas and margaritas for my pool party, I'm going to my favorite Mexican joint. I want the food from my Italian themed dinner party to come from a good Italian restaurant.
Now, I have many catering companies who don't have restaurants as clients and blog readers. You have advantages most restaurants don't have: event planning, table scapes, custom designed menus, bars, full service staff, etc., etc.
The key to dominating your catering market is YOU! A pig in a dress is still a pig. Don't be what you're not. It's too difficult. Uncover your strengths and market the hell out of them.
While I owned Corky's, we dominated bbq catering in Nashville. We cooked our shoulders for twenty-two hours, until the meat melted in your mouth. We pulled and chopped the meat fresh in front of our guests for that "pit to plate" flavor.
What do you do better than everyone else?
If you think baking off frozen pretzel bites and reheating a glorified hot dog makes you an authentic German restaurant or caterer, you may want to cut your losses now.
Now, more than ever, we Americans are a foodie nation. We are too educated and sophisticated to settle for crap on a shingle.
And in case you think your customers will tell you the truth. You're wrong. We were asked repeatedly about the food and said, "Great." It's not worth the energy to explain.
I liken it to mud wrestling a pig. You get muddy and the pig gets pissed. I prefer to stay clean.
Hopefully, you'll prefer to take a hard, honest look at what's going on in your restaurant…then market your real, not perceived strengths.
Well That's All For This Issue!
Michael Attias
Restaurant Catering Software
P.S. – If you need help growing catering sales, then please go to www.RestaurantCateringSoftware.com and download my free eBook: Cater or Die!
P.P.S. – I make a limited number of time slots available each week for a free Catering Strategy Session with me. (You also get a catering menu critique and free analysis of your website for "Catering Effectiveness). For complete details and to grab one of the limited spots, please go to:
http://www.restaurantcateringsoftware.com/catering-planning-strategy-session