Monday night I ventured into Costco after work to pick up some dinner rolls, provolone cheese and meatballs for my poker game. I saw a restaurant on The Cooking Channel that served this great looking meatball sandwich with marinara sauce and provolone.

My slider version will be a hit at poker. In fact, everything's a hit with the poker group. No one has to cook.
One of my guilty pleasures is a Costco hot dog. Though I prefer a real Chicago hot dog, Costco makes a mean hot dog for a buck fifty. I consider myself a bit of a hot dog snob. If it weren't for the eight minute wait, I'd get them to run it through their pizza oven to char it up a bit.
A hot dog that has been in the water bath too long has a waterlogged, watered down flavor. Even the texture changes from a crisp bounce to a mealy mess. I always ask for a hot dog from the back, the ones they'll rotate to the front of the well.

Last night they were out of hot dogs. I was hungry and really didn't want to wait five minutes for them to get to temp. The counter guy was very nice and friendly and did a great job of selling me on their Polish dog. He guaranteed I'd be happy, or he'd give me a replacement dog at no charge.

In the interest of time, I decided to take his recommendation. After the first bite, I knew I made the wrong decision. But I was hungry and finished it off as I shopped for poker.

On the way out, I ordered another dog. I just couldn't walk out with that Polish dog flavor in my mouth. The guy at the counter asked me how I liked the Polish dog. I told him that it wasn't good, and I needed a fresh dog.

He wanted to pay for the replacement dog. I argued with him stating that I had eaten the whole thing and was going to pay for the hot dog. After all, I ate it, and it's only a buck fifty.

This was a fight I was not going to win. He stated that the only reason I ordered the hot dog was because of his recommendation.

I have to tell you, that was some of the best customer service I've ever had from a counter person.

He didn't make excuses and didn't have to check with his manager or follow a policy. There is something very pleasant about dealing with empowered people. Make that part of your company culture and see your sales grow.

Now to the main marketing lesson…

I'm sure you know the importance of having a database of your catering prospects and clients. The sale is often closed after multiple communications are made. Some experts say it takes a minimum of seven. I have firsthand knowledge of the importance of continuous follow up.

It would be a mistake to rely 100% on email. Though it's free or practically free, the low open and read rate takes many of your prospects out of the communication loop. Use snail mail at least once a month.

Emailing your prospect and client list once a month is a very sound strategy. The important thing is to have a good "reason why" for the email. I have some clients who are excellent at turning themselves into mini-celebrities. By sharing stories from their life, they make a connection.

Most people are uncomfortable with talking about themselves. If there's a way to get past it, please do. Fame, even if manufactured, commands a higher price tag. Just don't make the mistake of being boring.

A good "reason why" for an email is what I call a Hallmark Holiday. Besides the most popular holidays like Christmas and Halloween, there are a million lesser known ones. There's a book called Chases Calendar of Events that lists them all.

I was reminded via an email from a mail order cookie company I use for gifts, that April 24th is Administrative Professional Day.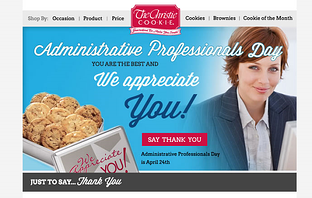 Today is the perfect time to fire off an email about Administrative Professional Day. You can either promote a catering special or offer a free gift card with minimum purchase to Admins who place a catering order. You may even email all your admin contacts and offer them a free lunch at your restaurant.

This is a Hallmark Holiday honoring a niche many of your catering clients are part of.

Well That's All For This Issue!

Michael Attias
Restaurant Catering Software

P.S. – If you need help growing catering sales, then please go to www.RestaurantCateringSoftware.com and download my free eBook: Cater or Die!

P.P.S. – I make a limited number of time slots available each week for a free Catering Strategy Session with me. (You also get a catering menu critique and free analysis of your website for "Catering Effectiveness). For complete details and to grab one of the limited spots, please go to:
http://www.restaurantcateringsoftware.com/catering-planning-strategy-session