Spring is my absolute favorite time of the year. The world emerges from their winter cave and starts to enjoy the warmer weather and longer days.
My yearly spring ritual is to plant winter lettuces and herbs in the garden box I built. No sooner than I finished my planting, did my little chipmunk start to storm the garden.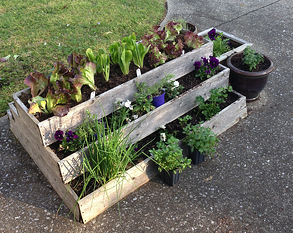 I ran out to the hardware store to buy a fake owl to scare the critter off.
Though I have no desire to farm hundreds of acres, my little garden is a mini farm.
Every morning I go outside and water it. I make sure and keep it weeded and pick off any buds or dead leaves.
The reward for my work is plenty of herbs and lettuce for cooking.
There is a marketing strategy referred to as farming. Many real estate agents use it to generate leads. They pick a neighborhood or "farm" and make themselves the resident real estate expert. Their goal is to stay in touch with every homeowner once a month and to be the first person thought of when the need to sell or buy a house comes up.
One month they'll send out a newsletter. On the Fourth of July they may put American flags in all the front yards along with a promotional postcard. On another month, they may send out a letter letting everyone know about the two houses they sold…in two weeks for top dollar.
By picking a well targeted group and staying in front of them on a regular basis, you make yourself the first person thought of when a need arises.
Farming works well to build catering sales, though it's a longer term strategy.
When I first opened Corky's, we farmed local area businesses. Each quarter, we bulk mailed a catering flyer. Amazingly, that little flyer helped get our name out and built catering sales.
As I learned more about direct mail and farming, we increased the frequency of mailings and changed up the marketing piece. By rotating letters, flyers, postcards and oversized postcards, our message came across as "fresh".
We learned the value of targeting a decision maker, as opposed to the top officer at a company or a generic label like "Catering Decision Maker/Event Planner".
Even if you don't have the funds to farm a large group of businesses, get started with a small list and build from there. You can reduce the list size by targeting a group of businesses within a three mile radius of your restaurant, as opposed to every business in your county or city.
Even if you build your own farm via cookie drops and networking, stay in front of them monthly. Every business I've ever owned has profited handsomely from farming.
Just last week I enrolled a new client who heard me speak at Pizza Expo a year ago. He was invited to my follow up webinar a year ago, and did not invest in our system. Each week for a year, he's received our weekly blog articles.
He was invited to this year's pizza webinar and decided the time was right to move forward with our system.
At our catering menu critique session yesterday, he admitted that my follow up sold him. If I had just spoken at Pizza Expo a year ago and never collected names or stayed in touch with my farm, he would not have remembered me a year later, when he was ready to grow his catering business.
We all depend on farmers to eat. You need to learn to farm, so you can grow more catering sales.
NOTE: A week and a half ago I held a webinar for attendees at Pizza Expo entitled:
Double Your Pizzeria Profits with Restaurant Catering Systems Technology
Many attendees were unable to make it. Thankfully, we were able to get a good recording and will make a replay available until Monday, April 22, 2013. It goes down at midnight, but you can watch it at any time.
This will be the only invite for non-attendees of Pizza Expo. So if you're interested, even if you're not in the pizza business then register today. Here's the link:
http://www2.onlinemeetingnow.com/register/?id=095182a50d
Well That's All For This Issue!
Michael Attias
Restaurant Catering Software
P.S. – If you need help growing catering sales, then please go to www.RestaurantCateringSoftware.com and download my free eBook: Cater or Die!
P.P.S. – I make a limited number of time slots available each week for a free Catering Strategy Session with me. (You also get a catering menu critique and free analysis of your website for "Catering Effectiveness). For complete details and to grab one of the limited spots, please go to:
http://www.restaurantcateringsoftware.com/catering-planning-strategy-session