So the story goes…
A high tech entrepreneur was interviewed by The Wall Street Journal about his rags to riches story. The reporter wanted to know how he went from bankrupt to billions.
"My business was on the verge of bankruptcy. I had payroll to meet, so I took the last five thousand dollars we had and flew to Vegas. I played blackjack and at one point was within two thousand dollars of making payroll.
My luck quickly changed for the worse. In less than two hours I had lost it all!
I went to the bathroom, but didn't have the quarter needed to use the stall. I asked a man outside the restroom, if he'd mind giving a quarter to use the restroom. Quarter in hand, I was just about to put it into the stall door, when the door next to me swings open. The guy coming out holds the door open and told me to save my quarter.
I come out of the bathroom, take my last quarter and put it into a slot machine. I pull the handle and hit the million dollar jackpot.
I was able to fly home, make payroll and have enough to invest back into the business to make it the billion dollar success it is today."
The Wall Street Journal reporter asked, "Wouldn't you like to meet the man who gave you that quarter?"
The billionaire replies, "No. I'd really like to meet the man who opened the door for me."
Don Pelts, my mentor, friend and founder of Corky's Bar-B-Q was "the" guy who opened the door for me. Last Wednesday, May 15, 2013, Don died of a heart attack at 72. I would love to share with you the impact he had on my life and so many more.
I grew up around the corner from Don and Linda Pelts. Though his son Barry and I were not big buddies growing up, I do remember the Pelts' treating me to dinner at their first barbecue restaurant, The Public Eye.
Fast forward to college. Don had a vision to create a new barbecue restaurant in East Memphis. He rented a recently defunct barbecue joint and built Corky's. His vision was to serve great barbecue while playing the 50's music he grew up listening to, in an atmosphere of rough sawn wood and plenty of neon.
Don hired me to wait tables about nine months after he opened Corky's. I remember the early years. You could have blasted a shotgun across the dining room at eight o'clock and not hit a soul.
It didn't take too long for the place to catch on. By the time I graduated college, the restaurant was closing on a wait every night. If I made less than a hundred bucks on a shift, it was an oddity.
I was first exposed to the importance of catering at Corky's. They did a ton of drop-off catering, as well as, full service events.
As much as Don liked me, I'm sure he thought I was a pain in his ass. Hardly a day went by that I didn't have an idea to make the place better. Many of them he adopted. The rest of the time he had to manage my enthusiasm.
While at Corky's I asked why we didn't have software to keep up with our catering business. It was crazy to always have to ask regular customers for their complete contact and billing info. Robbie, the general manager, spent an hour each afternoon calculating food production.
You could say the first seeds for Restaurant Catering Systems, catering software for restaurants, were planted back at Corky's. I just didn't know a thing about programming.
Two ideas that Don paid me to implement were his gift certificate program and overnight rib shipping via FedEx. For the gift certificate program, I designed the table tents, a large lobby sign and the certificates themselves.
I had no idea how to FedEx ribs, so I called the owners of The Rendezvous, a Memphis institution first known for shipping ribs. I played the college student doing research for a paper. It's amazing how much help a business owner will give a college kid. It was enough to get Corky's rib shipping off the ground.
I can't take credit for the multi-million dollar success overnight shipping became for Corky's, but I am proud of helping it get started.
Don was a larger than life character in an unassuming package. If you saw Don walking down the street, he looked like a regular guy, a cool version of a nerd. I remember him giving me the keys to his old Corolla and asking me to drop off an order. As I put on the brakes, his signature bottle of Old Spice rolled out from under the driver's seat. That was Don.
Don was the cheerleader of Corky's. Don taught me the importance of food quality. He or a manager expedited every plate. If it wasn't perfect, it didn't make it to the customer.
We coined the motto at my Corky's, "If in doubt, don't send it out." I could tell from ten feet, just by looking, if the food was good enough.
I could spend hours writing about the early days of Corky's. There are enough stories, friendships, memories and restaurant drama to make a great sit com.
The one thing Don really had was compassion. He's the only man who would hire back employees who had wronged him. Don knew the one of the keys to success was retaining great employees. He built a very loyal team over the years.
Fast forward to the fall of 1991. I was married for a little over a year. I had my first job out of college selling archive storage and had just bought a house.
I was not excited about selling storage for old boxes of records and my sales showed it. My boss at the time, Russ Petty, had a heart to heart with me. Did I need another month to turn things around?
No. I told him to fire me.
Russ was kind enough to let me resign and give me a month's severance. I packed up my belongings in a small records box and walked to my car, got in and cried. I had no idea what I was going to do. I had a wife and a home.
I decided to go back to what I knew and loved; Corky's Bar-B-Q. Don was just starting to franchise Corky's and I asked him for an opportunity.
Would he let me wait tables for half the day to make money and work for free the second half of the day to learn the business? Don was excited to help me.
He asked me to assemble his first franchise manual and help train the first franchise out of Jackson, Tennessee. The long hours didn't even matter. I had a goal to get one of my customers to back me on the first franchise.
On November 6, 1991, while waiting tables, I wrote and signed on the back of a Corky's comment card, "One year from today I will own my own BBQ restaurant."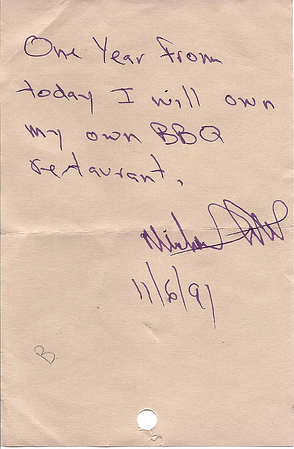 In April of 1992 I was waiting on Bill and Salter Rackley, who were from just outside of Nashville. A week later, I was in Nashville with the Rackleys getting one of the first Corky's franchises. This man took a million dollar gamble on an unknown.
Were it not for Don's full faith and recommendation, I would not have had the opportunity. Thanks to the lessons learned from this great man, we went on to become their most successful franchise.
Were in not for Don and Corky's, I wouldn't be doing what I am doing today. He truly was the man who opened the door for me.
But I wasn't the only person Don opened doors for. Take away Don's money, his multiple restaurants, his USDA facility manufacturing ribs and barbecue for grocery and shipping purposes, his QVC profit center and everything else he built his barbecue empire into and you still have a much greater accomplishment.
Don's greatest accomplishment is the impact he had on his people and the barbecue world.
I owe my success in large part to Don. So do many others.
Joel Storck, a fellow server at Corky's, came up to Nashville to help me open my store as operations manager. He now works in Memphis for the Pelts family running their USDA operations.
The Red, Hot & Blue barbecue franchise owes their start to Don. Former Tennessee Governor Don Sundquist and some other Washington politicos hired Don to consult and give them recipes to start the chain.
The Sticky Fingers barbecue chain, now owned by Red, Hot & Blue, has shared roots with Don and Corky's. Shortly after Don started Corky's, he and his brother-in-law David Soren, split up their barbecue businesses. Don kept Corky's and David kept The Public Eye.
The son of one of David's future business partners started Sticky Fingers with a couple of his college buddies. Sticky Fingers is a former consulting client and long time newsletter subscriber.
Mike Mosteller, a manager at Corky's when I was in college, went on to start his own barbecue chain, The Pig & Whistle. The last I heard he had sold out.
Ken Dick, a fellow server at Corky's went on to create Buckley's, a Memphis landmark restaurant.
Brandon Robinson, a fellow server at Corky's became my operating partner and went into the food brokerage world in sales management after we sold our restaurant.
I'm sure Don Pelts opened the door for many more people I am not aware of like his employees, vendors and their families.
I know in the early Corky's days, things weren't all roses and high profits for Don. He had to infuse more capital. My understanding is that at the time he and his brother-in-law split barbecue restaurants, David ended up with the more profitable of the two.
I have no personal knowledge of Corky's sales, but would have to estimate them in the thirty million dollar a year range or more.
Its guys like Don Pelts, the entrepreneurs who are the real heroes in this country. They put up money, debt and time away from their families for the opportunity to make it big.
If I'm even close to my thirty million dollar a year estimate in sales for the Corky's empire, think about all of the money Don is responsible for pumping into the economy. He has hundreds of employees whose families are well cared for, like my sister, who still works for Corky's.
Hundreds of vendors are doing well thanks to Corky's. And "pay it forward" really does happen when an entrepreneur like Don Pelts makes it.
Why are the Don Pelts' of the world, hard working entrepreneurs, made out to be greedy and evil?
Our country was founded on this entrepreneurial spirit. We should reward them for the opportunity they provide, not punish them.
Whether you are a super successful restaurant owner or working your ass off to be the next Don Pelts, please know you have the opportunity to open many doors for your family, friends, employees and vendors.
Pay it forward.
If a Michael Attias comes to work for you, embrace his enthusiastic spirit to help you improve your business. Harness that power for your own good and his.
Were it not for Don Pelts opening the door for me, where would I be today?
I truly live a charmed life. Don Pelts, thanks for the opportunity and faith in me. Rest in peace my friend.
Well That's All For This Issue!
Michael Attias
Restaurant Catering Software
P.S. – If you need help growing catering sales, then please go to www.RestaurantCateringSoftware.com and download my free eBook: Cater or Die!
P.P.S. – I make a limited number of time slots available each week for a free Catering Strategy Session with me. (You also get a catering menu critique and free analysis of your website for "Catering Effectiveness). For complete details and to grab one of the limited spots, please go to:
http://www.restaurantcateringsoftware.com/catering-planning-strategy-session
P.P.S. – Anyone wishing to reprint my articles may do so. Please email me for the bi-line to use for proper author's credits.