As many of you know, I took my kids Jerrod and Jordyn to France last month for a few weeks. To say we had a great time is an understatement.
We hit all of the sites; Eiffel Tower, Louvre Museum and Notre Dame to name a few.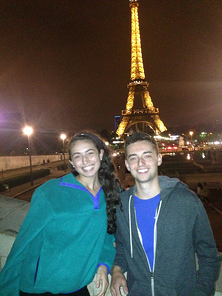 Food was a big part of the adventure for us. We took a walking chocolate tour of Paris, as well as, attended a macaron class. My kids partnered up during the class. For two novices, they did a great job.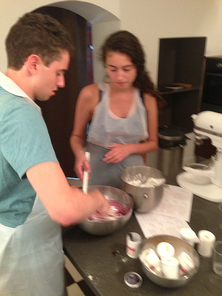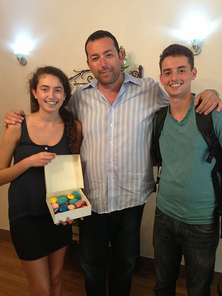 We ate at some amazing places. The highlight for Jerrod and I was this small steak restaurant owned and operated by a former butcher. I think lunch set us back over seventy bucks a head, but it was one of the most incredible steaks I've had.
All three of us loved the falafel restaurant in La Marais. I know. Great Middle Eastern food in France? It was that.
Our daily ritual was to go to the corner patisserie/boulangerie (pastry shop/bakery) near my uncle's home. Each morning we'd grab pastries before we set out for the subway. A few times I grabbed a slice of pizza. Yes, the French make some good pizza as well.
My kids and I spent about thirty minutes talking with the owner of a little crepe stand on the Champs Elysees that makes the best Nutella crepes. He gave us the low down on the attitude of the immigrant entrepreneur versus those born and bred in France.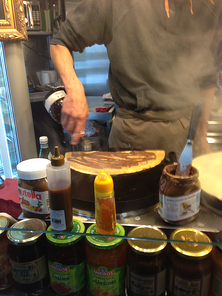 Not surprisingly, the immigrants better capitalize on opportunities requiring harder work. I guarantee you this guy was making bank off the high volume, low food cost operation he has.
For the most part, one meal was as good as the next. I walked away with the feeling that most restaurant owners were the right mix of restaurateur and business owner. I guess in that city you must be. The mediocre can't survive.
Add in the fact you must deal with socialized medicine and giving all employees five weeks off a year, there isn't much room for error. Our favorite bakery/pastry shop was closing for the entire month of August. Everyone was taking their paid vacation at once.
Could you survive off of eleven months of sales and twelve months of expenses? Most operators could not. What if you had to?
For fun and profit, I challenge you to set yourself up to operate in socialist France and then really profit in capitalistic France.
There was one low point of the trip, a Chinese restaurant in my uncle's neighborhood. Most of the good neighborhood joints were closed on Sundays. We only had the Chinese restaurant, McDonald's and Domino's to choose from.
I will tell you I loved their concept. As opposed to an All You Care To Eat Buffet, they had an All You Care To Eat Meal. There were around sixty items on the menu. Just let the waitress know what you want and they'll bring it out…no limits.
My daughter Jordyn wrote the following review of our experience:
A Customer's Perspective: You Can't Have Good Food without Good Service
By: Jordyn Attias
This past week, I went to Paris, France with my dad and brother. The sightseeing was great, but the food was SPECTACULAR! I could go on for days describing the pastries and meats and cheeses, but my most memorable food experience also happens to be my worst.
Like every other night, we were all so tired from a busy day and just wanted to grab a quick dinner. We decided to head over to an All You Can Eat Asian restaurant. As soon as we stepped in, we were greeted by a serious-faced waitress. No smiling, no laughing, no small talk. As we ordered she didn't even talk to us. We handed her our filled out food card and that was it.
Later on during the meal, I got up to ask our waitress where the restroom was. I spotted the waitress across the room chatting with another waitress, laughing and smiling. I walked up and her smile instantly dropped when she saw me. Before I even got to finish my question, the waitress pointed me towards the restroom and said nothing, just pointed her finger. Her hostility was very uncomfortable and even made me feel bad for simply asking about the restroom.
Service is so important, but even with the best service, if your food sucks, it sucks. This restaurant had horrible service and mediocre food.
But, here is the question: Did the food only seem to taste worse because we weren't enjoying our experience? I think yes. If we had a friendly and congenial waitress, we would have been excited to eat and have felt like we had placed a delicious order.
Even if we had gotten bad food, the good service would have had us feeling/thinking, "Eh, the food was okay, but we really liked our waitress!" But starting out our experience with a downer waitress, we left feeling very dissatisfied, thinking, "That waitress was hostile and nasty! The food wasn't even good."
In conclusion, this little story goes to show that customers will not enjoy your food if they don't enjoy your attitude. It is important to remember that a restaurant is about more than the food, it is about the experience from the second the customer walks in to the second they walk out.
# # #
Obviously, I'm biased, but I do agree about the importance of great service, if you serve mediocre food. As a foodie, I have put up with crappy service to eat phenomenal food. The correct answer is to serve great food with great service in a great place.
Do you set goals? I have a goal board with pictures. A few years ago I posted a picture of the Eiffel Tower and wrote 2013 next to it. As my son will be leaving for college in a year, this was the best summer to take him and his sister to Paris.
So many people work, work, work with little reward. Life is too short. Whether it's across the ocean or across town, carve out time to enjoy your life. Some times it's the little things like picking the figs in my yard for wonderful baked prosciutto figs stuffed with goat cheese.
Well That's All For This Issue!
Michael Attias
Restaurant Catering Software
P.S. – If you need help growing catering sales, then please go to www.RestaurantCateringSoftware.com and download my free eBook: Cater or Die!
P.P.S. – I make a limited number of time slots available each week for a free Catering Strategy Session with me. (You also get a catering menu critique and free analysis of your website for "Catering Effectiveness). For complete details and to grab one of the limited spots, please go to:
http://www.restaurantcateringsoftware.com/catering-planning-strategy-session
P.P.S. – Anyone wishing to reprint my articles may do so. Please email me for the bi-line to use for proper author's credits.