About a year ago, my daughter Jordyn started working as a hostess at Corky's BBQ, the very restaurant I sold over ten years ago. She loves working with the public.
On a recent trip to Memphis to visit family, we talked a little business. She told me about an upsell she uses to add on ribs to a family meal deal. I laughed, as I developed that upsell over fifteen years ago. I shared the script I developed, that is no longer in use:
"I wanted to let you know about our manager's special today. Because you ordered a family meal deal, you can add a slab of ribs for only $14.99. They're usually $19.99; that's a five-dollar savings. Would you like me to add those to your order?"
We generated a lot of incremental profit with that script. It was surreal for my daughter and I to talk "shop". I think in some way she was impressed with learning a script to help her sell more ribs.
One of the things she loves about being a hostess is the pay. Now I know they pay her less than ten dollars an hour, but when she walks home with twenty to forty dollars in tips, that gets her jazzed!
I am not sure when tipping for take-out orders came on the scene, but every time I order takeout from a restaurant, I am faced with that tipping line. I think most people leave anywhere from a buck or two to ten percent.
I am sure the social pressure of facing that dreaded "tip" line guilts people into leaving a tip. As a practical matter I hate it. I am ordering takeout. I am not taking up table space, nor is a sever bringing me drinks, clearing plates, checking on me, etc.
When people take their kids to McDonald's, tipping isn't part of the program. Why all of a sudden is tipping part of the takeout equation at restaurants.
Though I hate leaving the tip, I usually do. It is the guilt and societal pressures of that damn tip line.
Now please do not email me back educating or arguing about tipping for takeout. Please allow me to connect the dots.
I get it. Tipping allows you to pay your front line staff more. Maybe some of those tips go to the kitchen. A couple of bucks extra an hour adds up. It makes working for you more attractive. I get it.
In that light, when we first put out the beta version of the Restaurant Catering Systems Delivery Manager, I had a client request we add a function to have the client add a tip and sign the ticket on the driver's smart phone.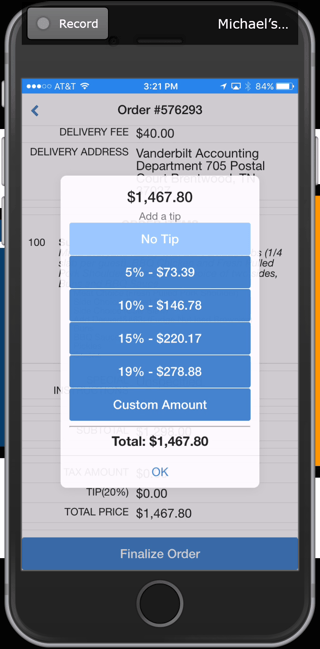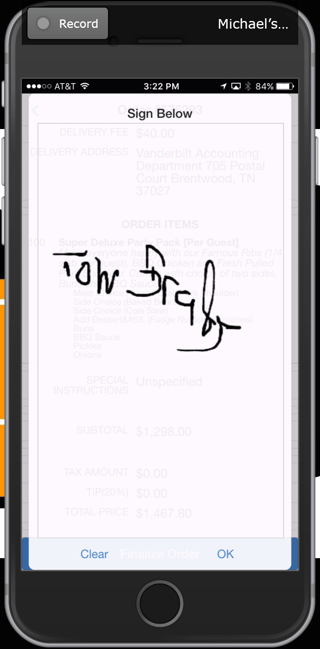 That feature has been a hit. One client has an army of delivery drivers loving the extra tips they're getting.
I had a client on my Catering Coaching Call last month who told the group the tip function has more than paid for the software. Right now, he's doing all the deliveries.
I asked him how he would benefit when he grew to using drivers. He said that he would probably give the kitchen part of the tip for helping prepare the order.
What does that do? If his kitchen crew makes more with their tips than going down the street, he has happier employees.
Right now, this Delivery Manager is a game changer. If you didn't see the demo video, please go to:
NOTE: Let me encourage you to a join a new Facebook group I created for our industry: Restaurants That Cater. It is open to clients and non-clients alike. Please post your successes and challenges and share your knowledge with our community. There are groups and associations for caterers and for restaurants, but none for restaurants that cater…a very important group that is grossly underrepresented. Click on the link below and request to join:
www.RestaurantsThatCaterGroup.com
Well, that's all for this issue.
To Your Restaurant's Marketing & Catering Success,
Michael Attias
Restaurant Catering Software
P.S. – If you need help growing catering sales, then please go to www.RestaurantCateringSoftware.com and download my free eBook: Cater or Die!
P.P.S. – I make a limited number of time slots available each week for a free Catering Strategy Session with me. (You also get a catering menu critique and free analysis of your website for "Catering Effectiveness"). For complete details and to grab one of the limited spots, please go to:
http://www.restaurantcateringsoftware.com/catering-planning-strategy-session
P.P.P.S. – Please check out my podcast at www.RestaurantCateringSmarts.com
P.P.P.P.S. - Anyone wishing to reprint my articles may do so. Please email me for the bi-line to use for proper author's credits.