People use catering for a lot more reasons than just food.
Whether it's the convenience, or a company's willingness to accept last-minute orders, people want a company that's easy to do business with.
That's why when I was running my Corky's franchise, I would offer to extend credit to corporations. They were local companies, who usually had good reputations, so I never worried too much about it.
In fact, it became such a common occurrence that on any given month, I would have about $25,000 in outstanding receivables.
People thought I was crazy, but I loved it.
Why would I love people owing my business money? Because I knew that 99% of the time they would pay their bills, and it was building good long-term rapport with those clients.
When they had another catering function down the road to arrange, who do you think they would order from? The company that already extended them credit before and would do it again, all in good faith, or the company that would make a fuss if they didn't pay their balance up front?
I think we both know the answer to that question.
Think about it: Visa charges about 2.5% to process credit card payments. Amex is 3%. You can go out and get a line of credit to cover the costs for the company in the meantime, and it will end up working to your benefit in the long run.
People appreciate being able to place an order and just say "Sure, send me a bill and the accounting department will cut you a check".
Because it's convenient.
Even if you have to wait six months to get your payment from the company, a very rare occurrence, the cost of borrowing against a line of credit is cheaper than paying Visa and Amex their fees.
Accounts Receivable Aging Reports
Of course, there's going to be the odd company that you have to chase.
No one is perfect, and whether it's just forgotten, on the back burner, or simply ignored, once you start extending credit to your clients, you will occasionally have to make collection calls. It's just the nature of any marketplace.
CaterZen makes tracking your ongoing invoices as easy for you as possible by tracking what all your customers currently owe you, by individual account, through our intuitive aging reports.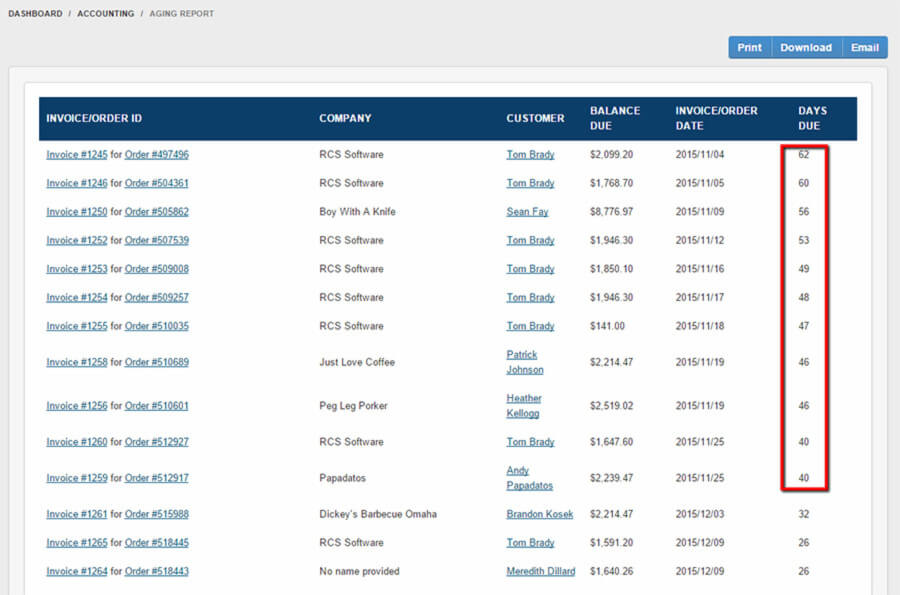 With the click of a button, you can send customers reminder statements if they are behind on their payments, and you have access to a constant record of when customer payments are or were due.
Get Paid with Branded Catering Invoices
The invoices themselves are clean and professional-looking, and they are custom-designed to include your logo, as well as any other branding that you might want to include in all of your outgoing paperwork.
There will never be any doubt where the invoice comes from, and what the expectations for payment are on each job.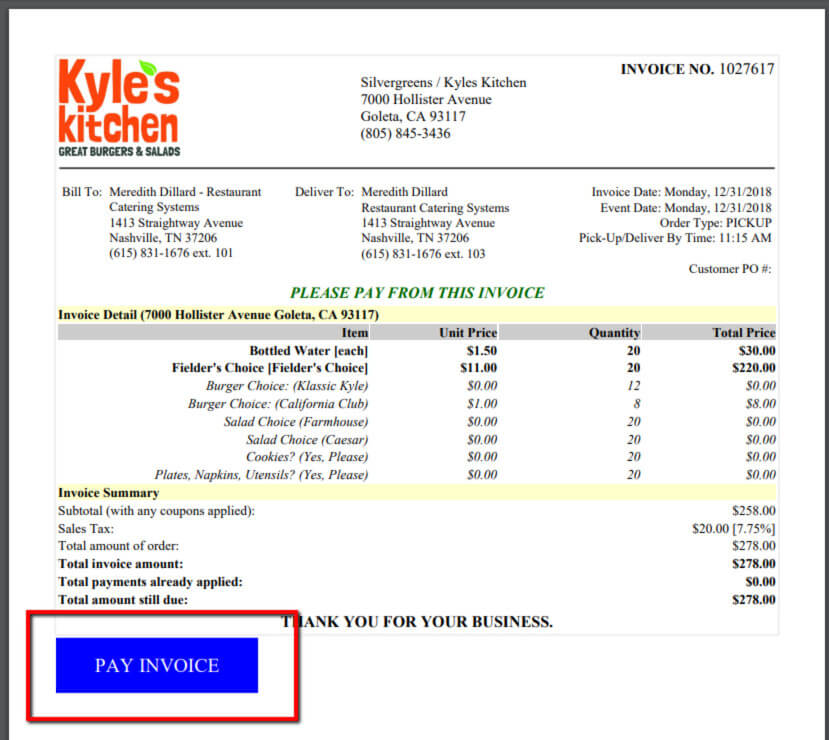 The fact that these are automatically generated for each customer's order saves you a lot of time filling out tedious, repetitive paperwork; that's time that could be spent on other things, like securing your next big order.
All the features your company offers its customers contribute to the overall impression you make on anyone you do business with, as well as new customers that are shopping around for a catering company. It's the same for your competition.
Being flexible and willing to make life as easy as possible for your customers matters almost as much as the technical benefits they can get by choosing you over another company.
Get Your Accounting in Order with CaterZen
Offering credit is just one of many ways that you can set yourself apart from the competition, and CaterZen's easy-to-track invoicing can take some of the stress off your shoulders if you choose to give customers this option.
Want to learn more about all the amazing features you'll get by signing up with CaterZen? Give us a call at 1-888-997-3433 to talk to one of our experts about all the ways CaterZen can help you get a leg up on the competition.
Or you can sign up for a free personalized demo of our software to schedule some time with Nell Herman, our Director of Enterprise Sales, who can walk you through the features directly.
Prefer to play around in the software by yourself? You can sign up for a free 30-day trial to test CaterZen's software out for yourself. There's no credit card required, so why not give us the chance to show you how much we can help your business?
It's like 30 days of credit that you don't have to pay back! Sounds nice, doesn't it?
That's the kind of above-and-beyond experience you get when you choose CaterZen.