If you're using Gmail integration with our CRM, there are some changes on the horizon.
Google has changed its policies, so that as of December 31st, 2019, it is cutting out our ability to allow access and read emails directly from user inboxes.
This will have an impact on many of our customers who use CaterZen's CRM for tracking and managing their emails.
With so many different ways that CaterZen's CRM system tracks and organizes client communication, incoming requests, order changes, and billing/payment schedules – maintaining up-to-date, easy access to emails is crucial to success.
But fear not! We know communication is key to the success of your catering company, so we already have a plan in place to keep your accounts updated and organized.
Setting Up Auto-Forwarding
You can still log incoming emails into the CRM by forwarding them to your CaterZen account. Gmail offers auto-forwarding, so with a little additional setup from your Gmail account, you can continue having those emails sent directly, without needing to attend to each of them manually.
Easy to follow steps for setting up auto-forwarding can be found HERE.
For users who are currently connected to our Gmail integration, there will be a notification to amend your existing settings. This will ensure emails continue to be monitored and transferred properly.
At the top of your admin pages, if your account is integrated with Gmail, there is usually a green button beside your user's name which reads: 'GOOGLE CONNECTED'. This button will change to orange and will warn that there is 'ACTION REQUIRED'.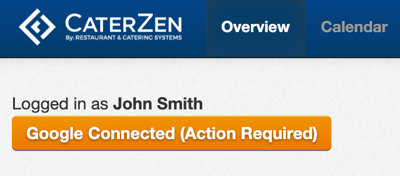 When you click on that button, you'll be taken to our Google Integration page, where you should also see a red box at the top, along with a forwarding address.

After completing Step 7 on the Gmail forwarding setup page linked above, you'll be sent a verification email. Refresh our Google Integration page, and you should see the verification code appear below the forwarding address. Once we receive this code, the red box and action required message at the top of the page will disappear, and we'll stop checking for your emails through the direct Gmail integration.
That's it. It's really that simple.
Our CRM is the Anchor of CaterZen's Catering Software and Systems
CaterZen is committed to continuing to offer the most versatile, well-integrated CRM system available for your catering needs. As always, we will carry on assessing ways to integrate other helpful services into our CRM for your ease of use and peace of mind.
For those of you on our Pro or Pro Plus plans, now you see how simple and valuable email integration can be for your company. Contact us to upgrade to our Marketing Pro Plus plan today and start reaping the benefits of everything CaterZen has to offer.
If you have any further questions about this process or need any assistance in setting up email forwarding to prevent any delays in communication with your clients, don't hesitate to give us a call at 1-888-997-3433 or reach out to our support team (support@caterzen.com) for more information.
We'll get you the help and answers you need quickly and painlessly, so you can get back to what's important – using CaterZen to lead your catering business to success!
And if you aren't using CaterZen yet, this is a perfect opportunity to sign up for a free personalized demo. Come and see how CaterZen's masterful CRM system will change the game for you and your business. You'll be so glad you did.