Lagniappe isn't a new word to those of you from Louisiana; it's a way of life. It is a small gift given at the time of purchase like the hot glazed donut Krispy Kreme hands out while you're in line.
Using lagniappe in your catering business is just one more step to make you stand out from the competition. This past May I held a full day catering seminar and tour of Cantina Mamma Lucia in Baltimore. Frank, the owner and longtime client/friend, was generous enough to offer a tour and talk at his facility.
What impressed me most was this Italian's use of lagniappe. For every catering order he throws in a table cloth, mints and ice bowl when drinks are ordered.
In the grand scheme of things, I am guessing these nice little touches maybe cost Frank three to four bucks. In the mind of his catering clients, they add way more value and contribute to Frank's high level of repeat corporate catering.
At Corky's we always threw in disposable serving utensils and a squeeze bottle of barbecue sauce.
I guess the cousin of lagniappe is offering a higher value. A few weeks ago I was doing a catering menu engineering session with Mike with Frato's Pizza. Instead of breadsticks, he gives away handmade mozzarella cheese sticks. I was a little shocked, but found out they cost him little to make. This bit of higher value keeps people coming back to him.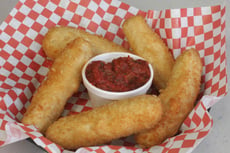 During the Labor Day weekend, I threw a dinner party for some of my friends. My girlfriend, the Queen of Pinterest, came up with a really neat idea to dress the buffet and let everyone know what was being served.
She bought chalkboard wrapping paper and lined my island. She then outlined each serving dish with a chalk marker and wrote the name of each dish next to it. She received a ton of compliments.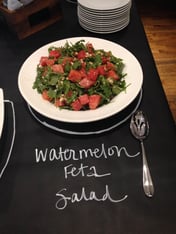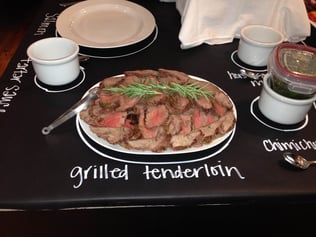 You could easily creatively copy this idea. Buy vinyl tablecloths in bulk. Create cardboard cutout templates of your pans, bowls, wire chaffers, etc. When the driver drops off the food, have him draw outlines of each catering component on the vinyl cloth. Test out a paint marker and a chalk marker.
Then place each food pan/item in the appropriate outline. Then write the name of each item underneath the outline. Your catering clients will appreciate the table cloth and nice extra touch.
From mints to table cloths to throwing in anything of added value or surprise, we all can learn a lot from our Cajun cousins in the South.
NOTE: To learn how you can build your catering profit center, please make plans to attend an upcoming seminar in Louisville, KY, on Monday, October 12, 2015.
You can get complete details at:
http://cateringseminars.com/louisville/
Spots are limited, so register today.
Well, that's all for this issue.
To Your Restaurant's Marketing & Catering Success,
Michael Attias
Restaurant Catering Software
P.S. – If you need help growing catering sales, then please go to www.RestaurantCateringSoftware.com and download my free eBook: Cater or Die!
P.P.S. – I make a limited number of time slots available each week for a free Catering Strategy Session with me. (You also get a catering menu critique and free analysis of your website for "Catering Effectiveness"). For complete details and to grab one of the limited spots, please go to:
http://www.restaurantcateringsoftware.com/catering-planning-strategy-session
P.P.P.S. – Please check out my podcast at www.RestaurantCateringSmarts.com
P.P.P.P.S. - Anyone wishing to reprint my articles may do so. Please email me for the bi-line to use for proper author's credits.