SPOILER ALERT: You'll want to read this entire article to see the two new enhancements we have in our catering software to greatly reduce catering sales friction.
Every sales process consists of multiple opportunities to close the sale or lose the prospect. As I write this, I am in the process of analyzing our sales process.
How many leads do we get in a month? How many demos are set by my Business Development Rep or the prospects themselves? How many demos of our catering software show up?
For those who cancel, how many can we re-book? How many agreements get sent out and how many agreements are signed?
And within each step above, there are multiple steps.
Catering Sales Friction Issue #1: Getting a Contract Signed
Years ago, we emailed out a PDF of our agreements to be signed. Prospects who left my demo hot and bothered to work with us needed to be chased down. They went from piping hot prospect to ice cold and unreachable.
The work needed to open the email, print the PDF of our agreement, complete and sign it, then fax or scan and email it back was causing issues. All those steps caused the "I'll get it done tomorrow" attitude to creep in.
Once enough time passed, the hot and bothered prospect was on to another priority. Yes. Some would circle around, but it became a big game of chase the prospect.
Anything that slows down a sale is referred to as sales friction.
Close More Deals with Electronic Signature Contracts
Once I discovered electronic signature contracts, a significant source of sales friction disappeared overnight. We increased our closed deals by investing almost nothing in this service.
Extra deals closed without spending a dime more on generating leads, hiring another salesperson or making extra calls. Eliminating sales friction is a major focus of mine, as it should be yours.
CaterZen Introduces Electronic Signature Contract Templates
I am happy to announce we have built our own electronic signature contract templates into our catering software. This goes together with our catering proposal template function.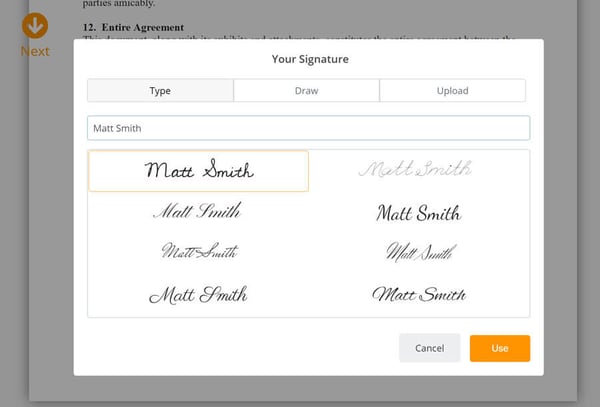 You can create unlimited catering contracts. A wedding may have different terms and conditions than a corporate holiday party. Our templates eliminate the time needed to customize contracts with features like a two-party signature, customizable fields, full audit trail and contracts housed in the client's CRM record.
We heard you. You didn't want to pay an integration fee or for a third-party service to manage your electronic signature contracts. Unlike others, you can see all of your contracts in our software.
There is nothing worse than flipping between applications to get what you want.
Best of all, it comes free in the Marketing Pro-Plus plan for CaterZen software: $199/month with unlimited users and transactions.
Check out our overview of this new feature:
https://www.caterzen.com/e-signature-catering-contracts
Catering Sales Friction Issue #2: Booking Meetings
The second place you will find sales friction is the setting of meetings.
It goes like this. You email a client or prospect to set up a meeting (tasting, sales call, proposal review, event walk-thru, etc.) You ask them for three dates or times that work for them.
They email you their availability, but those dates don't work for you. You then email them some dates you're available…and the client can't make them.
Enough of this back and forth, and the sale is stalled or lost. UGH!
CaterZen's New Software Feature: Automated Meeting Scheduling Tool
We had this problem in our company. Then I discovered software that handles Book-A-Meeting.
You send a link to your client or prospect to book a meeting at a time that works for them. They have access to your calendar and can see the dates/times you are available. Voila! No more back and forth. One step and the meeting is booked.
See my sample Book-A-Meeting page (but please don't book a meeting):

CaterZen Book-A-Meeting demo page
I've prepared a short video that explains how simple it is to set up and use.
I can tell you incorporating electronic signature contracts and book-a-meeting links into our sales process have been a major game changer. We are booking more software demos and closing more deals.
Any time you can eliminate the friction in the sales process, revenues rise. And the best part of these two features is they require very little effort to use. The fact they're built into our catering software makes them a plus!
One more closed deal or the right meeting booked more than pays for our software.
Eliminate the friction in your sales process and start closing more deals!
Here's An Opportunity To Make Some Easy Extra Cash
We are trying to find great clients for our catering software and we've launched a referral program that rewards everyone.

Here's how it works:
Sign up to be a referral partner for us here.

When you do, you'll be given a special tracking link to send out to anyone who may be a good fit. You can also post it to Facebook, Twitter and LinkedIn.

Anyone who clicks on your special link gets attributed to you.

If they become a client of ours, we will send you $250.
You also get entered into a Royal Caribbean Cruise For Two valued up to $5,000. We must have 50 new clients from referrals before we draw for the cruise.
The person you refer will get a new Android tablet to use in their operations with our software.
If you believe we could help any caterers out, please sign up and help us grow in 2019!