Today I feel like one of those senior citizen's you see interviewed on ABC's 20/20 talking about how they got scammed.
My secret indulgence, if you will, is Rolex watches. I bought a Submariner for myself when I turned twenty-one. It is my day-to-day watch and has stood up to everything shy of an RPG attack. If you calculate the cost per day of ownership, I think a sundial would be more expensive.
About three years ago I bought another stainless steel Rolex Submariner and had it blackened with the same process used on military equipment, DLC/PVD (See pic below). I don't wear this watch enough and am in the market for a new Submariner, so I listed it on Craigslist. I was hoping to find a local buyer and avoid the risk or selling it to an unknown buyer out of state.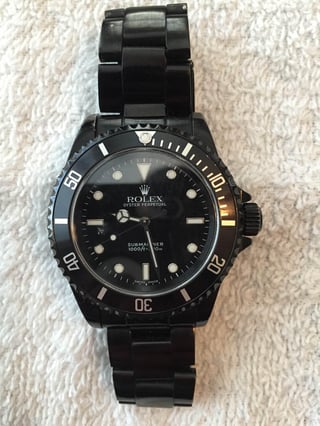 Earlier this week I received a call from a guy in Texas wanting to buy my watch. He was super nice and very knowledgeable about Rolexes. I was very comfortable with our conversation and he seemed trustworthy. I expressed my concern about shipping the watch out of state and not knowing him.
He told me he had sold a few Rolexes and used FedEx COD. It made sense, so I packed up the watch and took it down to FedEx and shipped it to him.
That evening, I was having dinner with some of my buddies, telling them how I had sold my watch. They all looked at me like I was crazy for sending the watch COD. I was barraged with horror stories about how con artists can fake cashier's checks…that FedEx doesn't even check for watermarks.
I Googled these scams, and to say the least there wasn't a shortage of stories to make me paranoid.
Now, I am a trusting person by nature and want to believe the best in everyone, but my friends made me take notice.
As Chris, my former business coach said at dinner that night, "The wisdom's in the group."
So true. Thanks to the feedback from my friends, I decided to reroute the watch back to my home. The FedEx manager at the center my watch was getting delivered to called me to handle the reroute. He told me I was smart sending the watch back. His center gets five bad cashier's checks a week.
So thanks to the "wisdom of the group" I am out a hundred and twenty bucks in FedEx fees and not forty-five hundred dollars lost in a watch scam.
Needless to say, Mr. Rolex buyer is not available for comment.
After this little incident, it is easy to see how people can get taken advantage of. I will still believe most people want to do the right thing, but next time will exercise a little more caution.
Any time you can tap into the wisdom of a group, you minimize your risk and find solutions to problems and challenges. I am part of a formal mastermind group for software company owners and a CEO Roundtable group; both of which have helped me out.
We at Restaurant Catering Systems run a monthly group Catering Coaching Call and a private Facebook group called Restaurants That Cater. I have personally witnessed several members getting help with challenges and problems.
Whether through us or other avenues, I urge you to join and participate in a group to help you better run your business. It's nice to have a place to get reinforcement for your ideas or challenge you to make them better.
SEMINAR ANNOUNCEMENT: Please mark your calendar for Tuesday, August 2, 2016, and make plans to attend a full day catering seminar I am putting on in Portland, Oregon entitled:
How To Double Your Restaurant Profits Workshop:
The Ultimate Catering Sales & Marketing System For Restaurants
For complete details, please go to www.CateringSeminars.com/portland
NOTE: Let me encourage you to a join our new Facebook group I created for our industry: Restaurants That Cater. It is open to clients and non-clients alike. Please post your successes and challenges and share your knowledge with our community. There are groups and associations for caterers and for restaurants, but none for restaurants that cater…a very important group that is grossly underrepresented. Click on the link below and request to join:
www.RestaurantsThatCaterGroup.com
Please pass on this link to your colleagues and co-workers in the industry. The more of us, the better!
Well, that's all for this issue.
To Your Restaurant's Marketing & Catering Success,
Michael Attias
Restaurant Catering Software
P.S. – If you need help growing catering sales, then please go to www.RestaurantCateringSoftware.com and download my free eBook: Cater or Die!
P.P.S. – I make a limited number of time slots available each week for a free Catering Strategy Session with me. (You also get a catering menu critique and free analysis of your website for "Catering Effectiveness"). For complete details and to grab one of the limited spots, please go to:
http://www.restaurantcateringsoftware.com/catering-planning-strategy-session
P.P.P.S. – Please check out my podcast at www.RestaurantCateringSmarts.com
P.P.P.P.S. - Anyone wishing to reprint my articles may do so. Please email me for the bi-line to use for proper author's credits.