Though many consider direct mail dead, I think you'd be hasty to send a condolence card.
Dollar for dollar direct mail, done properly, is one of the best ways to book more catering business. In fact, direct mail was a very important contributing factor to me taking my restaurant from zero to over a million dollars a year in catering sales.
The first question you must ask before creating a direct mail campaign is, "What's your goal?"
Though I have directly sold catering from direct mail letters (usually mailed to targeted niches at the time they are buying like retailers for Black Friday), I predominately use direct mail as a door opener.
Think of selling like a vacuum salesman, going door to door facing a day full of slammed door rejection. A good direct mail piece makes you a welcome guest, when you call.
For instance, I once designed and printed out an 11"x17" giant slab of ribs and laminated them. I attached a see through envelope to the back for my sales letter and mailed them to the hundred largest companies in my market.
Every time I called and let the receptionist know to tell the catering decision maker, "Just her know the guy who mailed the giant slab of ribs is on the phone."…I was put through.
My x-ray mailer targeted to hospitals cost me about twenty bucks to mail out, but brought in over $17,000 worth of catering.
I want to share with you a low cost direct mail strategy, with a slight twist, to get your mail opened. It is called sneak up mail. I used this strategy for my three-step catering lead generation direct mail program and received an appointment rate of 20-40% with qualified catering decision makers. Keep in mind that a 2% response rate to direct mail is considered phenomenal.
You want to use a plain white #10 envelope to send your letter. You will want to hand write the name and address of the recipient and your return address. I recommend using blue ink. Do not put your company name or personal name on the return address.
You must also use a real stamp. I think the special edition stamps really stand out.
If you think about it, a hand addressed letter usually comes from someone we know. We have a gut reaction to open the letter.
See example of sample envelope received by a friend of mine below: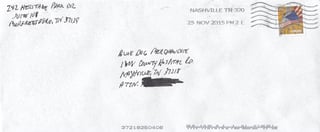 Once you get the envelope opened, you better be able to deliver the goods. Otherwise the recipient will feel duped. Our members-only website, RestaurantProfitPoint.com has over 500 sales letters to use.
I have found the best letters offer a big benefit or solve a major problem for the recipient. It must also be well targeted. For instance, sending parents of high school seniors a letter in early April to solicit catering for graduation parties is likely to get a far greater response rate than a generic "We Cater For All Occasions" letter mailed to everyone in your Chamber of Commerce.
The letter below is an example that adds a very clever twist to the direct mail package, but sorely misses the mark on being relevant.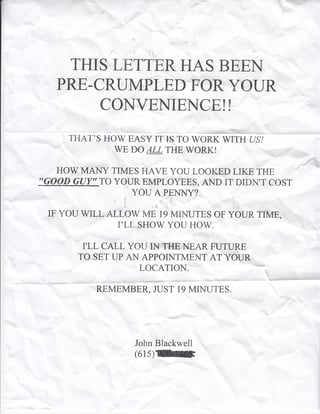 The sender of this direct mail crumpled then flattened out the letter and placed it into the envelope. The headline, "This Letter Has Been Pre-Crumpled For Your Convenience!!" gets you to take notice. We all know too well that most sales letters end up in the waste basket.
I have used a variation of this strategy. I sent the same letter out a second time crumpled in a ball and mailed in a mini trash can. Now that gets attention and your phone calls answered.
Using a hand addressed #10 envelope mailed out with a crumpled piece of paper, but with a much better letter below the headline will get your catering letters opened and your calls answered.
After all, cold calling sucks! Use direct mail to be the guy that gives your catering prospects a chuckle and a way for your foot to get in the door.
NOTE: In the spirit of working to help our community of RCS Catering Software clients (and future clients), we are putting together an extraordinary catering conference for restaurants called Caterpalooza!
This two day catering conference will be held in Nashville, Tennessee, March 7th & 8th, 2016. I expect this event to fill up.
Though the complete website is not completed and some of the speaking slots are to be filled, I encourage you to grab a spot or two.
Just go to www.Caterpalooza.com
We will also be crowning our RCS Catering Spokesperson. If you are a current RCS client and interested in competing, please check out this link for all of the info:
http://caterpalooza.com/contest
My team and I hope to see you in Nashville!
Well, that's all for this issue.
To Your Restaurant's Marketing & Catering Success,
Michael Attias
Restaurant Catering Software
P.S. – If you need help growing catering sales, then please go to www.RestaurantCateringSoftware.com and download my free eBook: Cater or Die!
P.P.S. – I make a limited number of time slots available each week for a free Catering Strategy Session with me. (You also get a catering menu critique and free analysis of your website for "Catering Effectiveness"). For complete details and to grab one of the limited spots, please go to:
http://www.restaurantcateringsoftware.com/catering-planning-strategy-session
P.P.P.S. – Please check out my podcast at www.RestaurantCateringSmarts.com
P.P.P.P.S. - Anyone wishing to reprint my articles may do so. Please email me for the bi-line to use for proper author's credits.