Happy Monday! This week, we're highlighting an awesome new marketing feature available through Restaurant Catering Systems!

Between catering jobs, scheduling, and all other tasks that come with running a business, making time to lay down a concrete marketing plan, let alone follow it, is difficult for many of our clients. For some, there just isn't enough time in the day.
But what if a weekly marketing plan was already laid out for you, with reminders, links to the exact pieces to use, and scripts to use? Suddenly the hard work has been taking out and all that's left is ACTION!
That's exactly what we have done at RCS! For our clients at the Marketing Pro-Plus level and higher, the Marketing Reminder Calendar system is available to begin using now!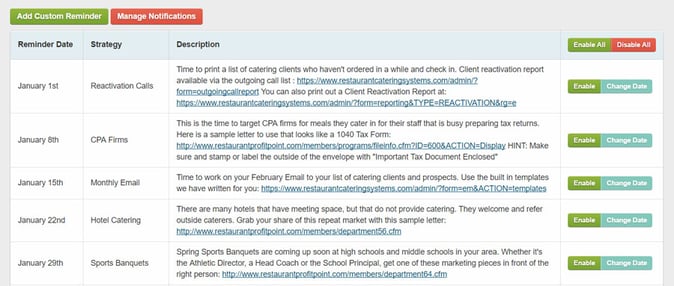 Found in the Marketing tab, this module will keep you on track, every week of the year, with a strong plan. From reactivation campaigns, to monthly email marketing, and even holiday and special niche resources, this reminder feature will keep you on your toes!
Can't do it alone? You can even set this up to remind certain users in your account by email, text or pop-up notification the next time they log in.




Marketing can be a scary thing to some people, but with the Marketing Reminder Calendar system, you can finally rest easy knowing you are properly marketing your catering year round.

If you are interested in talking about this feature or having it turned on in your account, please contact me at 615-671-9290, or set up a time for us to review together by going to booking a meeting with me here.