My father was a hard-working man. He believed in not just providing for our family, but setting an example in how he lived his life.
One thing he did ingrain in me throughout my childhood was how important first impressions can be for any relationship, business or otherwise. It's a lesson I've worked hard to impart upon my kids as well.
It's also a lesson I've carried with me my whole working career through to the present.
Without the kind of impactful, memorable first impressions I've made with each and every client I've taken on, CaterZen wouldn't be the company it is today.
That's not an exaggeration. That's a simple, cut and dry fact.
So, as you prepare your proposals for new clients, you need to ask yourself a very important question: Are you making the kind of first impression that is going to set you apart from your competitors, or are you going end up as just another name in the pile of options?
Write A Catering Proposal With Your Best Foot Forward
You'd be crazy if you weren't at least aiming for the former of those two choices. No one wants to have their hard work overlooked because of their competition.
But if you're going to make a great first impression, your catering proposals need to be fantastic. For many clients, this will be the first (and if it's not good, only) opportunity to look at what you can do for them in a single, inclusive package.
There are a few things that are incredibly important to consider when it comes to building your proposal. Things like clear and concise breakdowns of what services and products you can offer, as well as any flexibility, which may or may not be available within your menu.
For today, let's discuss what I think are two of the most important parts of a solid first impression and a great proposal: Branding & Promotions.
Branding Your Catering Proposal for a Memorable Visual Impression
Branding your company is one of the most crucial elements to success for any catering business, especially in its infancy.
Your company name and your logo/brand design need to be at the forefront of every facet of your business. The proposals are no different.
It would be incredibly rare for a client to take the first quote or proposal that they are given, so there's a very good chance your potential client is going to be sourcing quotes from several other catering companies, many of which will be your direct competitors.
You want the style of your proposal to stand out against the rest of their options. If you can make a good visual first impression, odds are they will take a little more time considering you against their alternatives. This means you'll have a far greater chance of landing the job than if you didn't.
CaterZen's Customizable Professional Proposal Cover Sheet
CaterZen's marketing team will create a custom template for your quote cover sheets when you sign up with us, and in your settings, this custom sheet will automatically be turned on.
We recommend you leave it that way, because our team has your success in mind. That cover sheet will be designed to highlight not just the best elements of your business, but to be visually attention-grabbing and appealing as well.
It's part of CaterZen's catering proposal software, which is designed to make every proposal smooth to set up, visually stunning and always cut above the rest.
Once you have your quote cover sheet set up through CaterZen, if you have other ideas on how you think this cover sheet could be tweaked or amended to fit with your preferred vision, don't hesitate to schedule a meeting with us to discuss it. You can quickly and easily set up a meeting with our marketing team by clicking HERE.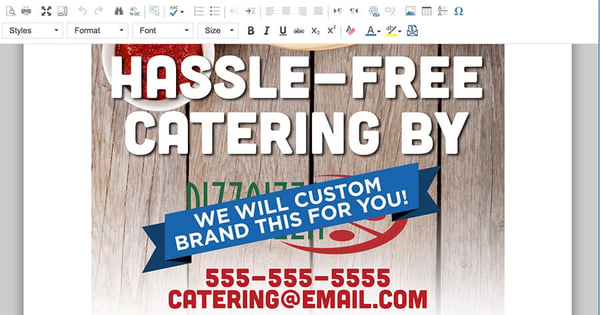 Don't Forget to Include Promotions
Everyone loves a little extra.
Bonuses, perks, benefits, no-charge add-ons or freebies, whatever you choose to call the promotions your catering company offers, it all amounts to the same thing: giving the client a little bit more than what they're paying for.
Whether you have one set of consistent promotions your company likes to run, or you're running a limited time offer, you need to make the client aware of their options.
For the record, promotions that only run for a short time or over a certain time of the year, like holiday promos, offer an added benefit above regular promotions – they add a sense of urgency.
If your client's event is for another six months, but you have a promotion that is only valid for orders placed during the next six weeks, the client might feel inclined to sign up ahead to take advantage of the promotion —especially when they don't know what, if anything, it will be replaced with after its expiration runs out.
Some companies choose to offer things like 'free delivery' for their customers. There are ways that you can hide the costs associated with offering things like this. I talked about it a bit previously in this post about how much to charge for catering delivery.
A Loyalty Program To Win Over Catering Prospects
Others choose to use CaterZen's catering loyalty program to offer rebates for their customers. This way, if you're going to charge extra for something, your client can earn some sort of loyalty bonus that can be applied to their next catering function. This is nice too because it encourages clients to come back to you again in the future, to redeem these benefits or discounts.
Whatever you choose to offer, the most important thing is to make sure it is visible in your proposal. If the client can't see something awesome you plan to do for them, they can't use that as another reason to choose you over a competitor.
Designing a Catering Quote with CaterZen
Of course, the cornerstone of any proposal is the meat and potatoes of what they're asking for – a quote.
When it comes to designing a quote in CaterZen for your proposal, it's a very straightforward process.
Step 1: Create or select a contact in the CRM
First, you'll want to create a contact for the person or company you are quoting, so you'll always have that in your CRM for that customer. This means even if they don't accept the quote you give them this time, if they come back to you in the future, your setup process will be that much easier.
You can do this by going to the CRM tab at the top of your screen in CaterZen, and then selecting New Contact. Fill out all the applicable information and boom! You've got your client in your CRM database.
Step 2: Create a quote for the contact
Now that the client is set up, click on the account you've just created for them and head to the QUOTES section in their profile. Select "Start a new quote" and you're off to the races!

Build your clients' requested specifics into the spreadsheets and make sure to save it when you're done.
Once your proposal is accepted (because with CaterZen's help, you can count on that happening a lot), turning that quote into an order is a piece of cake.
Convert the Quote to an Order
From viewing the quote you have created, all you have to do is click on the QUOTE FUNCTION drop-down menu, and then select CONVERT THIS QUOTE TO AN ORDER.
You'll be brought to the order entry tab, where you can fill in the applicable information for delivery, payment, etc. Just fill it all in and click PLACE YOUR ORDER at the bottom.
You're done! You've just turned your quote into an order. Congratulations!
CaterZen's CRM tracks all of the previous quotes and clients you've done proposals or jobs for in the past, so all of the information is always available at the click of a button.
Easily Create Your First Proposal Today
In any case, before you get to placing orders, you'll need to build that great proposal.
Sign up today for a free personalized demo, and we'll show you how CaterZen will help you make a lasting first impression and an amazing proposal – every time!