Before I get into this blog article about words, let me tell you a word I perfected on New Year's Day. Sausage. I have wanted to learn how to make my own sausage for a while.
I went to Williams Sonoma and bought a meat grinder and sausage stuffing attachment for my Kitchen Aid mixer. Thanks to a few You Tube videos, I cranked out some incredible pork sausages. At least that's what everyone at the New Year's Day party told me. (See pic below)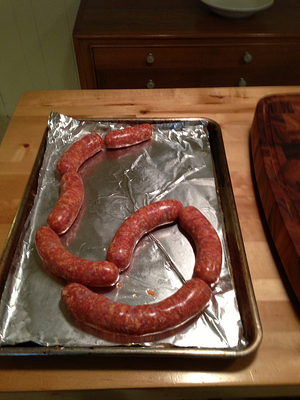 This weekend I'm going to make a batch of lamb and feta sausages.
Anyway…
What difference does a word make in the grand scheme of life? We teach our kids to say yes instead of yea. Maybe you believe that your kids should use "sir" and "mam" when answering their elders.
I once took a woman out on a second date. The first date was good, so I figured I'd take her out again to see how it would go.
While at dinner, I mentioned a local Greek diner featured on Diners, Drive-Ins and Dives. I talk about food and restaurants like Michelangelo paints. With excitement in her voice she said, "Wow. That sounds great. You need to take me there."
At that moment, the proverbial nails hit my chalkboard. She could have said, "We need to go there" or "That sounds fun" or heaven forbid, "That sounds like a neat place. My treat."
Anything but, "You need to take me there."
She may have meant nothing by her choice of words, but I have become very astute on picking up on subtle clues.
I just wrapped up writing a new training manual for my clients called, "The Ultimate Telephone Training System For Catering Sales". I have scoured through mystery shopping calls, training scripts and back newsletter articles to assemble over fifty scripts/concepts for you to use as a guide for better handling catering calls.
Let's take a very simple question most of you ask a potential catering client, "How many people are you feeding?" It sounds harmless. Where I come from, you feed cats, dogs, cows and chickens.
Instead try, "How many guests are you taking care of?" This instantly lets the prospect know you are a little more professional than the average person.
What about the words you use on yourself, with your employees and family?
"No" "You can't" "We can't afford it" "I could never…" "I don't have…"
If you say it enough, you start to believe it. Your mind is nothing more than the fanciest computer hard drive on the planet. What you say gets programmed into the subconscious grooves of your brain.
As we start 2013, I challenge you to change your self talk.
You are good enough, smart enough, pretty enough and damn it…people like you!
May the biggest problem you have this year be to make over $400,000 and pay extra taxes J