Anyone who's followed my career knows about my famous x-ray mailer.
In May, there's a week called "Hospital Week", where hospitals will feed their staff as a sort of reward and thank you for all that they do.
I printed sales letters for Hospital Week on a black background, with white lettering on a transparency film, so they looked like an x-ray.
Then I mailed it to HR directors at 20 hospitals in my area with a sticker that read "X-ray film - DO NOT BEND".
From those 20 mailers, I landed over $17,000 worth of catering. And that was 20 years ago, so it was a HUGE amount of money back then, especially off a single, limited marketing campaign.
So, no, contrary to what a lot of people are saying these days, direct mail is not dead.
Junk mail is only junk if you send out junk.
Are You Effectively Targeting Your Market?
If an avid golfer gets a flyer in the mail, promising to show him how to earn $100,000/year buying and selling Barbie dolls, he's probably going to throw that flyer straight in the trash.
Send the same person a flyer promising to show him methods to cut five strokes off his golf game, there's a good chance he's going to want to look into it. At the very least, he'll take the time to read the flyer in detail, because it relates to him directly.
That's the difference you'll get from target marketing.
Deliver Your Message Through Sneak-Up Mail
There are other tactics you can use alongside target marketing, as well, to help get your direct mail the attention it needs to succeed.
Always making sure you're sending your marketing materials to the decision-makers in each company you're targeting is really important.
Dropping a catering flyer at the reception desk is a lot less likely to reach the right person than sending the mailer directly to the head of HR for that company, or the person you've determined is in charge of arranging that company's catering events.
Keeping updated lists of the decision-makers in each company you target is a valuable tool for making sure your mailers always end up in the right hands and not in the wastebasket.
Sneak-up mail is a tactic I've used in the past that, when done properly, has netted me between 20%-40% qualified appointment rates. When you consider that 2% is a spectacular response rate, those numbers are fantastic.
First, you'll want to start with a plain, #10 white envelope.
Next, make sure to neatly write both the company address and your return address by hand. Do not include your name or your company's name in the return address area.
Finally, when you mail it, make sure to use a real stamp. I like the limited edition stamps, myself. They tend to stand out really well.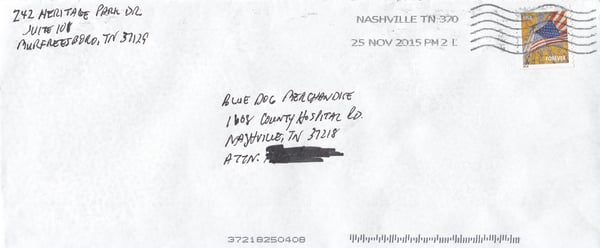 The idea here is that we generally have a gut instinct to open hand-written letters like this, because they tend to be from friends and family.
With that said, you better make sure you've targeted your marketing well.
If not, your catering clients are going to feel duped when they realize they've opened a sales letter. I like to suggest offering either a major benefit, or solving a big problem for your catering clients through your offer. This way, they'll still be glad to have gotten the letter.
Just don't overuse this method, or you'll lose the ability to 'sneak' it into your prospective clients' hands.
Variety is the Spice of a Marketer's Life
When I first opened Corky's, we printed out a year's worth of mailers all at once. That was the flyer I mailed out quarterly.
But decision-makers don't always respond to flyers.
It's your job to design as many different mailing materials as you think will work.
Maybe one month you'll do a black and white card on colored stock. Then next you could try full-color postcards.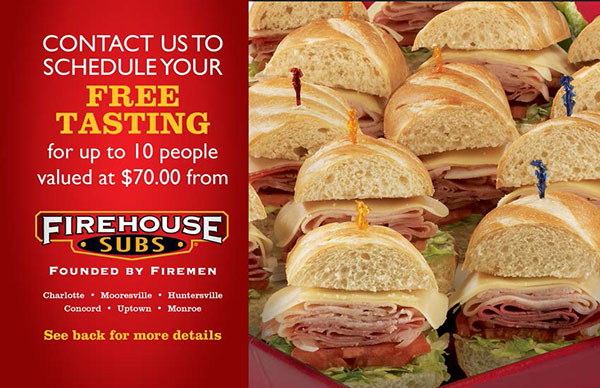 Everything you try should always be targeted to specific clients that will really appreciate the benefits you're promoting.
If you blanket an area every month, but don't target your marketing to the decision-makers, or design them to appeal to specific catering client needs, you can expect most of those to end up in the garbage.
Efficient, high-return direct mailing is only possible with smart target marketing, well-focused campaigns and offering enough variety that clients will always read through your materials, even if they don't always order.
Most people are too lazy to put in this much effort, so even if your competition is doing a quarterly mailer, odds are they aren't hitting all the marks.
Taking the time to design and implement as many direct mail ideas as is worthwhile will give you an immediate leg up on your competition, and you'll see a better return ratio on your direct mail leads.
CaterZen's Autopilot Marketing Letters
CaterZen understands how important direct mailing continues to be. That's why we offer easy set-up for several different direct mailing options, from postcards to flyers and even thank you letters (which are a great way to encourage customer loyalty and rebooking).
With fewer companies utilizing direct mail every year, mailboxes are less cluttered.
Less clutter means clients are more likely to actually read the marketing materials they receive, especially if they're appealing directly to their specific needs.
This is a perfect opportunity to use all of CaterZen's helpful direct mailing tools to revitalize your direct mailing campaigns for better results.
Thank You Letter
These letters are set up to be sent out based on certain criteria of your choosing. For instance, if a customer spends $100 or more on a catering order, the system would mail them a letter.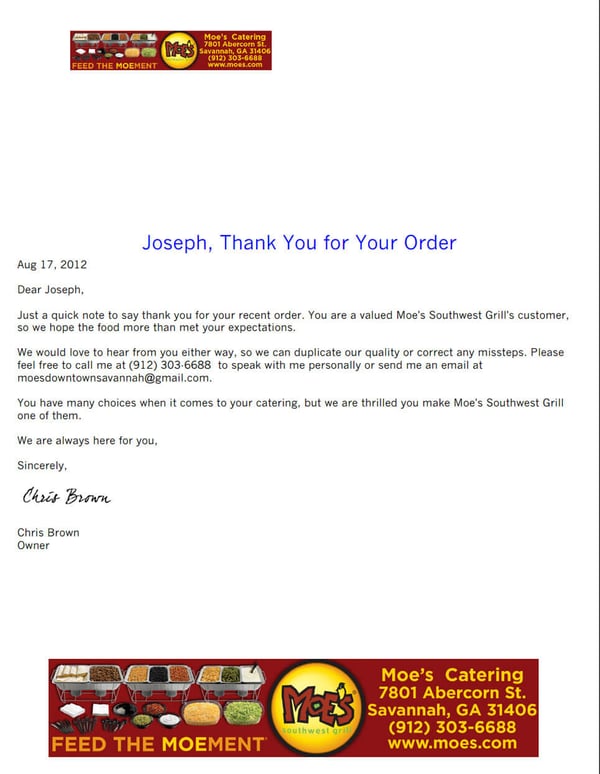 Loyalty Welcome and Certificate Letters
Every time your client places an order, a percentage of their total will go towards a Loyalty Gift Certificate. The more they order with you, the faster they will earn a reward!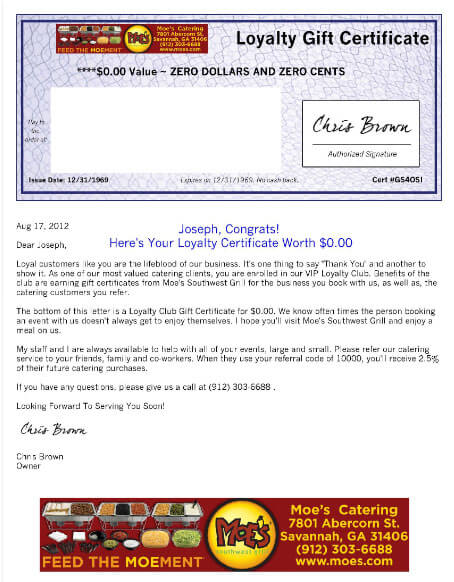 Custom Reactivation Letters
These letters give you the ability to send your inactive clients up to 3 different letters over a period of time with special offers targeted towards gaining them back as a client.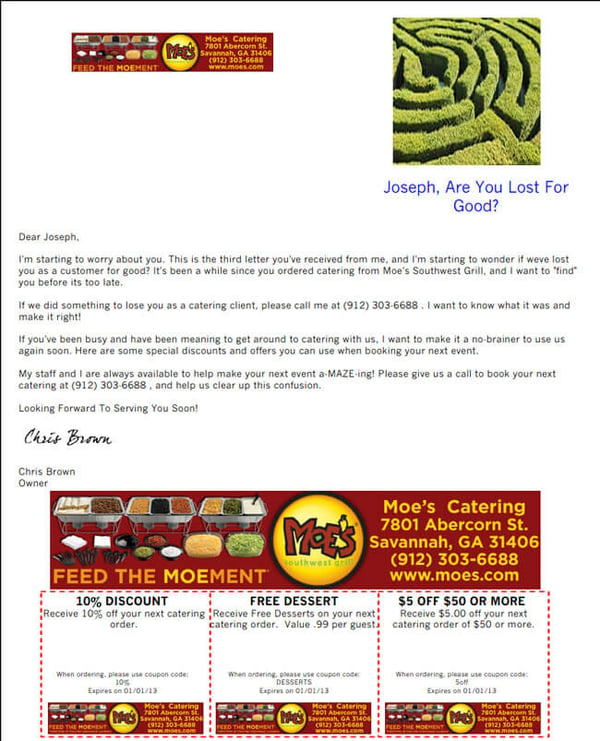 Birthday Letters
The birthday letter wishes your client well for their special day, as well as rewards them with a certificate, for the amount of your choosing, to spend on their next catering order.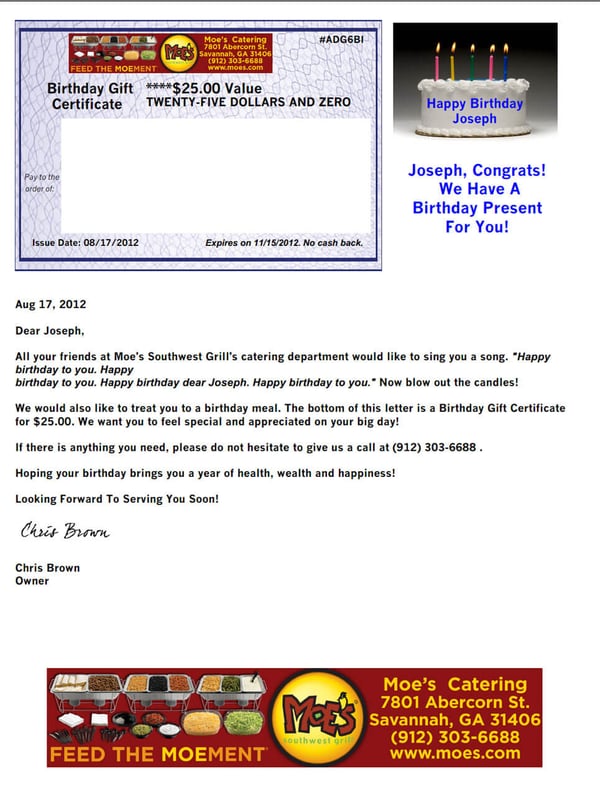 Want to learn more about all the direct mailing features CaterZen offers? Sign up for a personalized product walk-through with Nell Herman, our Director of Enterprise Sales, who would be happy to show you just how quick and easy it is to get started!
Or, you can call us at 1-888-997-3433 to talk to one of CaterZen's expert staff members about all the ways CaterZen can help your business.
You can even sign up for a 30-day, free trial (no credit card required) and try CaterZen out for yourself!
There's no risk involved, so why not give it a shot? You have nothing to lose and everything to gain.