Value comes in many forms.
For some people, they find value in hunting down the best discounts or limited time offers. Others look for freebies or buy-one-get-one type deals. There are tons of different kinds of catering rewards program options you can offer.
When I had my Corky's BBQ franchise in Brentwood, I didn't have the technology available to me like we do today. My first attempt at a loyalty program was targeted to pharm reps. I would give them ten percent of their purchases back in gift certificates to my store. I was so efficient, I wrote the rebates on the back of my business card and signed them.
The early pharm reps in the program became repeat catering buyers and turned on other reps to use us. The reps loved them, and it helped me build some very loyal clientele.
Since then, technology has come a long way. While I've been building and growing CaterZen, I've tried to find new, exciting ways to encourage catering customers to come back for repeat orders and help them to refer new clients.
I'm a big believer in giving back to the people that support you, and loyalty programs are a great way to do that.
CaterZen has not one, but two different catering loyalty program options available for you to use. This way, you can offer lots of variety to your clients.
The biggest benefit here being that you can choose to give back in whatever way you think will get the most excitement out of your customers.
Build Repeat Business with Autopilot Marketing Gift Certificates
The first catering rewards program works by taking a percentage of each order a customer places with you (the percentage amount is selected by you, of course) and then returns it to the customer in the form of Loyalty Gift Certificates to be used in your restaurant.
The gift certificates are branded for you, automatically printed through CaterZen's Autopilot Marketing system, and mailed out to your clients for future use, without you having to lift a finger.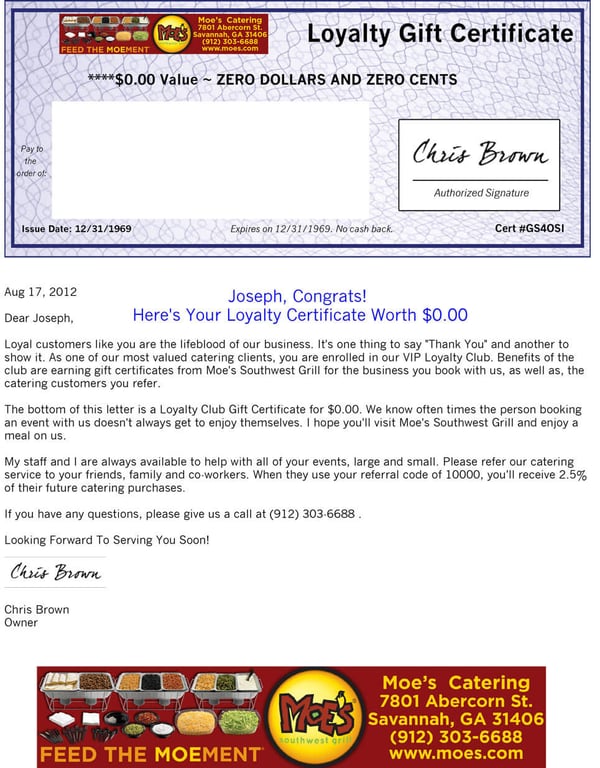 There's also a second level to the rewards. Your catering clients are enrolled in a referral program. They can give out their referral number to friends and business contacts to use for a special discount off of their first catering orders. Once their contacts become catering clients, they earn a small percentage off of all future orders their contacts place.
It's a type of multi-level marketing for building your catering sales without investing a ton of money in mass media advertising.
A Loyalty Program That Builds More Happy Customers
As you can imagine, this encourages customers to return to your restaurant again and again, so they can cash in their certificates. Some clients will save them up for future use. I once had a pharm rep save up his certificates for a year to pay for his family reunion.
It's a wonderful cycle that will mean more repeat business for you and most importantly, more happy customers.
If you'd like to read more about the printed gift certificates and their layouts, check out our Loyalty Gift Certificate program details.
The loyalty program itself must be set up by one of our team members. We will load your custom graphics, walk you through the system, and get you up and running. If you'd like to start using this feature with your customers, visit www.BookTimeWithJillian.com and schedule a time to get this feature turned on.
New Extension of Caterzen's Loyalty Program: E-Cards
As great as gift certificates to your restaurant are, recent third-party loyalty programs are giving people countless more options in how they can set up and cash-in loyalty bonuses.
The more I read about these, the more I've wanted to start giving our clients and their customers the same kind of freedom. After all, catering companies don't have restaurants to give certificates to. Most catering clients aren't jazzed to get a gift certificate to use just for catering. They'd have to accumulate a lot of sales to be able to cash them in. Most catering clients don't book personal catering jobs.
So with that in mind, CaterZen has recently partnered with Tango Card to let CaterZen clients offer over eighty different electronic gift cards as rewards for repeat catering purchases and referrals. Loyalty Club members can choose from gift cards as diverse as VISA to Amazon to Target.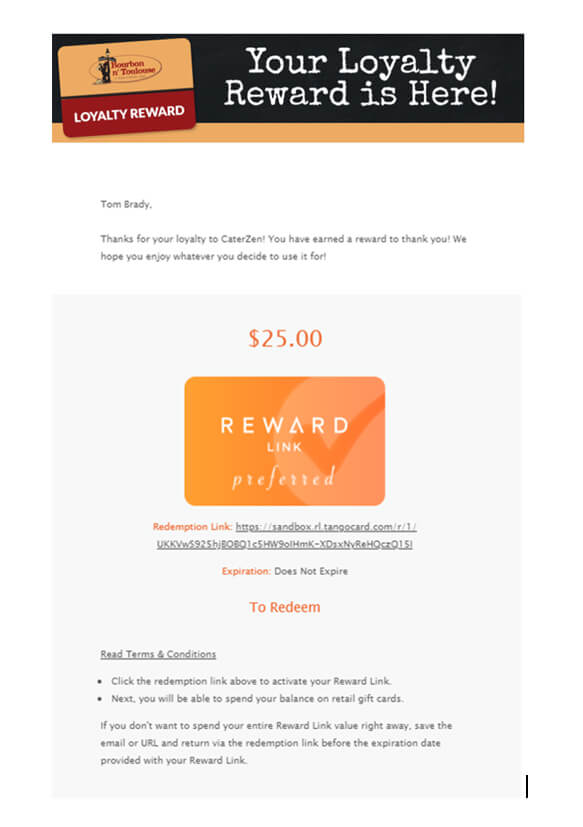 The variety literally allows each of your catering clients to pick the reward that gets them excited!
The Tango Card system is built into our software. You can now sign up to offer your customers Tango Card Points instead of traditional Gift Certificates only used in your restaurant.
To learn more how to get started with the e-card loyalty program, read about it HERE.
Like the gift certificate program, the e-card loyalty program also must be set up by one of our team members. If you'd like to start using this feature with your customers, visit www.BookTimeWithJillian.com and schedule a time to get this feature turned on.
Get Started By Offering Rewards to Your Catering Clients Today
No matter what catering rewards program you choose to offer, you'll be adding value to your customers' orders.
Value, which will set you apart from your competition, as well as help you retain and grow your customer base.
Call us today at 1-888-997-3433 to learn more about how CaterZen can help you give your customers these amazing reward opportunities.
Or you can sign up for a free 30-day risk-free trial - with no credit card required - and test out the system for yourself. Once you try it, it won't be hard to see why so many people are choosing CaterZen to help take their catering business to the next level.
Need a little extra help? Arrange for a demo HERE and let our Director of Enterprise Sales, Nell Herman, help get you started.
With so many loyalty reward options at your disposal, the sky's the limit when you choose CaterZen!