How many emails do you receive daily? I receive anywhere from a hundred to two hundred a day.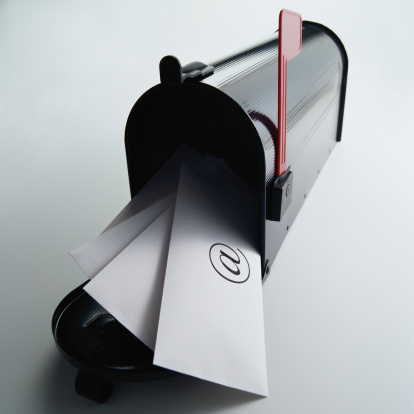 I feel like it's becoming a full time job just to keep up.
Now how many emails do you send out each month for marketing purposes? What? You don't have an email database of your dining room customers and catering customers and prospects? Then before you read on, start building one. Your database is the #1 marketing weapon you have at your disposal.
Many restaurant owners believe email marketing is a silver bullet. Hey, it's free or practically free.
Sometimes free has a price; a very expensive price. Email open rates are dropping. Most people will get between a ten percent and twenty-five percent open rate at best.
Don't be tempted to place all your marketing eggs in this basket.
Due to the higher check averages with catering, direct mail is a very cost effective marketing medium.
Please don't get me wrong. Email is still a player, but should never be your only marketing medium.
I come across many clients and prospective clients sending out html based emails. You know the ones; they are full color, branded emails, usually containing pictures.
As beautiful as these emails can be, they scream "ADVERTISING".
Most email browsers are set to download the graphics only with permission.
It's a dead giveaway I'm about to receive a marketing piece. The html emails also have a greater chance of ending up in your spam filter.
So what should you do?
Most of the marketing experts I know are opting for plain, ugly text based emails. Why you ask?
Because a text based email is how a friend communicates with a friend. You would never design a fancy shmancy html email to see if Bob wants to go to the hockey game with you.
Your text based emails can still contain strong offers, links, calls to action and testimonials. Just use the written word and avoid the html.
This one simple change to your email strategy can have a big impact.
Now as far as frequency, I think an email once a month to your catering list is perfect. If you really have something important to share or promote; send an email maybe twice a month.
I wanted to let all RCS clients and prospective clients know about a big change to our system and email system.
We recently upgraded servers and are in the process of building a redundant server to better serve our growing client base. The system is now about three times faster.
On the email front, we have decided to stop handling email internally and have partnered with a very well respected email service. They have a large staff to focus on white listing and deliverability.
They have developed proprietary code and algorithms to insure deliverability to all the major email services. Nothing is 100%, but these guys know their stuff. We, as a company, are much better off focusing on our core skills and outsourcing the emailing to them.
For our clients, the switch has happened, and you will notice nothing new as of now. Over the next six months we will be incorporating their tracking code into our system. This will allow you to monitor bounced emails and open rates.
Well That's All For This Issue!
Michael Attias
Restaurant Catering Software
P.S. – If you need help growing catering sales, then please go to www.RestaurantCateringSoftware.com and download my free eBook: Cater or Die!
P.P.S. – I make a limited number of time slots available each week for a free Catering Strategy Session with me. For complete details and to grab one of the limited spots, please go to:
http://www.restaurantcateringsoftware.com/catering-planning-strategy-session