I don't like to give discounts.
Even though we have couponing features built directly into CaterZen's software, I learned long ago, when I was still getting my feet wet in the catering business, that it's always better to add value than to give discounts.
Nobody wants to figuratively drop their shorts to try and compete with other, cheaper competitors.
Your prices are set the way they are, as they are cost-effective for your business, and because good quality food inevitably costs more to provide than junky fast food.
If you're eager to drop your prices by offering discounts, customers may think that your regular prices are too high, since you can clearly afford to bring them down.
Whereas, when you choose to throw something in for free, customers are more likely to perceive these as "thank you bonuses" for choosing you to cater their event.
How Freebies Provide Value vs. Coupons
For instance, I might say to a customer after completing a gig: "Hey, if you rebook your next event by March (when the event itself isn't until August), I'll throw in free desserts."
The customer will perceive this as great additional value. Desserts might normally cost $2-$3, when in reality it's only going to cost you $0.50-$0.70 to give away.
That's a huge difference!
Let's do the math on this to break it down.
For every $10 order a customer places using this kind of deal, at $0.50 per dessert, you're actually giving the customer a 5% bonus. Because the customer knows the desserts normally cost $2, they perceive it as 20% extra.
The value added in the customer's mind far outweighs how the costs translate to your business.
This can apply to whatever packages you tend to sell.
Let's say you're selling hams and turkeys for the holidays. Instead of giving customers a discount when they purchase their hams or turkeys, offer to throw in a pecan pie.
Coupons attract deal addicts - people who are looking for the cheapest price, all the time. If you offer a discount to them once, they'll want it every time. It becomes an expectation.
Adding value, on the flip side, is appealing because it's a pleasant surprise you can give people when they weren't expecting to get anything. It's a gift. A gesture of good faith. People appreciate it far more, and it will earn you much more goodwill from your customers.
You're giving them something, for nothing more than rebooking an event that they'll already need to book anyway.
Plus, the idea of getting their catering arranged long before it becomes a stressful scramble, and getting a bonus for it, tends to get customers pretty excited.
It's an added incentive that'll give them another reason to choose you again, rather than shopping around for an alternative from your competition.
Of Course, Coupons Can Provide Value, Too!
Now, just because I believe adding value is a better choice than offering a discount, that doesn't mean that coupons can't also be an effective marketing tool.
Whether you want to offer a discount for new customers to bolster signing first-time deals, an incentive for referrals to get new customers, or even just as a bonus when a customer's order reaches a certain size (e.g. 5% off of every order over $100), CaterZen can make it happen.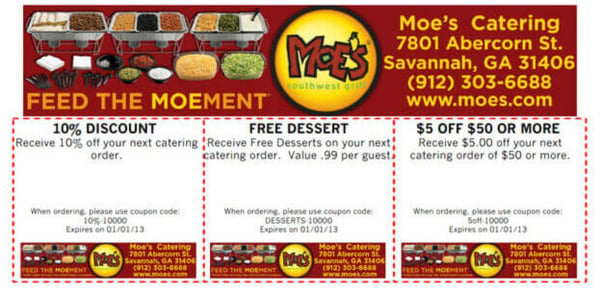 There are a million different ways our custom coupon building software can help you set up your specific discounts, so they can be applied with ease to customers' orders.
In fact, certain discounts can be arranged to be automatically applied without you having to lift a finger.
Within the CaterZen software, you can create your new custom coupons by clicking on the ADMIN page, and finding the COUPONS button. Select the "Create a new Coupon" option from the drop-down and the rest is up to you. The variations are almost limitless.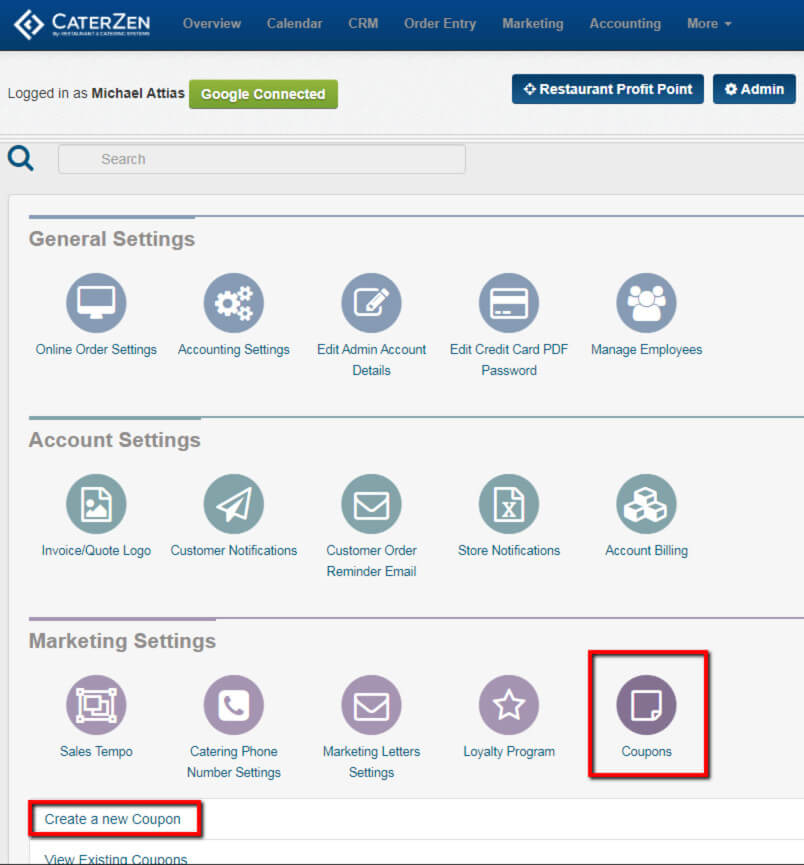 Automatic Coupons Based on Order
As I mentioned, some coupons can be designed to apply automatically, if certain criteria are met, such as when a customer chooses to order a specific menu item.
This means you can either offer a discount on the specific item, or apply a discount to the entire order if the chosen item is included in the purchase. This is a great feature if you're launching a new menu or menu item that you really want to feature.
Automatic Coupons Based on Time
Other coupons may be specific to a certain period of time.
For instance, if you were to run a holiday or seasonal special, you can arrange a coupon to apply to all orders during that time period.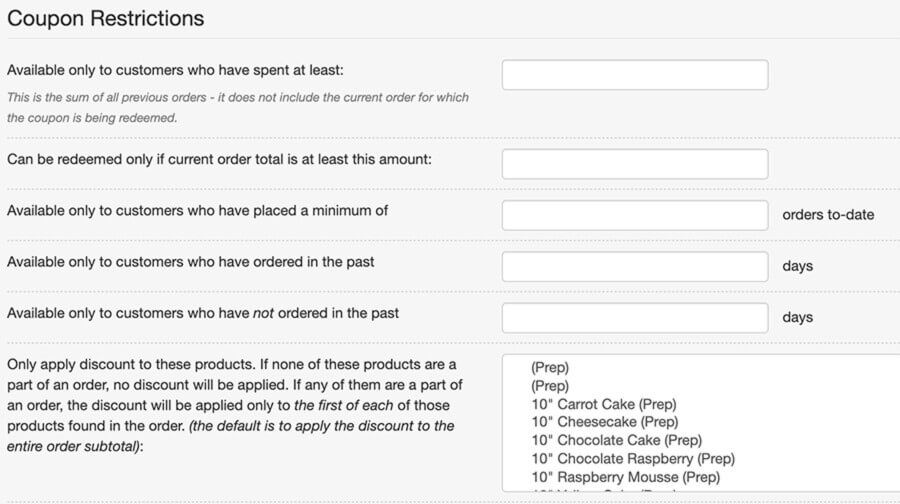 Start Growing Your Sales With Coupon Building Catering Software
The variety is endless, but the specifics are up to you. CaterZen gives you the freedom to make those choices yourself, but we provide you with all the tools you need to make setup and execution as quick and painless as possible.
Speaking of quick and painless, why not sign up for a free 30-day trial with CaterZen. It only takes a couple of minutes to get started and doesn't require a credit card.
Or you can schedule a personalized product walk-through with Nell Herman, our Director of Enterprise Sales, if you'd like a little more guidance while going through how all of CaterZen's features work.
You can also call us at 1-888-997-3433 and speak with one of our CaterZen experts. They're happy to answer any questions you might have about how CaterZen can help you and your business.
After all, isn't a free 30-day, risk-free opportunity to better your entire business the best coupon of all? We certainly think so.
Sign up now, and I'm sure once you've tried it, you'll agree!