There are very few things in the catering business that will have a greater impact on your overall success than staying organized.
Back in the '90s when I had my Corky's franchise, I made a lot of money by rebooking customers from events I had hosted the year before.
When I say a lot, I'm not kidding. Some years, it was upwards of $100,000 in rebookings.
That's nothing to laugh at. I bet your business could benefit from that kind of repeat business too, right?
But that didn't just fall into my lap. I had to work for it.
In fact, every time I finished filling a client's order, I would place the order into a January-to-December file folder for future reference.
The following year, each month I would go through every one of those previous sales and call the customers ahead of time, to see if they wanted to schedule a similar event for the current year.
By taking the onus off the customer to book the event, I was their hero. I was saving them time getting the catering booked, without even having to think about it.
Not only do we have that feature built directly into CaterZen's system, but we also offer a number of other integration and organizational tools in our catering calendar that will make sealing those repeat deals a piece of cake.
Catering Calendar Features for Events, Marketing and Sales
Time management is something that has been prioritized in CaterZen's system since day one. That's why it was important to me that we offered an overview calendar.
This is one of the most useful parts of our catering calendar, especially during the peak seasons throughout the year. It allows you to see all of your upcoming orders across any designated date range.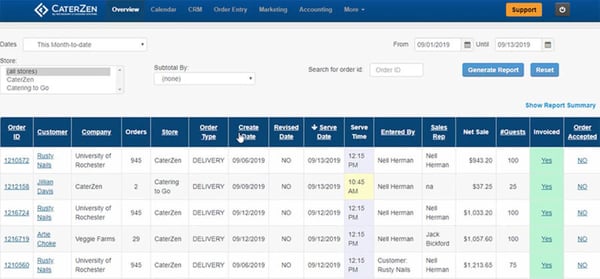 This way, if you have a large number of overlapping events or events scheduled very close together, you'll be able to more easily budget your time and staffing to make sure you're set up for success when those hectic days arrive.
We also have a traditional calendar that will let you see all your upcoming calls, meetings, reminders, proposals and events in a more traditional calendar design.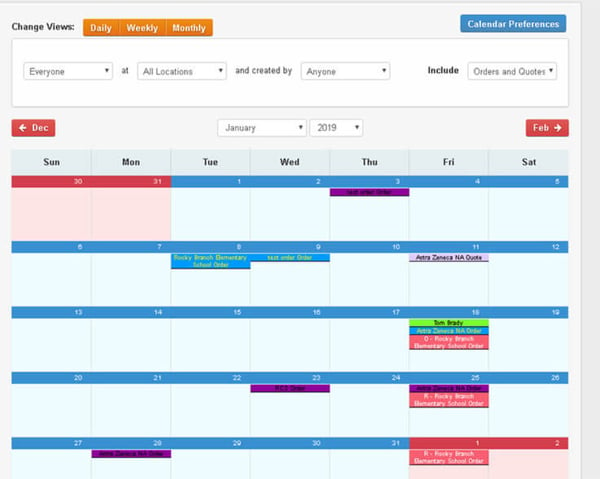 You'd be surprised how much less stressful your day-to-day activities will become once all these different elements are combined into a single, organized platform.
When it comes to staying organized, there's no such thing as too much.
Catering Calendar Integration with Google Calendar
Your CaterZen account easily syncs with your Google account, so that all your activities and order types from your CaterZen calendars will be visible within your Google Calendar, so you can access it from anywhere.
To-dos, meetings, upcoming events and even whether those events are pick-ups or delivery — everything you need to stay organized will be waiting at your fingertips.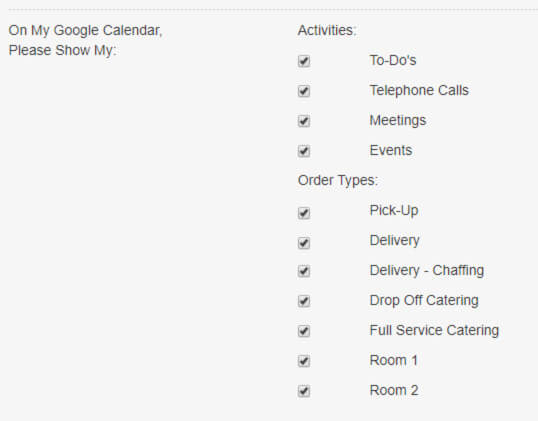 You can also set this up for each of your employees' individual Google Calendars, so your whole team will always be on the same page, which means no more excuses about forgetting a shift or scheduled event.
Tired of fighting with clients to book meetings? An additional benefit of syncing your Google Calendar is that you can set-up CaterZen's book-a-meeting feature, which allows your clients to compare their schedules against your schedule in order to save going back and forth over-and-over again.
No one wants to waste time just trying to get a meeting on the books, so this can be a real lifesaver, especially during the busier times of the year like the holidays.
Learn more about how to set up the book-a-meeting feature through CaterZen HERE.
Helpful Reminders for Rebooking and Proposals
Of course, it's important to keep up with your upcoming events, but it's just as important to keep up with your reminders.
Remember when I mentioned my overstuffed file folders full of past customer orders, organized by month?
You won't need that when you use CaterZen.
We have a number of different kinds of reminders that you can set for yourself in the future, but the two that we recommend using more than anything are rebooking reminders and proposal reminders.
Rebooking Reminders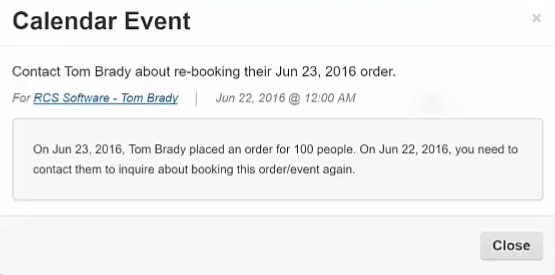 Rebooking reminders are pretty self-explanatory. Let's say you book an event for 'Bill'. When you do, you'll receive a pop-up asking if you'd like to schedule a rebooking reminder the following year to remind Bill to use you for his next event as well.
The best part is that you can set specific dates for the follow-up, separate from the actual booking date.
Whether you want to call Bill two weeks or two months earlier than his event next year, it will give you the opportunity to get a jump on the customer; possibly before they've even had a chance to think about booking the event yet.
Giving you a 'yes, let's rebook' is a lot easier for them than spending a lot of time debating about who is going to cater the next event. And it's better for you, because it won't give them the chance to start shopping around for other options.
Proposal Reminders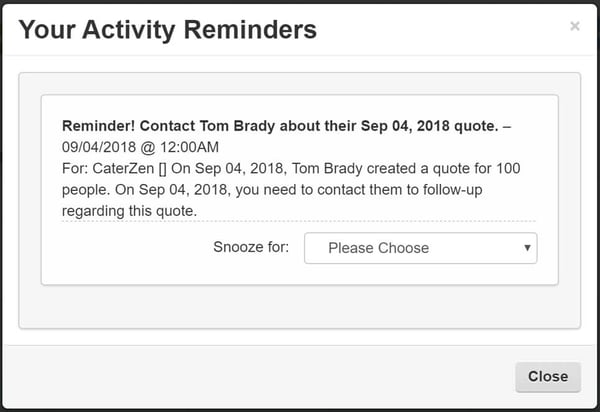 Proposal reminders are exactly what they sound like.
You've built a beautiful catering proposal that you spent time designing to appeal to that specific customer's needs, so why would you then leave it completely up to the customer to take the next step?
If a customer isn't sure exactly what route they want to take with their event, doing a follow-up call with them a few days later to see if they've made a decision can make or break the sale for you.
That reminder can be the tiny push they need to choose you over someone else, especially when it shows them just how serious you are about wanting their business.
People want to feel important, and an extra follow-up tells the customer that they aren't just another number to you.
If they know the success of their event matters to you enough to give them those extra few minutes of time, you'll get a lot more business than a competitor who delivers a proposal and then leaves the ball sitting in the customer's court.
There's an old marketing expression: 'The fortune's in the follow-up'. I cannot even begin to tell you how true that is.
Speaking of follow-ups, why not follow-up reading this by signing up for a free 30-day, risk-free trial? It doesn't require a credit card to sign up, and it will change the way you think about organizing your catering business.
Or you can call us at 1-888-997-3433 if you want to talk with one of CaterZen's experts about all the different ways we can help you grow your business.
Want a little more hands-on help getting familiar with CaterZen's systems? Book a personalized product walkthrough with Nell Herman, our Director of Enterprise Sales.
Once you try CaterZen, you won't need a reminder to sign up!