One of my best friends, Robin Robins, of Technology Marketing Toolkit, puts on an annual Marketing Boot Camp for her clients. Since its inception, I have judged her "Better Your Best" spokesperson competition where she gives away a brand new $65,000 Mercedes.
Though seeing seven of her top clients compete to get the car is very inspirational, motivational and educational, nothing compared to being able to hang out with her top draw speaker; Kevin O'Leary from Shark Tank.
Don't let this Simon Cowellesque star of The Tank, fool you into thinking he's a bully or a big jerk. Never mistake discipline for kindness. He told me he gives his businesses thirty-six months to turn a profit, or he's out.
He was a very relatable gentleman. We talked about everything from my acquisition of three bottles of 1976 Dom Perignon for twenty-three bucks a bottle while backpacking in Europe to his upcoming wine selling debut on QVC. He sold out in seven minutes.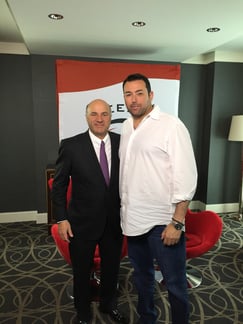 So what lessons did Kevin share during his speech and the private lunch I attended?
Here are three factors all businesses who received Shark funding had in common:
They could explain their business in 90 seconds or less.

They had excellent teams. As a business grows, you must have a great team assembled. At Corky's and RCS, my teammates all brought a different, valuable skill set to the table that allowed us to operate smoothly while building sales.

They knew their numbers. At Corky's we took a daily inventory on our commodities and compared it to what we sold, we ran a daily and weekly P&L and stayed on top of our numbers. At RCS, we have certain KPI's we track religiously. Without these numbers, we would be pissing in the wind…and that gets messy.
There were two other big takeaway lessons.
The most important part of all his businesses is sales. Before he acquires a company, he takes the head of sales, not the CEO, out to dinner. If you can't sell it, you can't make money. His highest paid people are sales. He may have more equity, but the guys who deserve to make the big bucks are the ones that bring it in!

It is all about customer/client acquisition. I preach/teach the importance of getting new catering clients as evidenced by the new Sales Tempo we have added to our catering software. We are even helping clients by handling catering prospect list selection. Every business must master customer acquisition. The reason the Sharks do so well, is that due to the free publicity of a top rated TV show, clients are acquired for next to nothing. It's called the Shark Tank phenomenon. Kevin invested in a cupcake business doing less than $40,000 a month before Shark Tank aired. They are now doing almost half a million a month. Not too shabby.
You don't have to land a deal with a Shark to profit from Shark Tank. The show should be a must-see on any business owners list. This show is great for your kids as well.
Thanks to Shark Tank, the entrepreneur is going from villain to super hero.
NOTE: Last year I put on a full day catering seminar in Baltimore with one of my most successful clients and longtime member, Frank D'Antona with Cantina Mamma Lucia in Baltimore, Maryland. We had to turn people away last year.
Saval Foodservice is sponsoring the event this year. It will be held Monday, May 18, 2015 near the Baltimore airport.
So if you have any interest, please go to www.CateringSeminars.com/baltimore for complete details. Hope you can join us.
Well, that's all for this issue.
To Your Restaurant's Marketing & Catering Success,
Michael Attias
Restaurant Catering Software
P.S. – If you need help growing catering sales, then please go to www.RestaurantCateringSoftware.com and download my free eBook: Cater or Die!
P.P.S. – I make a limited number of time slots available each week for a free Catering Strategy Session with me. (You also get a catering menu critique and free analysis of your website for "Catering Effectiveness"). For complete details and to grab one of the limited spots, please go to:
http://www.restaurantcateringsoftware.com/catering-planning-strategy-session
P.P.P.S. – Please check out my podcast at www.RestaurantCateringSmarts.com
P.P.P.P.S. - Anyone wishing to reprint my articles may do so. Please email me for the bi-line to use for proper author's credits.