Michael Gerber, author of the amazing book 'The E Myth', was very helpful for me when I was first building my business.
The biggest takeaway a lot of people have gotten from that book is that you should always be working on your business, not in it.
And the absolute best way to accomplish this is by having good, reliable systems that control and organize every aspect of your catering company for you to manage.
When I designed CaterZen, my goal was to create a catering software program that compiles all the important information and the systems you need to keep your operations running smoothly, and then makes it accessible from a single, easy-to-use platform.
Of course, the system is flexible enough to be able to run it however you'd like, while also giving you enough structure to avoid having to create all of these different tools and systems from scratch.
This saves you tons of time and effort that would be wasted designing and implementing these systems in your catering company.
As well, the time it saves will give you the freedom to fine-tune what you're doing. This ensures you're more profitable and can focus on important big picture things like growth and marketing strategies.
Catering Marketing is More Than Flyers and Promotions
Marketing is anything that touches the customer.
Sometimes we can forget that there are several operational systems that may not, on the surface, appear like marketing. In reality, they actually have a huge impact on your business.
Did the delivery driver arrive on time? Was the food packaged and labeled properly? Was the right quantity prepared for the event? Can you accommodate last-minute orders?
All those things operationally are marketing touchpoints, even though you don't necessarily think of them as marketing.
If you mess these things up, people aren't going to use you again. Word of mouth can be your best friend or your worst enemy.
CaterZen's software is designed to cover every aspect of your marketing – direct or indirect.
In fact, while using CaterZen, our software clients saw an annual average of 14% sales growth across 2016, 2017 & 2018!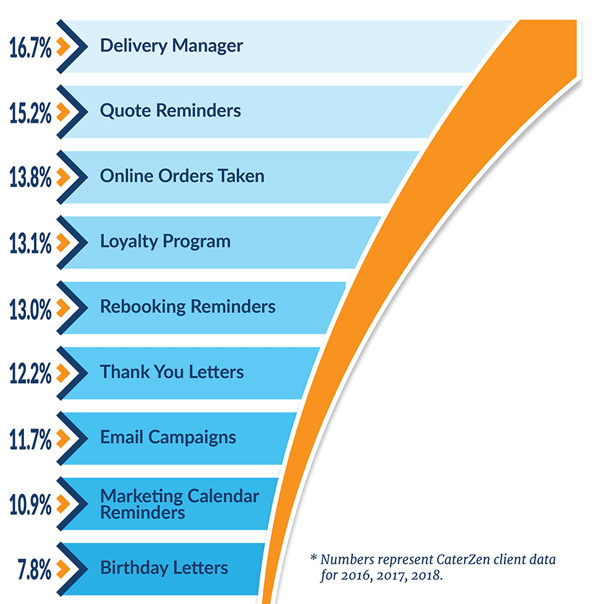 DISCLAIMER: These numbers are averages. Nothing is ever set in stone. Some people will do better than this and others won't. Like anything in life, when it comes to running a business, it's really dependent on the person in the mirror.
Do you get up every single day and hustle? Are you putting in as much effort as you could be? Are you working smart and hard? No one's going to do it for you, except YOU!
The Value of Reminders
We all need a reminder once in a while.
There are a hundred big things and a million little ones we want to get done every day. So, it's easy for things to fall through the cracks and get lost in the shuffle jumping from one task to another.
CaterZen offers many useful, automatic reminders that can be set up to give you that little kick in the pants when you need it.
The numbers don't lie. Reminders are easily one of the most useful weapons in your arsenal that way too many catering companies overlook.
Marketing Calendar Reminders
Average annual sales growth from feature usage:

10.9%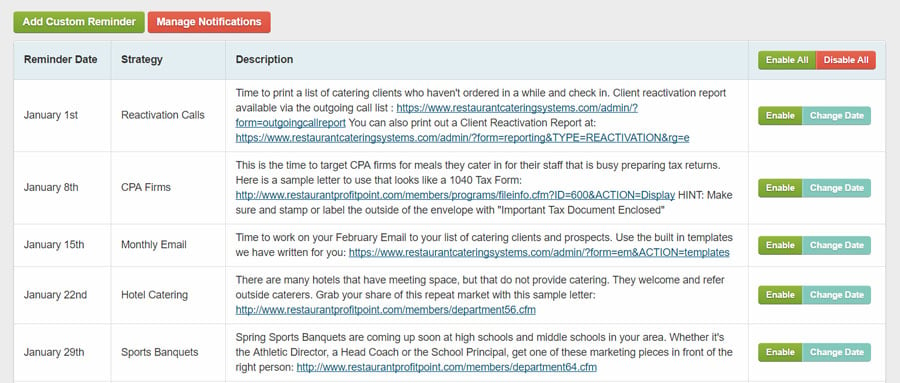 Stop jumping from idea to idea! Build a plan and set yourself reminders to help you achieve all the goals you want to meet for a year.
Take some time in the slow season where you build all your marketing materials for the next twelve months. Then set reminders in your calendar, so there's no way they can be forgotten or ignored.
This way, when you hit bumps in the road along the way, like unexpected staff changes, your marketing plans won't suffer for it.
Learn more about CaterZen's Marketing Calendar Reminders.
Rebooking Reminders
Average annual sales growth from feature usage:

13.0%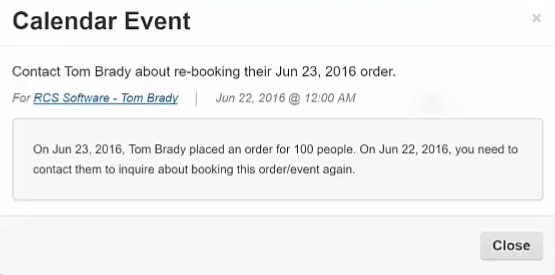 One of the only things more important than landing that first gig, and blowing your client's expectations out of the water, is rebooking them again anytime they need catering in the future.
CaterZen has convenient rebooking reminders built directly into our software. You can set custom-timed reminders for yourself to reach out to clients that you haven't heard from in a while.
Whether that's a week or a month before the same time they booked the year previously, the choice is up to you. Reaching back out is always a good choice because it shows your clients that their business matters to you.
Just because they haven't contacted you again doesn't mean that they don't have more catering events to book.
Maybe they just haven't gotten to booking it yet.
If so, you'll be saving them time by helping them get something off their to-do list, which always looks great on you.
Or maybe they haven't decided what route to go for the event yet. A little nudge from you could send them back in your direction again.
Quote Reminders
Average annual sales growth from feature usage: 15.2%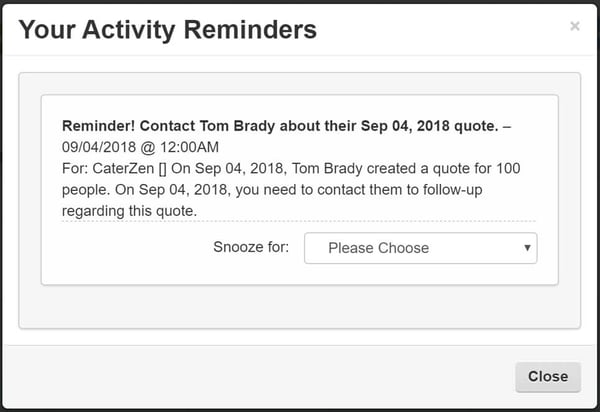 When you've gone to all the trouble of building a proposal and quoting a new client, do you just wash your hands and walk away?
If so, you're leaving money on the table, and you're wasting a lot of your time.
Just because a client hasn't gotten back to you in a couple of weeks doesn't necessarily mean they've decided to go with another caterer.
They may not have decided yet. They may be sitting on the fence about what they want to do. Or, they might just not have had time to make a decision yet.
Reaching out to the client to see whether they've had a chance to look over your quote yet can be just the incentive they need to make a decision.
In fact, if a client hasn't even had a chance to look at their options yet because they are so busy, the extra initiative you're showing might be all they need to choose your catering company over a competitor. You're showing them you value having them as a client.
You'll look like a hero for reminding them they need to make a decision, and you'll get the job.
It might seem obvious, but a lot of people are too lazy or don't have the foresight to set up these kinds of reminders for themselves.
How Much Will Your Catering Sales Grow With CaterZen?
Try our Catering Sales Growth Calendar to see how your catering sales will grow if you're our average customer!
We've covered just a few of the amazing features and tools that CaterZen has built right into our software, which are proven to help you get a leg up on your competition and keep your catering events running smoothly.
If you want to start taking advantage of all these great features yourself, why not sign up for a 30-day free trial? There's no credit card required, and it only takes a few minutes to get started.
You can schedule a personalized product demo if you'd like a little more hands-on help getting started. Our Director of Enterprise Sales, Nell Herman, would be happy to help walk you through anything you'd like to know.
Or, if you have questions, you're always welcome to call us at 1-888-997-3433. One of our CaterZen experts would love to answer any questions you might have about how CaterZen can help take your catering company to the next level!