Happy Monday and welcome to this week's Monday Memo! This week, we'll be highlighting another type of Auto-Pilot Marketing Letter available in your CaterZen account!
Catering Loyalty Program: A Marketer's Best Friend
Customers like to be rewarded, plain and simple. Whether by coupon, freebie or upgrade, people like to feel that they are getting high value out of the things they are spending their hard-earned money on.
An easy way that you can add value to your client's experience and also to ensure their return business is to add them to your Catering Loyalty Program.
Every time your client places an order, a percentage of their total will go towards a Loyalty Gift Certificate. The more they order with you, the faster they will earn a reward!
Referrals Extend Loyalty Reward Functionality
What is really special about this program is the referral feature! We have made it super easy for your Loyalty club members to get rewarded for anyone they refer to you for catering. So not only will they become repeat clients, but they get rewarded for spreading the news about you!
Your CaterZen system will track all purchases, reward points, and mail certificates when they are earned. This means apart from entering the client into the Loyalty Program, you won't have to do a thing! It's never been easier to lock in recurring sales!
Here are two examples of the letters your client will receive with this program:
Welcome Letter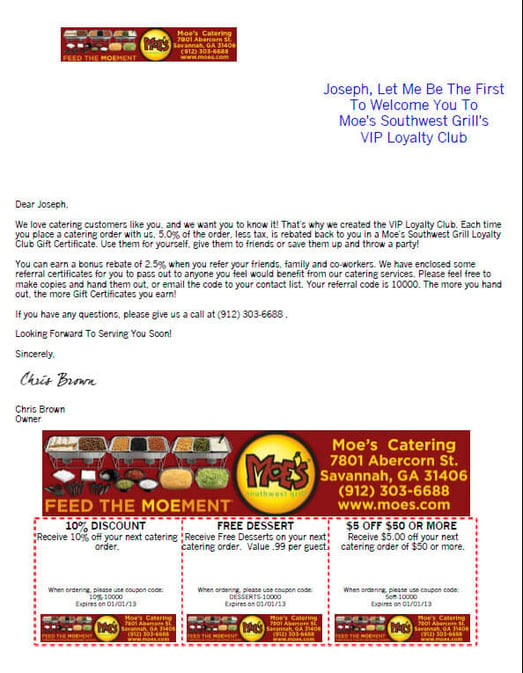 Certificate Letter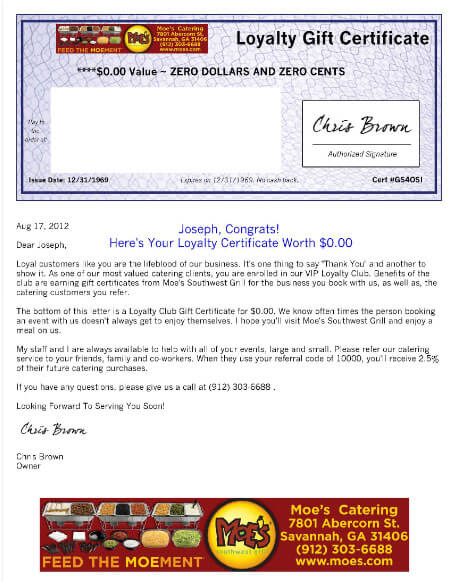 If you are interested in setting up your Loyalty Program, or any other Auto-Pilot Marketing Letters, please schedule a time for us to review by going to www.BookTimeWithJillian.com or call me at 615-671-9290.