Everyone makes mistakes sometimes, especially when they're new at something.
In fact, there's a reason why they say most jobs have a "learning curve" right?
Back when Corky's was a relatively new franchise, it became apparent pretty quickly that catering was going to be a big part of the business.
Unfortunately, I didn't have a lot of guidance on where to start.
I've always been a very organized person, prone to using spreadsheets to keep all my information together. Even still, that didn't stop us from stumbling over a few bumps in the road, while we were figuring things out.
Every catering event became a learning experience.
At our first event, we brought way too much food, which helped us realize we needed a sheet to help keep track of what to take and how much to bring.
At another, we found that we hadn't brought enough tables to serve all the food. It took a little scrambling to figure that one out, but when we did, it showed us the benefit of creating ratios for calculating food portions-to-serving equipment.
People not knowing what positions they're supposed to be working, needing a timeline for event days to arrange everything from prep to delivery to setup and serving — the list goes on and on.
It all boiled down to the same thing: money and time that I was wasting. Both things that I'm sure you don't want to see wasted in your business either.
That's why when I created CaterZen, I wanted to build in the best, all-inclusive, intuitive BEO tool possible.
And I have to be honest: it's turned out pretty amazing.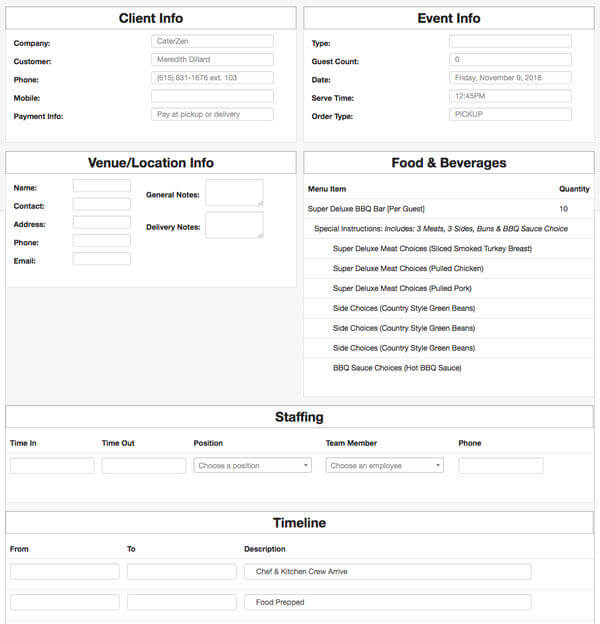 Catering Employee Scheduling With BEO Software
There are a lot of features we could talk about in CaterZen's BEO tool. For today, let's talk about adding employees, creating staffing positions and then assigning those positions within the BEO tool.
1. Add Employees
This process is incredibly easy, but for those of you who are new to CaterZen or thinking about signing up, let's go through just how easy it really is:
From the ADMIN tab at the top of your page, select "Manage Employees".
Then choose to "Add a New Sales Rep/Employee".

Fill in their appropriate information and always make sure to save when you're done.
See, it's super easy! But if you think you'd like a more detailed walkthrough, you can find one HERE.
As an added note, make sure you're aware that employees who are granted admin permissions will be highlighted in yellow once they are in your database.
2. Create Staffing Positions
Before you can assign employees to specific positions, you need to create those positions in CaterZen's BEO system.
From the same ADMIN tab, select "Manage Employees" and then the "Manage Employee Positions" link.
Once you're on this page, you'll be able to see a list of all the positions you've already created so far. "Bartender", "Server", "Chef" - you get the gist. You'll see buttons to edit or delete these positions next to them in the right-hand column.
Click on the "Add New Position" tab, fill out the name of the new position you're creating, and then select "Save This Information".

And you're done. New position created.
3. Assign Employee Positions
Now that you've created the positions, go back to the "Manage Employees" bubble and select the "Manage Employees" link below.
You'll be brought to a list of all your employees. Find the employee you want to assign positions to and select the edit button under the "Action" column.
Scroll to the bottom of this page and you can select any positions you wish to assign to this employee.

Make sure to "Save This Information", and it's ready. Those selected positions will be listed in the employee's file.
For a more detailed breakdown of creating positions and assigning them, visit our walkthrough HERE.
4. Schedule Employees in Your BEO Template
Once you've got employees set up, you can easily add them to our completely customizable BEO templates.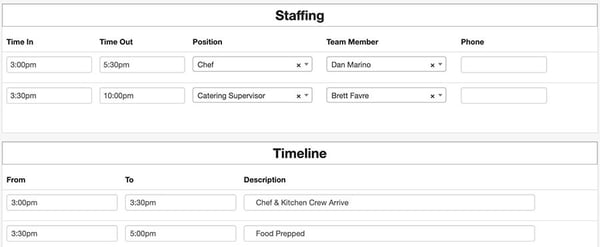 And that's it. Everyone on your team will know ahead of time exactly what part they're playing in making sure the next event runs smoothly. No more bumping heads and arguing over who's supposed to be doing what.
Doesn't sound like much work to save yourself a lot of potential headaches, does it?
Run Events Smoothly with CaterZen's Catering Software
This is just one of the many ways CaterZen works for you, to make organizing your events and your employees a piece of cake.
If you haven't given us a try yet, why not sign up for a 30-day risk-free trial? There's no credit card required, and once you dive into the software, you'll appreciate why CaterZen is the best choice for your catering employee scheduling needs.
Or you can call us at 1-888-997-3433 and talk with one of our helpful sales team members about how CaterZen can help you.
Want a little extra help? Sign up for a demo with our Director of Enterprise Sales, Nell Herman, who can walk you through everything you need to know to get started today.
With CaterZen's intuitive BEO tool, your next event is sure to be a huge success!