Isn't it funny that most people use their phones for everything and anything except talking?
Growing up, the rich kids' parents bought them children's telephone numbers. They didn't have to compete with their parents for phone time. Their friends could call them any time of day or night.
With my parents fresh out of bankruptcy, the thought of a children's telephone number in my house was as outlandish as a limo and chauffeur to take me to school. Since I was working, I talked my parents into letting me pay for my own telephone line.
Being able to chat with my friends at all hours was a bit of a guilty pleasure. Once call waiting hit the scene, life took a turn for the better. Never did I have to worry about, God forbid, missing a call.
Phone Calls Go Further Than Emails in Customer Interaction
Today, I would say those under forty hate making voice calls, for personal or professional reasons. I don't know if it's the fear of rejection or the potential of an uncomfortable call, but texting and emailing seem to be the "safe" form of communication.
I am a big believer in picking up the phone. Whether it is to make a sales call, customer service call or anything in between, less gets misunderstood. And I truly believe your clients prefer the personal touch.
I know if you're a millennial reading this, you're either shaking your head no or thoroughly disagreeing with me.
The rarer an action is, the more likely it will stand out. Get in the habit of picking up the phone and encouraging your team to do the same.
CaterZen's Built-In VoIP System for Catering Calls
I wish I could take credit for my favorite Ray Kroc quote, "We innovate quicker than our competitors can copy."
We at CaterZen are always looking to add value to our catering software. We want to give you the tools to make you more money, save you time and make you look like a hero with your clients.
One of our most undervalued tools is the VoIP (voice over IP) phone system built into our catering software. All incoming and outgoing calls are recorded, saved and appended to the corresponding CRM record.
This allows you to review calls for training purposes. It's also a great way to settle
"he said, she said" situations with clients and prospects. No one can argue with a recording.
Incoming Catering Calls Easily Routed to Your Team
On a very basic level, you can have all incoming catering calls forwarded to one or multiple people within your company. Their phones can ring one at a time, rolling from one to the other or ring simultaneously.
Not answering your phones live is the kiss of death to making a catering sale. Don't make it easy for busy prospects to call the next caterer on their list.
Robust Features for Outgoing Catering Calls
CaterZen has many systems to make the most of outgoing calls.
1. Click-to-Call
We have built in a convenient call icon you can use anywhere a client record is located.
2. Easy Call Look-Up
We have developed an interface to make reviewing calls a breeze. Search by team member, ingoing/outgoing, date range, etc. I love this feature to review the number of calls made, disposition, notes, call length, etc.
All call recordings can be emailed out with notes. When I am training a new team member, I ask them to email me all call recordings of meaningful conversations. This allows me to provide real-time feedback and coaching.
The best-designed training program can't account for every nuance encountered in a call.
3. Bulk Call List
At times you need to make calls to the entire list. Looking up CRM records one-by-one is too time-consuming. We have built a Bulk Call List feature. You can look up contacts to call by the CRM group they are tagged in and/or the disposition of their last call outcome.
For instance, you want to call all school principals to promote catering for teacher's in-service training meals. Use our phone system to look up all contacts in the "schools" group that have never been called before.
Our interface presents your calls in a spreadsheet-like screen complete with click-to-call, the ability to update records, make notes and leave a call disposition.
This feature is also great for mass calling to qualify lists of prospects for sample luncheons and outbound calling.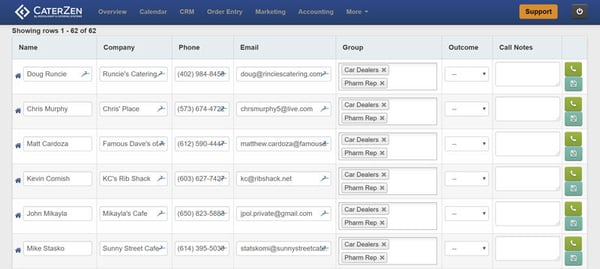 4. Outgoing Call List
Operating a catering business requires all sorts of calls. Our Outgoing Call List gives you a simple interface to pull them up and make them.
Here are the types of calls you can queue up:
Past Due Invoices: Use this to keep up with collection calls.
Birthdays of Catering Clients: Wish them a happy birthday. Everyone appreciates a call on their birthday. We buy from people we know, like and trust.
Quote Reminder Calls: Call back catering prospects to check on the status of turning a proposal into a booking. The fortune is in the follow-up.
Order Rebooking Reminders: The easiest sale you'll make is a repeat. Every time you take a catering order, you can set a reminder to call and rebook the order. I have locked in a lot of high-dollar, repeat-catering jobs with this simple, no-cost technique.
Orders Scheduled In A Date Range: This allows you to call clients before an order is going out to confirm and/or do some last minute upselling. It's also smart to call clients the day after their events/orders to see how things went and to see about locking in the next event.
CRM Calls Scheduled: You can schedule follow-up calls in our CRM for any contact. Our interface allows you to pull up your list of callbacks.
Reactivation Calls: Pull up a list of catering clients who haven't ordered in the last ninety days to see about saving them as clients.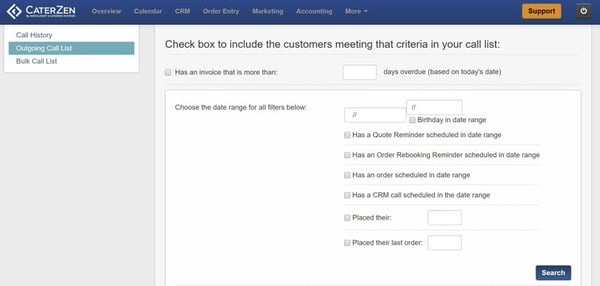 The telephone is one of the most underutilized pieces of equipment in your operation. Don't be scared of it. Embrace it, because there is no substitute for the telephone.
Want to get a personalized demo of CaterZen's phone system?
If you are interested in a walk-through of our VoIP phone system and catering software, please schedule a time for a web-based meeting with Nell Herman, our Director of Enterprise Sales. Please click on the link below to schedule:
Book a CaterZen Demo