Throughout the pandemic, caterers and restaurants have been learning of ways to pivot and get creative with their businesses to stay afloat.

CaterZen is introducing another commonly-requested software feature that can provide you with more flexibility to make a profit during this challenging time. Now you'll have the ability to create custom menu times rules, where you can offer specific menus at specific times on your online ordering site.
Watch the video below to learn more:
You were already able to create unlimited menus for any occasion or situation in CaterZen, such as:
holiday menu
family meal deal menu
pickup-only menu
corporate catering menu
breakfast-only menu
With this new feature to create specific display rules for each custom menu, you'll now be able to create limited-time menus.

Show your specific menu on your online ordering site for a certain amount of time, and only make it available for takeout or delivery during a certain time frame.
Custom Limited Menus
Our menu configuration rules are highly customizable, where you can create unlimited combinations of options of when to display and offer your custom menus.

Let's look at an example:
You've got a special dish that's only available for a certain amount of time. First, you can select to only show the menu on your ordering site during a specific period of time:
Then let's say the special dish is only available for pickup during certain days of the week, and only in the afternoon.
You can easily create these custom rules in this flexible new section in your admin area: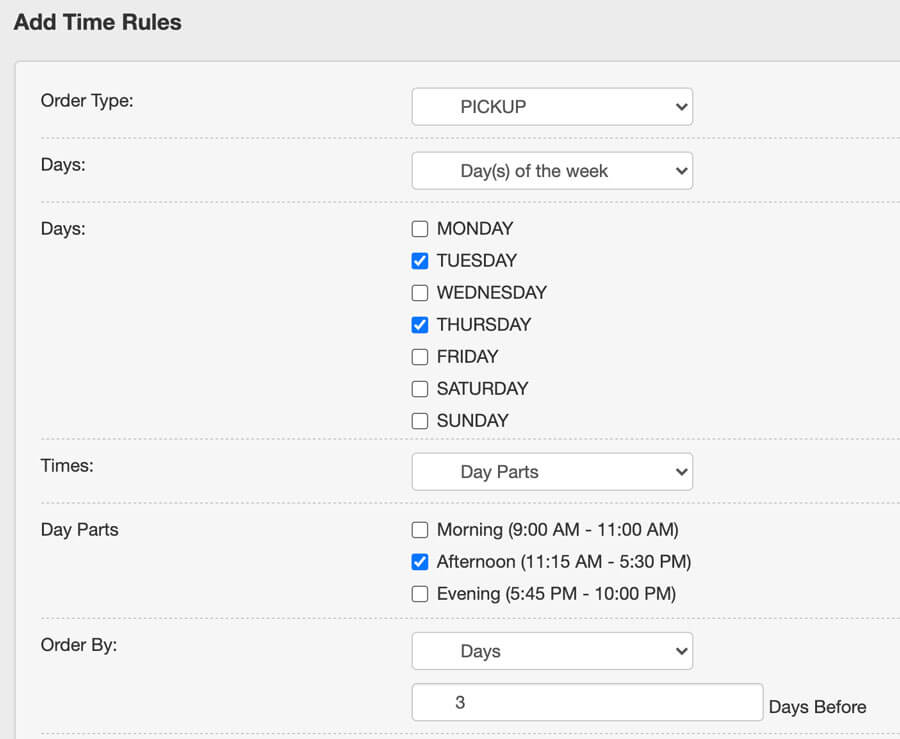 Then, when your clients go to order that particular dish, they'll only be able to order from you based on the days and times you've defined: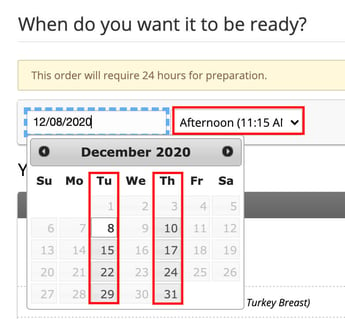 The calendar is automatically blacked out for days and times that aren't available.
Customization Options
There are lots of different ways that you can set up your custom menu times.
You can decide whether the menu is available on specific days, or on days of the week:

Then you can choose what time frames the menu is available, either by defining the specific start and end time, or staggered times, or by day parts that you also configure in this admin area:

You can also specify how much time in advance is required to place the order, with granular detail:

Get Started With CaterZen
To learn firsthand how CaterZen can help you grow your sales, set up a demo with our Director of Enterprise Sales, Nell Herman, who can provide a personal walkthrough of our integrated catering software, and/or answer any questions you might have. Schedule a demo here.
If you'd like to jump right in and take the software for a spin yourself, you can sign up for a no-obligation free trial, where we've pre-filled data so you can see the value right away.