Sometimes it can be easy, while you're trying to lead your business to success, to lose track of the day-to-day operations within your company.
I'm part of a CEO roundtable group, where we share ideas and strategies in how we run our businesses. It's an invaluable resource for all of us, and because we can feed off each other's ideas, we all benefit from learning ways to improve our business strategies.
But none of us are perfect. We all have flaws we need to work on, to improve the skills we use to run our companies.
One of my friends from the group is a brilliant guy. He's great at sales, and a genius when it comes to expansion, but he's absolutely terrible at keeping up with some of the details within his company.
It's not for lack of effort. He's a hard-working, passionate guy. A big part of the reason he's consistently had this problem is the poor systems he's got in place to help him oversee his business on a day-to-day basis.
Watching him struggle with organizing his reporting systems encouraged me to build tons of intuitive, helpful system tools into CaterZen's software.
This way, you won't suffer from the same problems that he does.
Catering Sales Reports
One of the most common kinds of reports any catering business owner should be referencing on a day-to-day basis is sales reports.
Whether you want to get a breakdown of how many sales you've gathered from one specific lead source (e.g. flyers, website leads, call-ins, etc.), or perhaps events of only one kind (e.g. weddings, picnics, company meetings, etc.), we have reports which make tracking and monitoring that information fast and easy.

Maybe you want to turn your attention towards more upselling, so you can make more money on each event. We can even track your upsell items individually, so you can track what's working best and tweak your upsell campaign to get the biggest results.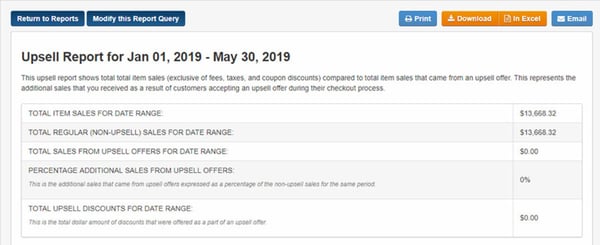 We've talked a lot in recent weeks about the benefit of adding value for your customers through the use of loyalty bonuses and coupons for customers.
We can track those redemptions, as well, through the Coupon Use Report and our Loyalty History Reports. This means that you can actually see just how frequently your customers are cashing in their earned bonuses.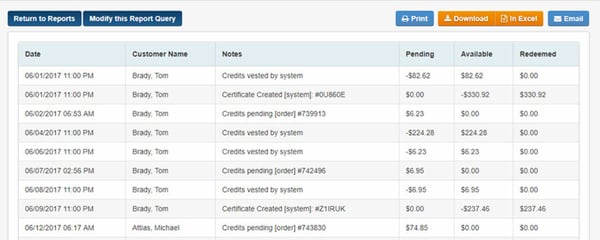 This kind of information is important to know as you build future campaigns to continue growing your sales, and CaterZen makes compiling these reports quick and painless for you.
Kitchen & Production Reports
Catering production can be a tricky beast to tackle, especially during the holiday season when you're bombarded with events.
With CaterZen's Kitchen Production Report, you can view your entire list of items to produce during any specified date range, making scheduling your production staff a lot easier. It will also give you the benefit of being able to see what your best-selling items are during specific campaigns, and the volumes that were ordered.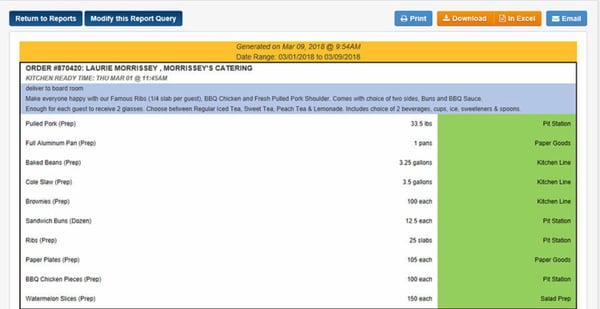 Learn more about how our powerful Tablet Production Reports are for making sure your kitchen is prepping the correct amount of food and not printing on paper.
Tracking suppliers can be a nightmare. More so, if you get multiple weekly deliveries from several different suppliers.
From the "Kitchen & Production Reports" menu, you can monitor exactly what you need to order from your suppliers with our Supplier Ordering Report.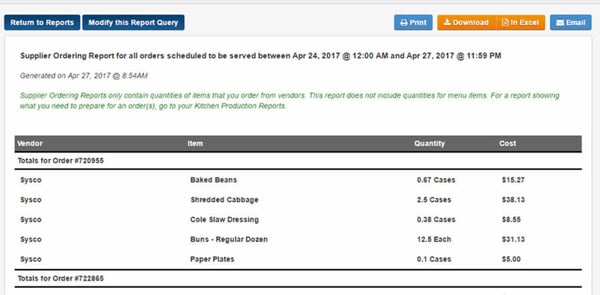 Managing a last-minute add-on function is so much easier when you can see exactly what you've already got ordered for ingredients and scheduled for production staff.
In fact, even monitoring your upcoming delivery schedule is a lot easier with the Delivery Schedule Report, and planning last-minute route changes are less of a headache with the interactive drag-and-drop delivery map with routes you can see.

This kind of easy-to-use, quick-to-respond tracking means you'll be far more likely to take on those last-minute catering deliveries, whenever possible.
And we all like to make that little bit extra, right?
To-Do Reports
Sometimes it can be really overwhelming trying to keep track of all your upcoming meetings, scheduled phone calls, and to-do activities, on top of your events and regular day-to-day functions.
CaterZen's To-Do Reports lets you cut out each and every one of those lists separately from the rest, so you can make sure nothing ever falls through the cracks or gets lost in the shuffle.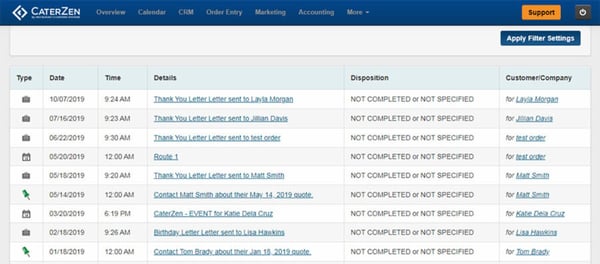 You can build custom reports to include one specific group of information or any combination of them all.
We leave that up to you, so you only get the information you're really looking for. No more digging through piles of unnecessary data just to get a few simple answers.
Data Export Reports
Occasionally, you'll want to generate reports based on things outside of ongoing events.
You may want to review your physical mailing or fax history, to see if there might be a trend that you can take advantage of to save some time or money.
List reports have value too. You may want to review all your delivery addresses, to see if there is a location pattern from where your customers are ordering.
You may want to check on the status of phone or SMS text message communication, or check to see how your menu item lists have changed from one season to another, as well as what's selling the best.

The possibilities are almost limitless; not just in options, but in how different reports can add major value to your future actions, while also saving you time trying to compile information.
What Catering Reports Will You Create?
I don't want you to struggle like my friend.
I've designed CaterZen's report systems specifically to give you every report option my team and I thought might be beneficial. This way, no matter what you're looking to research, we've probably got a report for it.
All easy to access, quick to set up, and best of all, incredibly simple to understand.
I bet you're wishing you had some of these systems at your fingertips right now, don't you?
Well, why not sign up for a free 30-day trial and try it out for yourself? It doesn't even require a credit card!
If you have any other questions before you get started, just give us a call at 1-888-997-3433 and one of our experts would be happy to answer any other questions you might have.
Even our Director of Enterprise Sales, Nell Herman, would be happy to schedule a personalized product demo with you to walk you through anything else you might want to know.
You don't need to generate a report to know that's the kind of customer service you want from your catering software company.
That's the difference you get when you choose CaterZen.