It's that time of the year again.
That's right – every company that's got your email is going to start flooding your email inbox with ads and promotions for every Christmas or holiday sale you could imagine.
Some may only send an email once a week or even once a month. Others might send you multiple per day.
In any case, it's exhausting trying to go through them all. Getting those constant notifications telling you that you've got a new message, only to find out it's yet another sales email, can be incredibly annoying.
I know for me, I try to check all of my emails. You never know when you might find a diamond in the rough. But the moment I see some massive promotional graphic pop up on my screen, I'm reaching for the delete button. If something seems too spammy, why would I waste my time reading it?
The sheer volume of these emails makes it tough to break through all the white noise; not only from your competitors, but every other market that is blanketing their customer lists with the same kind of emails.
But saturated or not, email marketing is crucial for a catering business's success.
How Email Marketing Helps Caterers Grow Sales
You need to stay in the minds of your customers. Getting a customer to buy from you more frequently, spend more money or even just choose you again for their next event is a lot easier than finding a completely new customer.
So, the problem becomes how do you reach your customers without being lost among the tsunami of marketing material thrown at them every holiday season?
CaterZen has a few helpful ways to set you apart. Let's talk about them.
Building Your Email Templates

Email marketing is built directly into CaterZen's catering software, making it a lot easier to get started than if you were trying to set up everything yourself from scratch.
We offer several different email templates for you to start from, depending on the style you'd like to use.
CaterZen does offer HTML emails, but we recommend you use plain-text emails because it offers a much more personal touch.
Why, you ask? Because that's the way that friends talk to friends.
Good marketing is one-to-one communication, not one-to-many.
If your customers feel like you are writing them a personal email, instead of sending them a template you've sent every other customer, they are going to be much more likely to stop and take the time to read your message.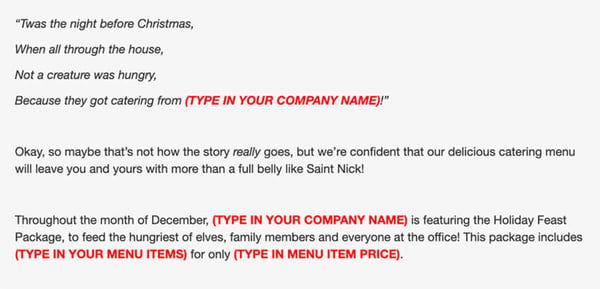 It's not always about the Christmas season. Whether you're planning to run a Valentine's Day-themed promotion in February or some Thanksgiving specials in the fall, we give you the tools you need to get everything set up when it's convenient for you.
Theoretically, you could set aside a day during the slowest part of the year for your business and build every email template you'd like to send out over the next year.
You have the freedom to create an unlimited number of emails to send out either immediately, or save them for future use.
This way, you're not scrambling to find time when you're really busy, and you can devote the time you need to make sure everything is set up exactly as you'd like it to be.
Email Marketing Campaign Ideas to Send To Clients in the CRM
You've decided on your promotions for the next year, and now you're sitting down to write each of your templates ahead of time.
But what do you include? What should your messages focus on?
While it does work in some cases to talk about multiple things in the same message (e.g. "Here are some gift ideas for the holidays…"), it doesn't do you or your customers any good to overload them with a bunch of different promotions at once.
In fact, I would recommend that you write each of your emails about a single, focused offer.
People don't want to read pages and pages of text in a promotional email. Keep it short, keep it sweet and keep it focused for the best results.
Are you recommending end-of-year inventory lunches or booking party room functions? Maybe you want to target clientele for holiday staff celebration events?
These are all great ways to remind your customers of events they may have put on the back burner because they're busy with other tasks.
If they've used you before, by offering a pleasant reminder, there's a good chance you're helping to make sure they choose you when they're ready to book that next event.
How To Get Customers To Take Action and Convert
Every good promotional email needs a call-to-action for the customer.
We don't like to admit it to ourselves, but we all want to be led.
It makes our lives easier when someone suggests something we know we need to do anyway; even more so when they give us all the tools to accomplish that task quickly and easily.
CaterZen's email marketing templates can offer calls-to-action in any way that you believe will best serve you and your customers.
Whether it's offering contact information for the customer to reach you if they have any questions about your current promotions, or simply giving them a link to click to begin booking their next event, these calls-to-action make choosing your business all that much easier.
If a customer has been thinking about setting up an event, but just hasn't set aside the time to do it, presenting them with a "Click Here to Book Now" button takes all the indecision out of what the customer's next step should be.
It might just be the kick in the pants they need to get it booked, so they can take it off their to-do lists.
Everyone is busy, especially around the holidays. The more convenient and appealing you can make it for the customer to choose you over someone else, the more likely you'll see those customers return to you for their catering needs again and again.
Get Started with CaterZen's Email Marketing Module
Speaking of convenience, if you haven't tried CaterZen yet, why not sign up for a 30-day risk-free trial? It doesn't even require a credit card to sign up!
Or schedule a one-on-one demo with our Director of Enterprise Sales, Nell Herman, who will walk you through all the ways CaterZen can help improve the organization of your catering business.
Feel free to call us at 1-888-997-3433 to speak with one of our experts, who will be eager to answer any questions you might have about why CaterZen is the right choice for your business.
It'll be the best present you give yourself this holiday season!