Catering software serves as an integral part of your business operations, offering seamless solutions for invoicing, order management, and reporting. As a forward-thinking SaaS company dedicated to enhancing your experience, we are thrilled to announce the roll-out of three new features specifically designed to boost productivity and streamline operations, especially for our clients with multiple locations.
1. Location-Specific Custom Messaging on Invoices
Running a multi-location business can often entail nuanced communications that take into account the distinct needs and circumstances of each location. Recognizing this, we have updated our invoice template to allow businesses to create custom messages specific to each location.
Now, when your customers place an order, the invoice can feature a tailored message that adjusts according to the location. For instance, you can now dynamically include the mailing address of the specific location on the invoice for easy payment routing. Creating this custom message is as simple as typing a standard message, such as "Thank you for your business. If paying by check, please mail to:" and checking the box for "Include Location Specific Information.

Instantly, the location-specific address you assigned will appear on your invoice.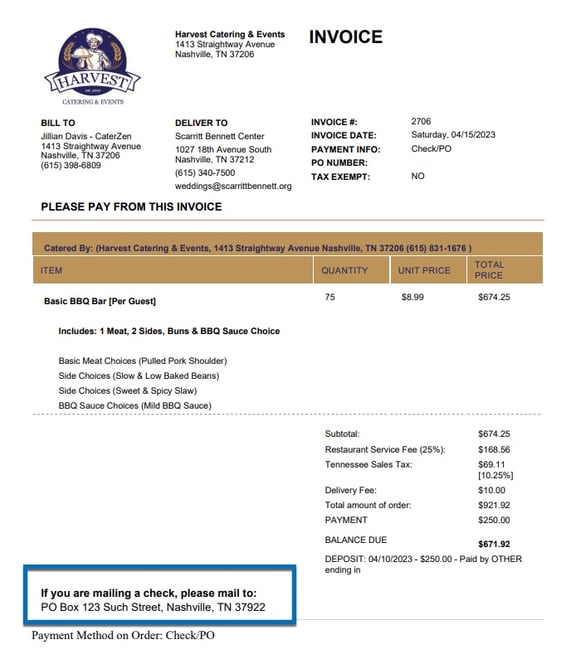 Editing these messages is also incredibly user-friendly. With a simple click on the "Edit Location Info" button, you can change your messages as and when required.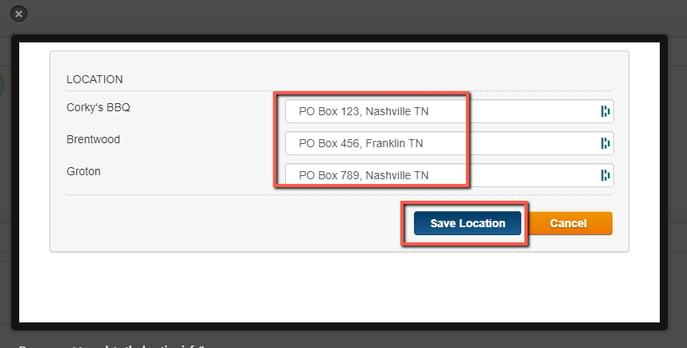 Dive deeper into the power of our new invoicing feature by exploring this detailed support article, or broaden your understanding of all the innovative invoicing capabilities our catering software offers.
2. Enhanced PLU Report

At the core of effective business management is the ability to analyze and act on data. We understand that tracking sales across different locations can be a challenging endeavor. Therefore, we have enhanced our Price Look Up (PLU) report to offer detailed breakdowns of all items sold by location.


Now, you can easily see a comprehensive breakdown of menu items, including options and extras, sold at each location. By simply selecting a date range, the report will show you the total number of times each menu item was sold within that period and the generated revenue, making sales analysis more in-depth and location-specific.
Unearth the full potential of the newly enhanced PLU report by delving into our comprehensive support article.
3. Event Name Integration
Taking the nuance of catering one step further, we've introduced the ability to add an "Event Name" while taking an order. This feature can be used as a code for staff allocation and order differentiation – distinguishing between full-service and delivery orders. Alternatively, you can utilize it as an explanatory field to better understand the context of the order – for instance, Davis Wedding, Bank of America Picnic, and so on.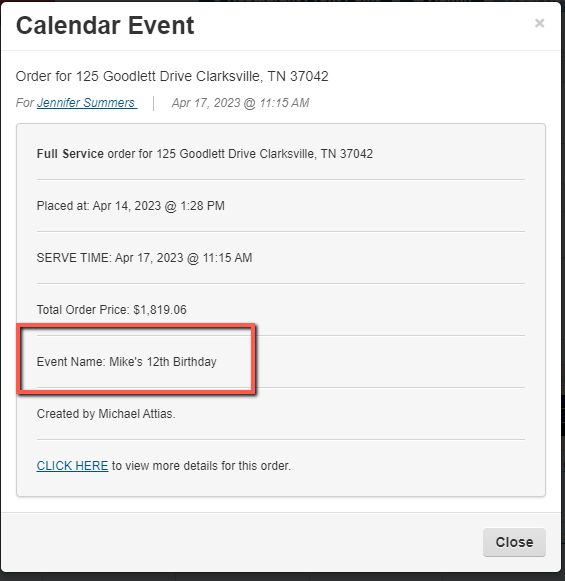 The event name will appear on ticket templates, such as Invoices, Catering Tickets, and Catering Quotes, and throughout the admin interface (overview, calendar, order entry), providing a more comprehensive overview and enabling efficient order management.
Discover how to make the most of the Event Name feature with our detailed support article.
Taking Catering Management to the Next Level with Tailored Solutions
We are confident that these exciting new features will help you take your business operations to the next level, offering more control, clarity, and customization. As always, we remain committed to delivering top-notch solutions that respond to the unique needs and challenges of your catering business.
Ready to experience these enhancements firsthand? Schedule a quick-start training session to explore the power of these new features, or sign up for a 30-day free trial. These are risk-free opportunities to witness the transformative impact our catering software can have on your multi-location operations. Take the leap and optimize your business today with our innovative and bespoke solutions.