For many caterers trying to grow their businesses, competition is fierce.
There are always lots of catering options for any potential clients, but sometimes clients don't want what everyone is offering.
They need something custom-tailored to fit their needs.
This happened all the time to me when I was running Corky's.
A school would contact us looking for a BBQ lunch for some of their students. Seems simple enough, right?
But kids can't eat 1 1/2 large BBQ sandwiches, as we would normally portion for group lunches like this. They only wanted one small BBQ sandwich for each student, and fewer sides to go with it.
So we'd rework our menu to make it fit with the client's request. We'd send smaller buns and less meat, to account for smaller individual portion sizes.
Whatever the client wanted, we'd find a way to try and make it work.
Sure, we charged less per person. But they were getting less food, so we still made good money doing these events. We always hit our margins.
We weren't offering a different product; we were just repackaging it in a way that was personalized to meet our clients' needs.
Providing a Custom Catering Menu Results in Repeat Business
The key here is that a "personalized menu" does more than just optimize your catering event by providing an ideal product to a specific client. We all want to be a part of something exclusive. To feel special.
When someone offers us something different than they normally provide, they're adding value through exclusivity, rather than just offering a discount. It makes us feel appreciated.
It's also a great way to build customer loyalty.
The next time that school needed a BBQ event catered, who do you think they contacted first? It definitely wasn't the "what you see is what you get" caterer, who told them last time that they could have whatever was on the menu and that's it.
The Beauty of Permission-Based Menus
Let's say you're operating a sandwich shop.
You know that your clients really like box lunches, so you offer a sandwich, a bag of chips, a cookie and a bottle of water as a combo.
Then a local kid's camp contacts you because they want to buy some of your boxed lunches. But their kids don't want that much food — it's more than they can eat. They want a half-sandwich and a smaller bag of chips.
You charge $9.99 for your regular size boxed lunch, so you might want to offer this smaller portion to them for $5.99, because everything's smaller.
But you don't want other people to be able to order this menu option, online or in your restaurant. It's something special you're only offering to that specific client, or a small, select group of clients.
CaterZen's intuitive software has the ability to create an unlimited number of unique menu options that are only available to specific customers, and that you can designate in whatever way works best for you.
Whether it's a school, a church or a corporate account, it doesn't matter. When you create a special menu option, you can choose to offer it to one client or all of them, and everything in between.
CaterZen's Online Ordering Platform Makes Catering Menu Customization Easy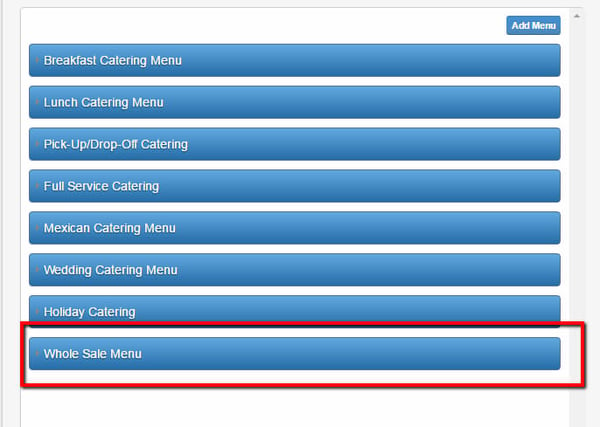 Designing and assigning permission-based menus is incredibly quick to set up and easy to execute through CaterZen's online ordering platform.
Caterers can build any custom menus ahead of time, and then assign them to specific client accounts, so that only those clients can see them.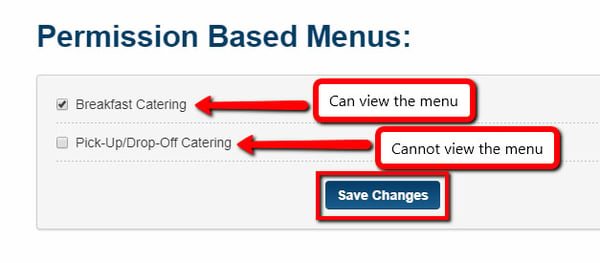 In fact, there are a wide variety of helpful features offered through CaterZen's online ordering platform. Everything from hassle-free, PCI-protected payment methods, to completely custom-designed ordering sites built that showcase your brand, CaterZen's got you covered.
If you'd like to learn more about all the helpful features you'll be able to access through CaterZen's online ordering interface, check out the features of our catering online ordering software.
At the end of the day, freedom is what CaterZen is all about.
We give you all the tools and features you could ever need to help your business run smoothly and efficiently, while also making everything completely customizable to fit your specific needs, as well as the needs of your clients.
From day one, you'll have access to systems you may not have even realized you needed. There are tons of ways CaterZen can help you improve the way you're running your business, but we don't expect you to jump in alone.
Schedule a personalized product demo today and sit down with Nell Herman, our Director of Enterprise Sales, who would be happy to walk you through your first steps to success.
If you'd prefer to speak with one of our CaterZen experts, feel free to call us at 1-888-997-3433, and we'd be happy to answer any questions you might have.
Want to dive in with both feet and try our software for yourself? You can do that too! Sign up for a free 30-day, risk-free trial. There's no obligation and no credit card is required for the trial, so the real question is, what are you waiting for?