We at CaterZen Catering Software get excited about all the "BIG" projects that make it into our program. We have a lot of big announcements coming soon, but sometimes it's the little tweaks and annoyances that can have a huge impact on our clients.
So I want to outline 5 new software improvements you may have caught. If not, you'll want to read on.
5 Catering Software Improvements in CaterZen
From admin settings to new customization functionality, here are the new features we've recently shipped.
1. New Permission Level: Restricting Access To Canceling/Deleting Orders
In the ADMIN area, there is a bubble called Manage Employees under the General Settings section. In this section, you can add/delete and edit employee information and permission levels.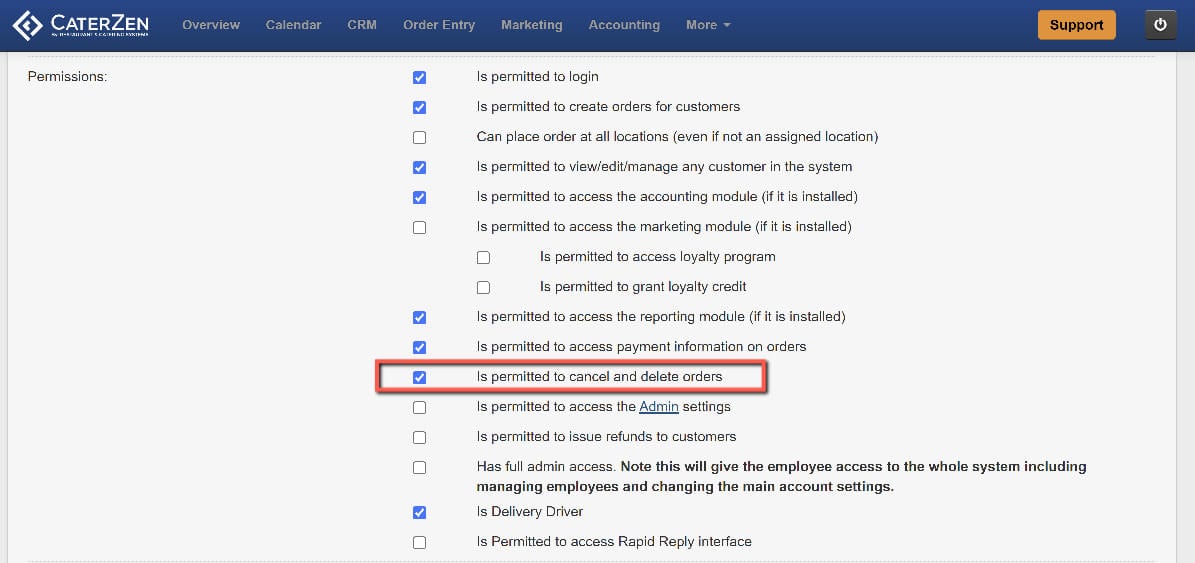 Check this box only if you want the employee to be able to cancel or delete orders. This function gives you more control over orders.
2. Blackout Dates By Order Type
In the ADMIN section under Restaurant Locations, you can access each location and open up Blackout Dates and now select a specific Order Type or multiple Order Types.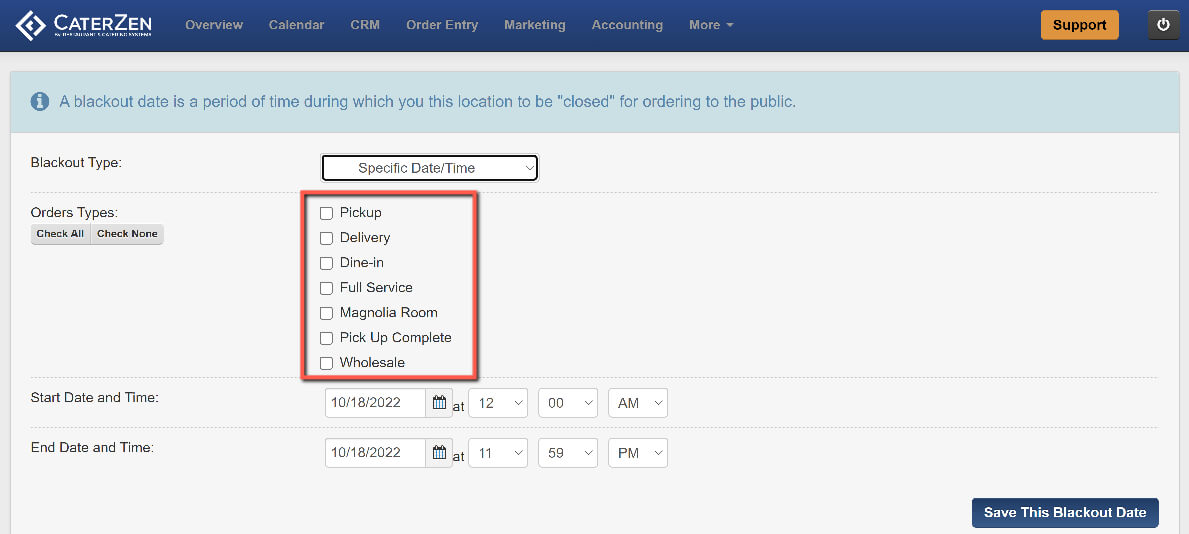 Maybe the day after Thanksgiving, you are booked up with delivery orders to retail stores, so can only accept pick-up orders. Or perhaps you decide to throw an employee party and shut down a few hours early.
You now have the ability to select any/all order types as part of your Blackout Dates.
3. Menu Times By Location
Related to Blackout Dates, is the Menu Times bubble, accessed via the MENU section of the ADMIN area.
There are a lot of functions within Menu Times and we have written a support article that explains them all.
We added the ability to select Location(s) as some of CaterZen's clients want menu times to be applicable to certain stores and not to others.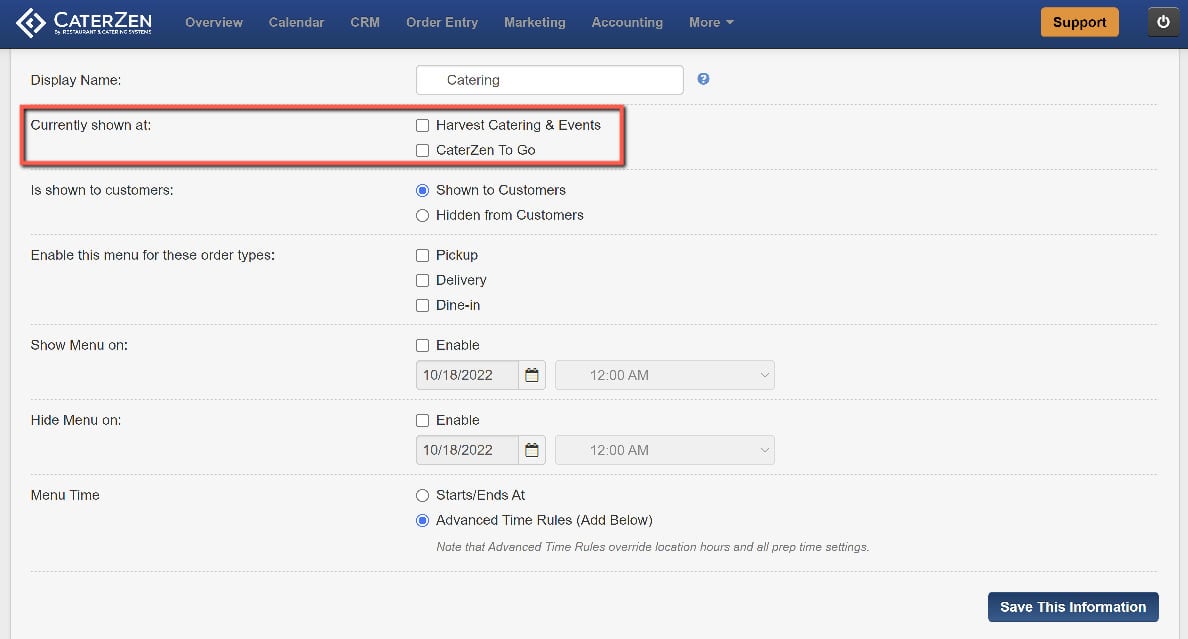 This new functionality gives you even more control over your orders.
4. Customized Addresses On All Ticket Templates
Earlier this year, we upgraded and expanded our catering ticket, invoice and quote templates with a fresher, more modern look and expanded customization.
We have been asked for further customization of the address on these templates. Some clients want the default address to be the store that sold the event. Some of you want the address of record on the account, and others want an entirely different address.
For instance, on invoices, you may want to show the address of the accounting office. On catering tickets, you may want the address of the store that actually handled the catering.
Now you can customize each template to your needs.
Under the ADMIN area, go to GLOBAL SETTINGS and select the TICKET TEMPLATES bubble. At the top of each template, you'll find the area to choose the address that works best for you.

5. One Login. Access Multiple Accounts.
If you are a multi-unit account client, you may be comfortable putting all of your locations under a single account to easily access them.
We do have some clients with multiple concepts or multiple markets, and find it advantageous to split their stores/locations into different CaterZen accounts. Whether it be separate ownership or markets, it's a necessity for many of you.
Logging into one account, logging out, and then back into another account is a major hassle.
At the top of our software, where the name of the person logged in resides, there is now a drop-down list showing the current account you're in with the ability to log into one/multiple accounts.

Once logged into all, you can quickly and easily toggle between them as needed.
If you set up the same email and password for all your accounts, then a single login loads all accounts at the same time. This will save you a ton of time and inconvenience.
Each day, we strive to make major and minor improvements to help the largest number of CaterZen clients.
If you need assistance with any of these new features/functions, please feel free to contact support with any/all questions: Support@CaterZen.com
If you are not yet a CaterZen client, and want to be part of a company that is always looking to help successful caterers become more successful, then sign up for a 30 Day Free Trial or a personalized walk-through of our system.