This past Monday night was a big night for our family. Yet again, the University of Alabama won the National Championship! Roll Tide!!!
My son Jerrod is a HUGE Bama fan. He never misses a game. His grandfather, mother and uncle went to Alabama. I spent many a weekend partying in Tuscaloosa.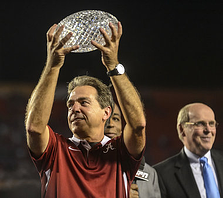 This week's article could be about attitude, as Notre Dame's coach should be fired for his comments at the half. To paraphrase, "The key is Alabama not showing up in the second half."
As the head coach of your restaurant, some times you're in a difficult position. Your job is to share a vision everyone can get behind.
Now back to Monday night. My friends Lisa and Rob threw a small game watching party for their Bama friendly friends. There was enough food for the twelve of us to eat for a week. With no time to cook, I ended up picking up a couple of pounds of peeled and deveined cocktail shrimp and tossing in some of my friend Rhonda's homemade pesto sauce. It was a big hit.
As I looked across the kitchen island and saw a cornucopia of food, I thought to myself, "Imagine the catering opportunity tonight."
Major games, like the upcoming Super Bowl, present an incredible opportunity for the marketers reading this to capitalize on. There will be a ton of parties. I've never shown up to a Super Bowl party without bringing a dish to share. Most guests do the same.
What I will tell you is that I can't remember a restaurant I frequent, sending me even an email to let me know about their Super Bowl food options. This is one promotion when you should be targeting your catering and dining room database.
I want you to think about party packs and trays of your specialties. Jerrod and I love throwing down some wing drummettes at McDougal's Chicken. I could have easily swung by their restaurant and picked up a tray of wings. Oh, that's right. They don't have me in their database. In fact, I never recall them having a way for me to sign up.
You have roughly three weeks to drum up some Super Bowl catering sales.
All it takes is a few well written emails to your lists educating them to your options. And don't forget flyers, table tents and signs.
Let's see if any of my Nashville clients will be "educating" me to their Super Bowl catering options.
Well That's All For This Issue!
Michael Attias
Restaurant Catering Software
P.S. – If you need help growing catering sales, then please go to www.RestaurantCateringSoftware.com and download my free eBook: Cater or Die!
P.P.S. – I make a limited number of time slots available each week for a free Catering Strategy Session with me. For complete details and to grab one of the limited spots, please go to:
http://www.restaurantcateringsoftware.com/catering-planning-strategy-session