Businesses fall under two categories: B2B and B2C.
B2B stands for business to business. These are businesses that do business with other businesses. A great example would be copier companies.
Personally, I love B2B business, like targeting the corporate catering market. It is very easy to rent a list of businesses, find the right target at the company and market to them. Often times you can even market to them at the exact time they are making a buying decision.
Two great examples of this would be targeting retail stores for Black Friday catering and schools for teacher's in service training meals.
Another advantage of dealing in the B2B world is the owner of the checkbook. I find it much easier selling to someone who's spending their company's money.
As much as I love B2B selling, B2C, or business to consumer, can't be ignored.
At Corky's we did a healthy amount of catering directed to the consumer. This would range from someone picking up ten pounds of BBQ to feed a group coming over to swim, to a drop off party pack for a Super Bowl Party.
Our members only website, RestaurantProfitPoint.com has a complete turnkey marketing promotion geared to helping you land your share of another B2C niche, graduation parties.
Click on the link below. Make sure and click on the special report image to download complete details of this strategy.
http://www.restaurantprofitpoint.com/members/department92.cfm
The image below is what you need to click on when you are logged in to the link above.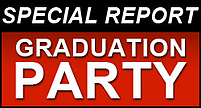 As a general rule, the best place to start marketing catering to the B2C market is your four walls: table tents, signs, banners, flyers, buttons, etc. Your dining room and take-out customers who know you offer catering are the most likely to use your services.
Unfortunately, mass media is very ineffective for promoting catering, especially to the consumer. Think of all the eyeballs and ears you'd have to hit. The net results would be you writing them a check to order catering.
So besides high school graduation parties, weddings, Bar Mitzvahs, bereavement meals and a handful of easily targetable B2C niches, what should you do?
I learned years ago you market when people are buying.
All across America family after family is planning to host holiday parties. Be it a Thanksgiving feast for the family or a festive open house for friends, there are more consumers throwing parties around the holidays.
Super Bowl parties are another large catering time for consumers.
How best to reach them?
The US Postal service offers a program they call "Every Door Direct". It is a very low hassle, low cost way to hit everyone in a carrier route. You can send a large 15" x 12", double sided, full color post card without addressing the cards or renting the list. That's a lot of marketing real estate.
I know of many pizza operators who use this mass mailing service to promote their delivery business.
Why not use one side or half of one side to promote a catering package. I would promote the catering package with the lowest starting price. Just like big box retailers, they use this strategy to get the phone to ring or the buyer in the door. It's the upselling that makes you money.
You may want to offer an incentive like free dessert.
I wouldn't invest the funds to just promote catering with Every Door Direct. If you have something else to promote the roof tops in your neighborhood, like delivery, dine in, family meal deals, a buffet, etc., then definitely get more bang for your buck.
I would only test this strategy around the holidays and Super Bowl, a time consumers are catering en masse.
For more information about Every Door Direct, go to the link below:
http://about.usps.com/postal-bulletin/2011/pb22312/html/info_005.htm
On a side note: Many of you know I'm a big believer in the power of written goals and the role your subconscious plays.
What you think about, focus on and act upon has a way of materializing.
I have been quite the slacker since May. I suffered from a terrible sinus infection that made my teeth hurt so much; I wanted to grab a bottle of Jack and pliers and get fitted for dentures.
I took my kids, Jerrod and Jordyn, to France for two weeks.
As soon as I returned from France, I had sinus surgery to fix my deviated septum.
Right after that, my good friend and fellow CEO Roundtable member Rhonda told me I needed to stop dilly dallying around looking for a new house. The home prices and interest rates were heading up.
She is one of the most accomplished women I know. The way she told me with no b.s., I took to heart.
In less than two weeks I found a house and had it under contract.
I spent the next two months working part time focused on my new home. The first month was spent giving blood, DNA samples and receiving a colonoscopy to get my mortgage…and that was with twenty percent down and a super high credit score.
I also went by the house multiple times a week to take measurements and pictures with Rhonda. She was nice enough to help me with decorating my new place.
The second month, I moved in and immediately dealt with contractors. I had a fireplace with built in book cases installed. The kitchen received a chalkboard and a tile back splash. Of course I had to get a rigged out home theatre.
Rhonda and I went all around Nashville buying furniture, accessories and drapes. I know way more about decorating than I should, but the end result is awesome.
About the time I was finishing up decorating, I actively said it was time to buckle down and focus on work. Low and behold the phone has been ringing off the hook with people interested in our software.
It's funny how all of this works. Put it out to the universe, take action and see great things happen for yourself!
Well That's All For This Issue!
Michael Attias
Restaurant Catering Software
P.S. – If you need help growing catering sales, then please go to www.RestaurantCateringSoftware.com and download my free eBook: Cater or Die!
P.P.S. – I make a limited number of time slots available each week for a free Catering Strategy Session with me. (You also get a catering menu critique and free analysis of your website for "Catering Effectiveness). For complete details and to grab one of the limited spots, please go to:
http://www.restaurantcateringsoftware.com/catering-planning-strategy-session
P.P.S. – Anyone wishing to reprint my articles may do so. Please email me for the bi-line to use for proper author's credits.