Since I was a child, I have always considered myself lazy. Today the politically correct term would be "efficient".
We can go with efficient, as it's a better spin.
When my parents bought their first color TV console, they let me keep their old black and white set in my room. As this set was older than remote controls, I rigged a string to turn it on from my bed.
Unfortunately my childhood skillset was selling; not engineering. So I never mastered turning it off, adjusting the volume or changing channels.
Fast forward to my professional life, and I have always tried to find ways to create systems and processes to prevent problems, speed things up and require less manpower...specifically this man's power.
New Feature Launched: Mobile Order Taking
CaterZen Catering Software originated from thoughts of a software program for Corky's BBQ, the restaurant I worked at in college. Seeing their issues for handling order taking and production planning, I imagined a perfect system for them. But of course, back to this not-being-an-engineer thing, my foray into software had to wait forty-two years to become a reality.
If you are one of CaterZen's OG clients like Frank D'Antona from Cantina Mamma Lucia, you have seen every iteration and improvement in our platform. In the words of Ray Kroc, founder of McDonald's, "We innovate quicker than our competition can copy."
Pre-pandemic, we were slated to launch a Mobile Order Taking function. Like most of our clients, we were forced to pivot development to help with that.
Well today I am beyond excited to announce you can now take catering orders, create proposals, enter client information and much more from your smartphone. No longer are you forced to zoom in and out to use our software for these critical functions.
Whether you are in your car, running around your building or anywhere, your smartphone is now your smarter way to create orders and proposals.
Create Orders
Our Mobile Order Taking interface makes quick work out of creating new orders. Look up an existing client or create one on the fly and turn basic event questions into an order that ends up in our software, your calendar and the client's inbox.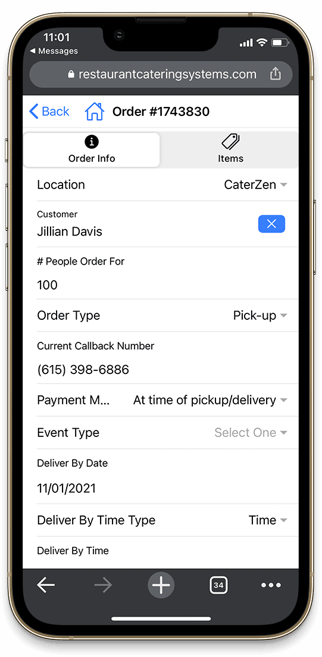 Need to add a credit card number or new delivery address? It's easily doable from one screen.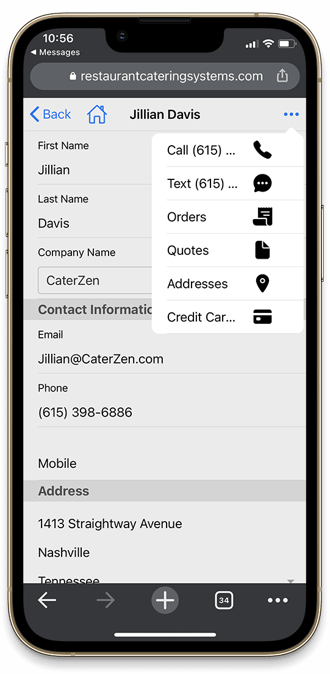 All the robust fields and modifiers you've grown to love and rely on are at your fingertips.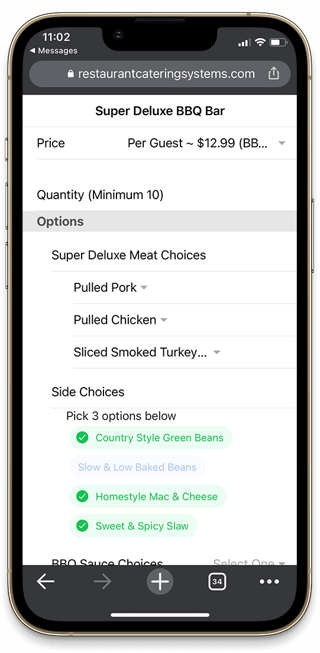 Editing and duplicating orders happens in a snap.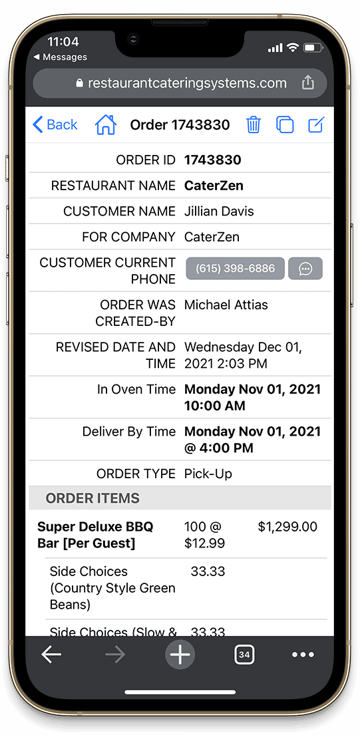 You can kiss "Let me call you back when I'm at my computer" goodbye forever!
Create Proposals
Not everyone is ready to book an event on the spot. Whether for a boss, committee or comparison, some people need a proposal.
The longer it takes to get one created, the greater the odds your competitor gets the booking.
Thanks to CaterZen's Mobile Order Taking interface, you just follow the same process for creating an event...you just hit the "Create A Quote" button to instantly create that quote and have it delivered to your prospect's inbox.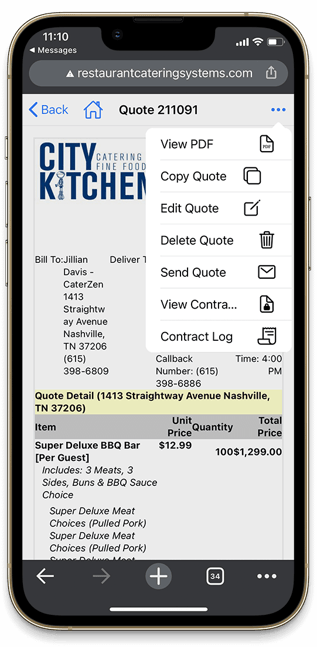 You'll never lose an event due to lack of time.
Add/Edit Customers, Prospects & All Their Info
You have access to a light version of CaterZen's CRM. Create new customers and prospects quickly.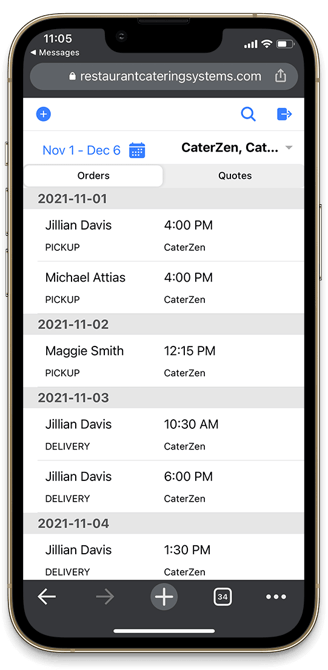 You don't have to wait to get back to your desk to maximize your productivity. Need to call or email a client or prospect? What about editing contact info?
A quick lookup and all that info is at your fingertips.
To learn how to use the Mobile Order Taking feature, visit here.
Over the coming months we will continue to expand the capabilities of the Mobile Order Taking interface.
After all, don't we all want to be a little more lazy...um, I mean efficient.