Growth is by far one of the most important parts of achieving success in any industry.
Catering is no exception to this rule. In fact, in the saturated food services market, you should always be expanding your horizons and growing your customer base.
When I opened my first restaurant back in 1992, I had no ideas about the kinds of challenges I was going to face trying to grow that business. It's been the same experience for every other business that I've run since. It's a constant battle. While you're trying to expand, you also need to maintain what you already have.
As far as growth, we're not talking about franchising your business. That's a completely different discussion. We're talking about getting more catering orders, both through repeat existing customers and finding new customers.
With that in mind, I wanted to talk about some of the ways that CaterZen can help grow your catering business.
Offer Convenience Through Online Ordering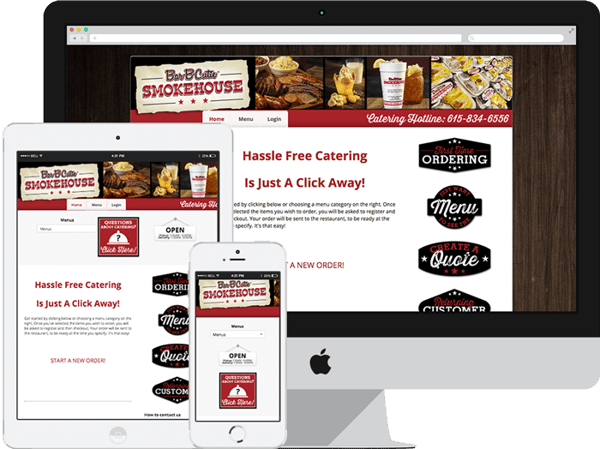 Do you consider your catering business convenient to use? That's a question many catering business operators often forget to ask themselves when they are marketing their company.
It's not always about having the hottest new menu item or the snazziest new logo. Those can be effective features, of course, but at the end of the day, what is the number one deterrent for people when they're choosing a new catering business to hire for their event? They absolutely, positively do NOT want to deal with a hassle.
I know I'm guilty of it, too. Why would I choose to do business with a company that makes doing business difficult? If there's a faster, more intuitive choice, I'll go with the easier one every time.
Let's face it - we've all gotten a little more impatient as our lives become more digital. We want things that are easy to use, and we want them now.
Thankfully, CaterZen offers a ton of software features and systems to help your catering business become more convenient for your customers.
One of our most effective features for growing your catering orders is our online ordering system.
Easily Take Catering Orders Online with CaterZen
Customers can sign in to your customized online portal and place an order with you from the comfort of their own homes or businesses. They never even have to pick up the phone.
Quick. Easy. Convenient.
This has the added benefit of making repeat orders a breeze. If a customer needs to order the same thing for a bi-weekly event, they can either set up multiple queued orders or re-request a duplicate order from a previous event, all from a few clicks.
Your customers will appreciate the time they can save, which means they'll be less likely to go shopping around for alternatives in the future.
Grow Your Catering Sales Through a Personal Touch
There are over 7.5 billion people on Earth, so it's no surprise that people often want to stand out, to feel recognized and to be seen.
This is where providing a personal touch can be one of the most powerful tools at your disposal, especially when it comes to retaining existing customers.
How great do you feel when someone remembers your birthday? Or thanks you for choosing their business? Sure, these are small touches, but they can mean the world to many people.
Automated Email Marketing That is Personal
CaterZen has several auto pilot marketing letters that you can enable. A great example of this is our thank you letter campaign, which automatically sends customized thank you letters to customers after an event, via our web-based mailing service.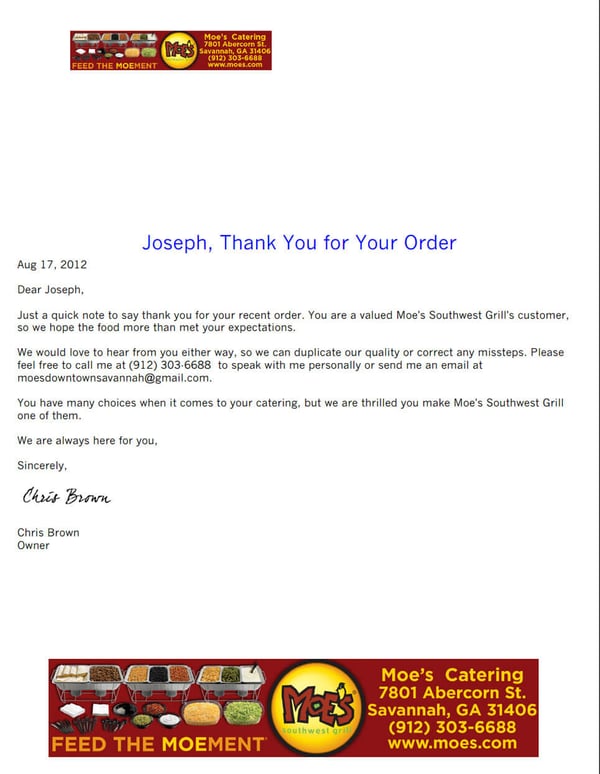 Wish your customers a happy birthday through our birthday letter campaign, and offer them a certificate, for the amount of your choosing, to spend on their next catering order.
Reach out to learn more about how our automated email marketing can help you to increase your orders.
Outgoing Catering Call Reminders
Our VoIP phone system can be set up to offer birthday or re-booking reminders. You can even set reminders for yourself in your CaterZen calendar to reach out to existing customers a few weeks or months ahead of the same time the following year that they held their catering event.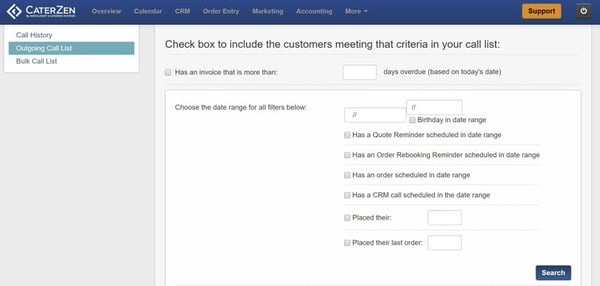 People get busy. Sometimes organizing the catering doesn't end up as high on the list as it should. You could be someone's savior when you call them, seemingly out of the blue, and offer to take that stress off their shoulders, before they've even had a chance to worry about it.
Putting in that little bit of extra effort shows your customers that you truly do value their support because to you, they matter.
You know the expression, "it's the thought that counts". When it comes to making your customers' lives easier and happier, a little thoughtfulness goes a long way.
Manage Personal Relationships with our CRM
CaterZen's amazing CRM system also allows you to provide a personal touch. By being able to instantly access client orders, proposals, invoices, and more in seconds, you eliminate stress for your clients.
You're able to go above-and-beyond, and everyone wins.
More Actionable Tips To Get More Catering Orders
The second article in this series provides you with two more important ways that CaterZen's built-in systems will help you get your quotes on the top of the pile to grow your catering sales. Read about it in How To Get More Catering Orders, Part 2.
Expand Your Catering Business Today with CaterZen
CaterZen makes everything so organized and smooth for your catering business, allowing you to offer these kinds of personal touches to your customers, without spending a lot of time pouring over calendars or organizing order sheets.
If you haven't yet, why not sign up for a demo? Pick a time HERE that works for you, and Nell Herman, our Director of Enterprise Sales, will guide you through everything you need to know to get started.
You can also reach us at 1-888-997-3433 to learn more about how we can get you started with CaterZen, and answer any questions you might have.
Or sign up for a free 30-day risk-free trial – no credit card required! Then you can see for yourself how CaterZen can help you grow your catering business.
You can send us a thank you letter later.