A few weeks ago, in the first part of this series, we discussed some of the ways that you can continue to grow your catering business and get more catering orders. We talked about the importance of offering convenience and giving your customers the personal touch.
This time, I want to take things in a bit of a different direction.
Back in the early '90s, when I took over my first restaurant, I was a bit surprised by how much of the business was catering to, well, catering.
Even then, I wasn't the only catering business in town.
I knew that if I wanted to grow my business (remember when we talked about how important growth is?), I would need to make myself stand out against the competition.
But the technology wasn't nearly where it is today. Putting together a sleek, all-inclusive package just wasn't possible back then like it is now.
Modern Software Technology To Help Caterers Succeed
My proposals were created on excel spreadsheets. They worked, but they definitely weren't pretty.
Sure, we had graphic design, but it was basic. You can tell by the look of a company's older menu, or when you visit a website that was built in the '90s, just how far we've come.
We had to make the best of what we had. I relied on my marketing expertise, and ability to adapt to the ever-changing market, to get a leg up on my competition.
That's why, when I started CaterZen, my goal was to make things easier on my clients than they were for me — to make things more intuitive, more organized, easier to use and a lot more visually appealing for their customers.
It was that mindset which helped us develop the software and systems into what they are today, to help restaurants and caterers with their sales, marketing and operations. Since its creation, CaterZen has added tons of useful, game-changing features, so that our clients can have all the advantages that I never did.
Just like in our marketplace, technology is constantly shifting and evolving. It will always continue to grow and change, because I understand how important it is to move with the times.
If you don't, your competition will. And you'll be left behind in the dust.
Plus, things are a lot faster to set up than they used to be, especially when you utilize the tools CaterZen makes available to you.
I wish I could go back with the tools available now to run my business in the '90s. It would have made my day-to-day working life a lot easier. Fortunately, you can take advantage of all these useful features in your business today, when you sign up with CaterZen.
With that in mind, let's talk about two ways CaterZen's built-in systems will help you get your quotes on the top of the pile, every time: putting together amazing proposals and utilizing the 'Wow Factor'.
Building Catering Proposals That Stand Out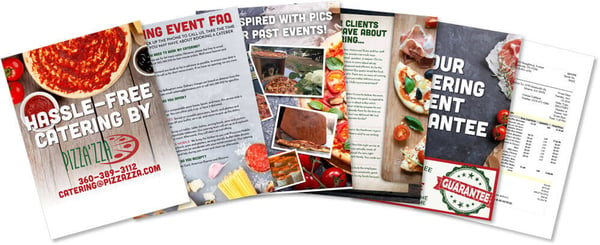 When it comes to getting new clients, nothing has a bigger impact on your chances of landing a new job than the first impression you make on your customer.
Sure, they may look at your website or browse a flyer before they request a quote from you, but the proposal that you put together for that first quote will set the tone for every interaction you have with that customer from that point forward.
That's a pretty huge impact, right? If you don't get the gig, you might not get another chance with that client for a while. Or at all.
So, when you're building proposals, cutting corners just isn't an option.
One of the most important parts of an attention-grabbing proposal is a good use of branding. You want your customers to remember your company, but not just by name.
The ways you brand your company, as well as the services you offer, shape your customers' interest in working with you.
Transparency, consistent presentation, and of course, great branding are the cornerstones of a solid proposal. That's why CaterZen is designed to help you achieve all of those goals.
CaterZen's incredibly intuitive CRM system is designed to make building stand-out proposals quick and easy for you.
The experts at CaterZen will even design a custom quote cover sheet for your proposal, which is guaranteed to make you stand out among the crowd.
It's a branding dream come true!
You'll get all the additional attention, without having to put in a lot of additional work.
If you'd like to learn more, you can check out my recent article about the art of writing a great catering proposal, and how CaterZen's software can help.
Adding the "Wow Factor"
So, you've got a great product and a beautiful proposal package.
That's great, but sometimes it just isn't enough.
If your prices or menu are similar to your competition, there'll be times where you need a little something extra to tip the scales in your favor.
There's no need to stress though, because CaterZen has your back.
Do you plan to offer a holiday discount? Or maybe you're giving your current customers a little bonus for referring you? Both of these are great options for adding value to an already awesome package.
Personally, I'm a big fan of loyalty programs. They do a lot to promote repeat orders, and customers love to feel like they're getting more bang for their buck. It's a win-win.
CaterZen has not one but TWO different loyalty program options for your customers, so you can choose to give back to them in whatever way makes them the happiest.
Gift Certificate Rewards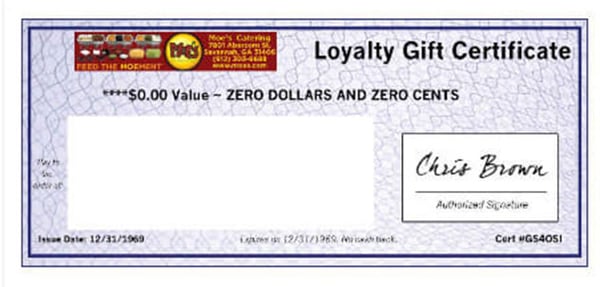 Our traditional loyalty program revolves around customers earning gift certificates for future orders. We also offer additional gift certificates for customers who refer new business.
Customers are a lot more likely to run around singing your praises to other businesses when they know they'll get something for their trouble.
e-Gift Card Rewards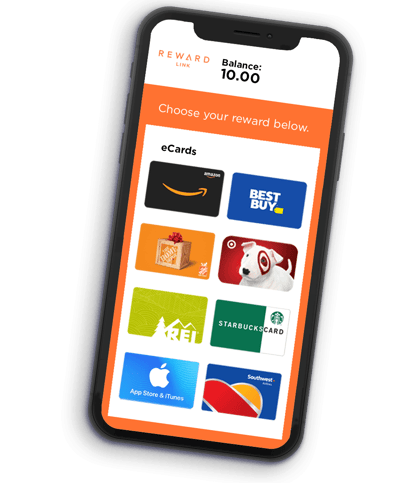 As well, CaterZen recently partnered with Tango Card to start offering our customers a lot more freedom in how they choose to collect and redeem their earned loyalty points.
With Tango Card, your customers can save up points to redeem gift cards for dozens of different retail stores and restaurants.
Together, these features and rewards add a level of excitement to doing business with you, one that they won't get from the competition.
And their newfound freedom is sure to make your customers step back and go 'WOW!'.
If you'd like to learn a little more about CaterZen's loyalty program options, you can read about the loyalty gift certificates and the eCards loyalty program.
Get Started with CaterZen Today
If you haven't yet, why not sign up for a 30-day risk-free (and credit card free) trial?
Or give us a call at 1-888-997-3433 and talk to one of our experts about all the ways that CaterZen can help you grow your catering business.
There's no reason to be intimidated when you're starting with a program you've never used before. You can always schedule a personalized demo with our Director of Enterprise Sales, Nell Herman, who will show you just how easy it is to get started with CaterZen.
Give us a try, and you'll be able to see why CaterZen puts the 'WOW' in 'Wow Factor'!