I thought the two months my girlfriend and I were quarantined this spring would set the record for the most takeout ordered in my life.
I was wrong.
Almost seven weeks ago, she developed COVID-19. My case started four days after hers.
Luckily, besides three days of excruciating back pain radiating through my legs, along with general fatigue and a mild fever, I had it easy. I was all clear after a little over two weeks. Monday I received results of my antibody test. I have them and am good for now.
Unfortunately, she is approaching seven weeks. She is what is referred to as a long-hauler: high fever and lots of painful symptoms that rotate in and out with zero guarantees when it will be over.
How to Improve Your Takeout Sales with Online Ordering
Taking care of my girlfriend following my coronavirus episode, I have relied heavily on takeout. Being a customer of an end product - online ordering - that is like our own CaterZen online ordering solution, I see firsthand the frustration your customers have.
The biggest problem I have seen is most of the restaurants down here don't even offer online ordering for takeout.
So I decided to give you a few points to ponder about improving your takeout business.
Busy Phone Lines Lead To Lost Sales
Takeout customers hate busy signals! These days, callers have neither the patience nor the attention span to sit and listen to a busy signal. Unfortunately, 34% of callers who hang up will not call back to order your food.
That's all but certain to cost your restaurant a lot of sales. However, there is an easy way to increase your takeout sales by up to 50%, which brings me to my next important tip:
Online Ordering Increases Check Averages By Up To 30%
You can't showcase great food over the phone. CaterZen provides you with a custom-designed branded Online Ordering System. You have the ability to upload pictures of every item on your menu to sell more.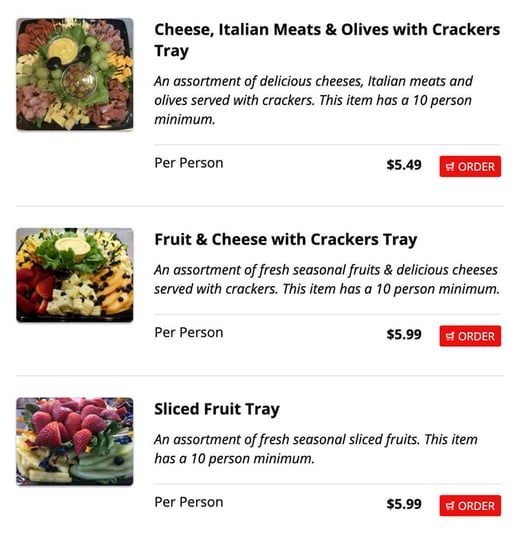 What sales are you losing because the person answering your phone isn't a pro at upselling your food? CaterZen's Online Ordering System has two built-in upsell solutions.
Our Upsell Module suggests high-profit items at checkout and our "Forced Modifiers" make your customer choose YES or NO for recommended add-ons.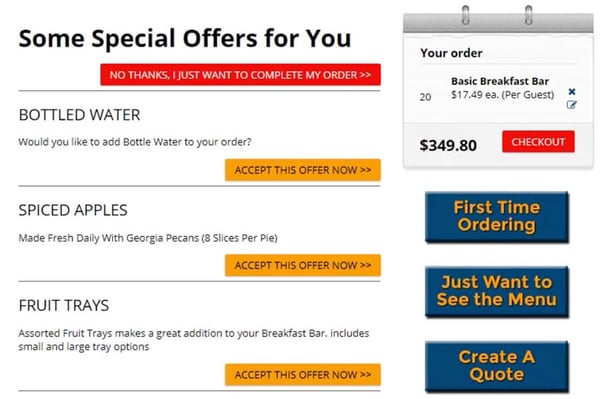 Phone Orders Take Up Your Staff's Valuable Time
If you add up the time it takes to pick up the phone, answer questions about your menu, write up the order and then process the payment when the customer arrives, you are looking at 10 minutes minimum per phone order. Staffing is one of your highest expenses.
CaterZen's Online Ordering System frees up your employees to focus on other things.
Third-Party Food Portals Take All Your Profits
Companies like Uber Eats, Grubhub and DoorDash charge you upwards of 25% of the takeout or delivery order. And they own the customer. Plus, once your customer is on a third-party food portal site, they may choose to order from someone else, resulting in a lost sale to you!
CaterZen offers low-cost solutions to help you increase your profits. If you want to handle delivery, we include a Delivery Manager & Tracker to help you manage deliveries.
Use Marketing To Gain Repeat Customer Orders
The best marketing investment is advertising to your current customers for repeat orders. With CaterZen's Online Ordering System, you are capturing the email addresses of your customers.
Email marketing is the lowest cost tool to gain repeat sales.
Decrease Order Mistakes And Customer Service Problems
It is easy for something to get missed on a phone order. If your staff doesn't write special instructions down properly, upset customers call you back to fix it. Worst-case scenario, they don't call you back, and never order from you again.
When a customer places the takeout order themselves through your CaterZen Online Ordering System, you eliminate complaint calls due to poor order-taking.
Catering Software Feature Roadmap
Though I really thought by now CaterZen would have our new UX/UI for online ordering built and launched, COVID has caused us to take a major step back on that project and pivot.
Our clients are turning more to takeout, curbside, and family meal/bulk family meals to survive this economic downturn. We are improving what we have with a major focus on making the experience your customers have on our online ordering system frictionless.
You might have read about some of the recent feature improvements, and we will continue to report more as they go live.
We Need Your Feedback!
There are three areas we're looking for feedback on. Feel free to leave a comment, or reach out to us as support@caterzen.com.
1. Family Meals
If you offer family meals in bulk that get picked up or delivered only certain days of the week, please let me know what features you would like to see. We are going to start programming those soon.
2. Deli Kiosk
If you happen to own a small grocery store or market and offer sliced deli meats, bulk salads, etc., are you finding long lines to order are turning your customers away?
We have been asked to build a Deli Kiosk application. Your customer would scan a QR code and be taken to a mobile-friendly version of your deli menu. They would punch in their order, enter their first name and cell number. They can then do their other shopping. Your deli counter would get the order via a tablet to produce in order. Once an order has been completed, your staff would hit a button on the screen and the customer is texted to come back and get their order. This saves your staff a lot of time taking orders and prevents lost sales due to long lines.
Thoughts? Please let me know if you have feedback or would like to beta test.
3. Busy Signal Solution
With our VoIP system, we can program a text message auto-reply to your customers who get a busy signal when calling you.
So imagine I call your restaurant and get a busy signal. Your staff is busy taking other orders. To keep from losing me, you would forward all of your busy calls to a number we set up for you. Your customer would get sent a text via our system with a customized message like:
Thanks for calling Corky's BBQ. Sorry, we are on the line helping guests like you. If you need to place a takeout order, please go to: https://www.corkysonline.com
Maybe we could also email you or text you the number of the missed caller, so you can call them back.
I have a friend using technology like this successfully in his retail stores.
Would you be interested in this service? Please let me know your thoughts.
What would you pay for a service like this? Just think about the value of picking up some of the lost takeout orders you're losing to busy signals.
In closing, we have updated our pricing page to reflect the features of our new plan, Online Ordering Plus (if you don't need catering software). Please check out the included features: https://www.caterzen.com/pricing
Thanks in advance for your feedback, and please stay safe out there!