Since catering is a highly competitive industry, finding creative marketing ideas can make all the difference in boosting your catering business in 2023. In this article, we'll explore ten ideas to help you stand out from the competition and attract more clients.
1. Host a Tasting Event
One effective way to showcase your catering services is to host a tasting event. Invite potential clients to try your food and see your presentation style in action. This can be a great opportunity to establish relationships with clients and generate leads.
2. Email Marketing
Email marketing for catering is a powerful tool for catering businesses to reach their target audience and stay relevant in their inboxes.
CaterZen's catering software provides built-in email templates that put selling on autopilot, allowing you to create custom email campaigns and newsletters to send out to selected clients or prospects in your CRM. The software offers multiple customizable email templates organized by month, making it easier to hit specific groups of clientele. Each template is completely customizable, giving you the freedom to modify them to fit your company's branding, style, and tone.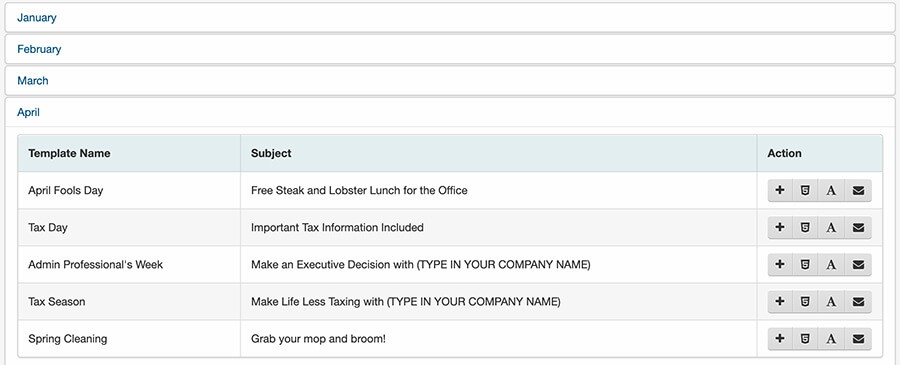 CaterZen also allows you to plan ahead with email campaigns, so you can prepare your email templates as far ahead of time as you'd like and then set a predetermined date to send them out to the designated email groups.
With CaterZen's convenient catering CRM integration, you can quickly designate groups of previous customers to target, making it easier to send out more precisely targeted campaigns that will ultimately lead to more sales and growth for your catering business.
3. Loyalty Programs
Creating a loyalty program can encourage repeat business from satisfied clients. Consider offering incentives such as discounts or free services for repeat customers or referrals.
CaterZen's catering software offers relevant tools to help catering businesses implement effective loyalty programs for their customers. With the Autopilot Marketing Gift Certificate program, customers can receive a percentage of their order back in gift certificates to be used for future purchases. These gift certificates are automatically printed with the restaurant's branding and mailed out to clients without any manual effort required.
CaterZen has also partnered with Tango Card, allowing CaterZen clients to offer over 80 different electronic gift cards as rewards for repeat catering purchases and referrals. These diverse options for loyalty rewards encourage customers to come back for repeat orders and refer new clients, ultimately building more happy customers and repeat business for catering businesses.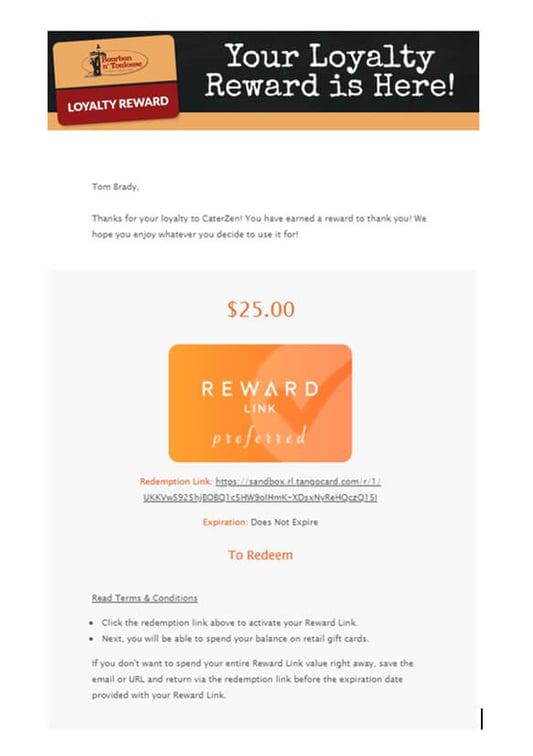 4. Referral Programs
Referral programs are another way to generate leads and attract new clients. Offer incentives for clients who refer others to your catering services, such as a free appetizer or a discount on their next order.
CaterZen's catering software is an excellent tool for generating referrals from your satisfied customers. CaterZen's marketing system is designed to regularly solicit catering referrals from your clients, making it easy for you to create an effective referral program. The system is modeled on the old MCI Friends & Family plan and is designed to reward customers with gift certificates when they refer friends, family members, or business colleagues to your catering services.
CaterZen's referral tracking code ensures that customers receive credit for all future referred sales. By rewarding referrals, you increase referral activity and, thus, generate more leads for your business.
5. Social Media Advertising
Social media platforms like Facebook and Instagram can be a cost-effective way to reach potential clients. Consider running targeted ads to showcase your services and promote special offers or events.
6. Marketing Calendar Reminder System
A marketing calendar reminder system can help you stay organized and ensure that you're consistently promoting your catering services. Use a calendar to schedule regular email campaigns, social media posts, and other marketing efforts.
CaterZen's catering software is the perfect tool to help you implement an actionable catering marketing calendar. With CaterZen's marketing calendar feature, you can easily create and track multiple marketing ideas and campaigns all in one place. The calendar is custom-tailored to your needs, allowing you to schedule regular email campaigns, social media posts, and other marketing efforts.
Additionally, CaterZen's marketing reminders feature enables you to set notifications for yourself or anyone else with access to your CaterZen account through email, text message, or pop-up windows. This way, you can ensure that you don't forget any important marketing tasks and stay on top of your catering business's promotional efforts all year round.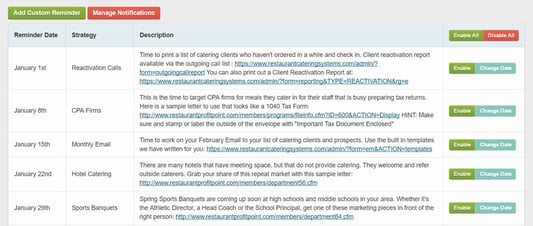 7. Postcards
Sending postcards to potential clients can be a unique and memorable way to showcase your catering services. Consider including a special offer or discount code to encourage potential clients to book your services.
CaterZen's catering software provides the perfect solution for catering businesses looking to send out promotional postcards to potential clients. With our software, you can easily create a postcard that showcases your services and includes a special offer or discount code to encourage potential clients to book your services.
Our software ensures that your postcard meets the exact size and white space requirements for postal use, making it easy for you to mass mail it to your database.
To help streamline the design process, we also provide a general folder with popular design files included, so that your designer can get the sizes and trim lines exactly right.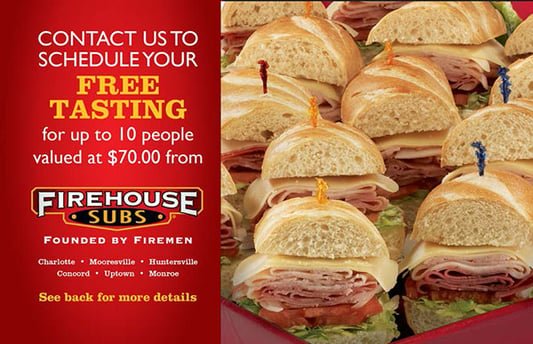 8. Collaborate with Other Businesses
Partnering with other businesses can be a great way to reach a new audience. Consider collaborating with local event planners, wedding venues, or other businesses that can help promote your catering services.
9. Attend Trade Shows
Trade shows can be an excellent opportunity to showcase your catering services and network with other industry professionals. Consider attending local trade shows or food festivals to generate leads and build relationships.
10. Host a Charity Event
Hosting a charity event can be a great way to give back to the community and generate positive publicity for your catering business. Consider partnering with a local nonprofit organization and offering your services for a fundraising event.
Promoting Your Business with Catering Marketing Software
By staying organized and consistent with your marketing efforts, you can establish a strong presence in your local community and build lasting relationships with satisfied clients.
If you're looking to implement some of these creative marketing ideas for your catering business in 2023, you'll be pleased to know that many of them can be planned and executed easily through our catering software. With features such as email marketing, loyalty programs, referral programs, marketing calendar reminders, and postcard campaigns, you'll have everything you need to take your marketing efforts to the next level.
So why not sign up for a free 30-day trial of our catering software today, or schedule a quick-start training session to get up and running quickly? With the right tools and strategies in place, you'll be well on your way to growing your catering business in 2023 and beyond.