I don't need to convince you that food delivery is the key to your success during this critical moment in our industry.
But perhaps you'll need some convincing why CaterZen's takeout and food delivery management software will provide much greater benefits to your business than other third-party delivery apps like DoorDash, Uber Eats, and Grubhub.
Yes, it seems really simple to sign up for one of the delivery apps, upload your menu, and voilà - you're off to the races.
But nothing is as simple as it seems.
Spoiler alert: providing delivery through a third party instead of your own systems can reduce your profits and affect your client relationships.
On the other hand, CaterZen is supporting restaurants and caterers to manage their own delivery services, through our integrated suite of sales, management, and marketing tools. You retain more of the profits, while providing smooth, safe, and accurate delivery services to your clients.
So what's the big deal about CaterZen's delivery management solution? Let's take a closer look at 5 ways that your business will benefit, compared to using a third-party delivery app.
1. Avoid introducing your customers to your competitors
If you're sending your hard-earned customers to a third-party ordering portal, then you're introducing them to a lot of your competitors. Do you want your customer going to Grubhub to order your Italian food, only to have them discover other options? "Wait. We can have BBQ from Corky's instead!"
Instead, you can send your clients to your website, where they can order from you through an online ordering portal provided through CaterZen, ensuring you keep clients focused on their primary mission: to get great food from you.
2. Maintain 100% of the customer relationship
Now, more than ever, people want to do business with companies that they trust.
But as soon as your food gets handled by an intermediate service that you can't vouch for, problems can arise. And this will reflect on your business, not just the third-party service.
Do you think a client will order from you again if the third-party delivery driver doesn't provide your food properly or professionally? Or what if the client made a mistake when ordering through the third-party portal?
CaterZen allows you to manage the entire delivery process, from ordering through delivering to your destination. This not only ensures that the correct order is delivered, but it also allows you to communicate with your clients throughout the process.
During this time of uncertainty and concern, offering assurance that your delivery processes are optimal for the pandemic is vital.
You can let clients know that you take their health and safety very seriously, and educate them on how you're taking the necessary precautions. In addition to giving customers peace of mind that their food is handled properly from kitchen to doorstep, you can also keep them updated on where their food is every step of the way.
3. Keep 100% of the sales
If you've got the ability to deliver your own food, we've got the tools to help you do it affordably and efficiently.
While there may not be an initial fee to get started with a third-party delivery app, they'll be taking a cut of your profits, sometimes as much as 25% of your sales!
Through a subscription to CaterZen's software, not only will you retain all of your profits for each delivery, but you'll also have access to our full suite of operations, marketing, and sales tools.
Speaking of which:
4. Delivery management integrated with a full suite of tools
On its own, our Delivery Manager will be a game-changer for your business.
But what really supercharges your sales growth is the fact that the Delivery Manager is fully integrated with all of our other software tools:
Plus many more tools to help you not only survive, but thrive, during the pandemic, and beyond.
Learn more about how all of these tools together can help you sell more takeout and delivery.
5. Unparalleled delivery management software
Finally, there's the Delivery Manager tool itself!
Our delivery manager with driver's mobile app tools was already one of the most popular and profitable features from our suite of operations tools. Our clients are seeing an average growth of sales 16% year-over-year when using this feature alone!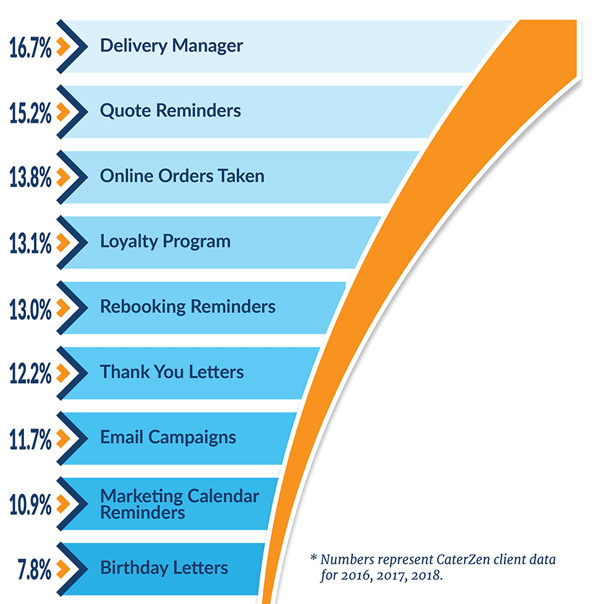 In light of recent circumstances, we've invested an additional 48 hours of software development to enhance our delivery tools even further.
The software and driver's mobile app can easily help you handle deliveries like a pro.
From drag 'n' drop order routing: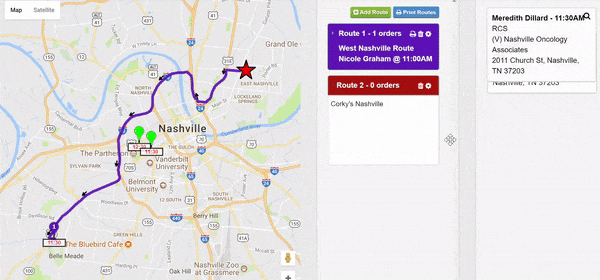 to tracking drivers and orders in real time: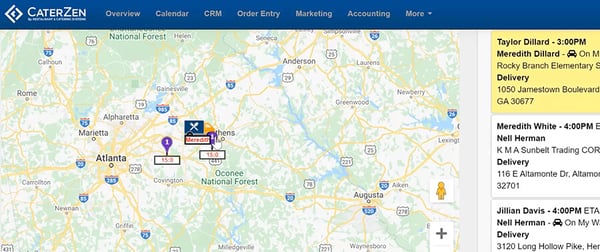 to letting your clients track the driver and order: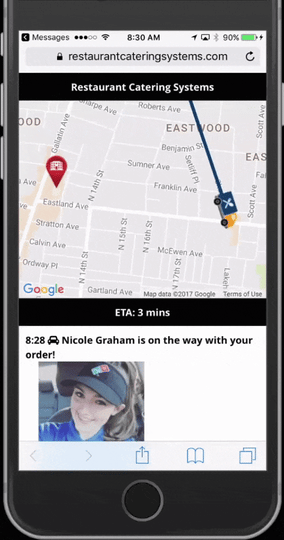 to a feature-rich driver's mobile app: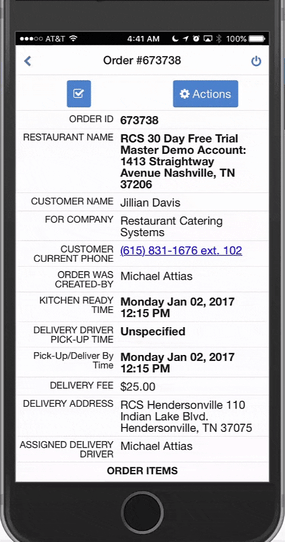 Learn more about our Delivery Manager and Driver's App.
Get Started With CaterZen's Takeout and Food Delivery Tools
Don't take my word for it. Simply take a free 30-day trial of our software, and see for yourself how easy and effective our takeout and delivery tools are.
You can also schedule a personalized demo with our Director of Sales, Nell Herman, who can walk you through our software and systems, and answer any questions you might have.
Technology is what's going to get you through this time, but choosing the right delivery app provider will be the difference between allowing you to make some short-term sales, versus continue to build long-term relationships with your clients. CaterZen will deliver on this promise.