From the feedback we receive from many of our CaterZen Catering Software clients, taking and processing ezCater orders is a necessary evil.
Though I could pontificate for days about ezCater, the positives and negatives, I am going to focus on how to more easily handle and process your ezCater orders in your CaterZen Catering Software.
ezCater Orders Integrated with Catering Software
Up until now, our clients wanting to add ezCater orders into their production and delivery workflow had to find a hack to enter these orders into our software. CaterZen didn't have an easy way to keep up with all the ezCater fees on their tickets. Sales tax is a penny or two off due to their rounding formulas versus ours.
A check comes in from ezCater. How do you know which orders the amount covers?
We have solved those problems for our clients with a new ezCater Order Taking module.
How CaterZen's ezCater Order Taking Module Works
There is a customer in your CRM called "ez Cater" with a company called "ezCater". This contact is undeletable. The "Ez Cater" contact is set up as a house charge client to keep up with their outstanding accounts receivable orders and balances.
Every single ezCater order is searchable.
When you go to enter the order, select "ez Cater" as the customer and enter the order just like a non-ezCater order. There is a field to enter the ezCater order ID number. If you are delivering the order, enter the name and address as an additional delivery address.
Then proceed to enter the date/time, items ordered, etc. Make sure ezCater's subtotal matches your subtotal. If not the same, you can easily edit any line item price.
At the bottom of the order entry page, there's a place to enter fees/numeric fields specific to ezCater orders.
The ezRewards Program and the ezDispatch Fee are entered and show up in red with a "-" (negative) sign indicating subtractions from the total due.
The ezCaterer Service Fee is entered and shows up as revenue due from ezCater (positive number in black).
You can enter the sales tax ezCater has calculated to charge. No more rounding errors. And there is a field to enter the sales tax remitted by ezCater.
And at the very bottom of the Order Entry screen, there is a place to enter the total amount and the total net amount ezCater is giving you for the order. The ezCater fee is automatically calculated, so you know exactly the breakdown of the order and the net amount you are due.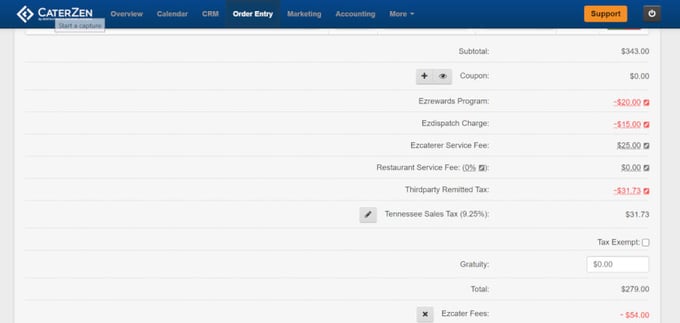 This will show up on your Accounts Receivable Aging Report, so when a payment from ezCater comes in, you can easily reconcile and mark invoices as "paid".
Every single ezCater order is searchable by the ezCater Order ID they provide. If any question about one of their orders arises, you can pull the ticket up quickly.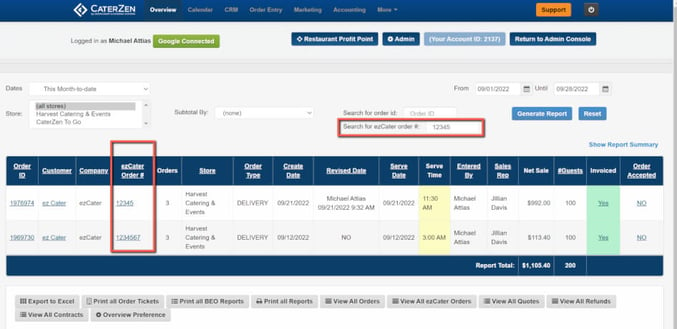 And thanks to CaterZen offering a way to attach PDFs to any catering ticket, you can even upload a copy of the ezCater order for future reference.
On the reporting side, we have added all of the ezCater fees and sources of income into the Sales Journal Report. You can now easily keep up with how much you have sent ezCater for the orders you've received. This is a great report to run for the year.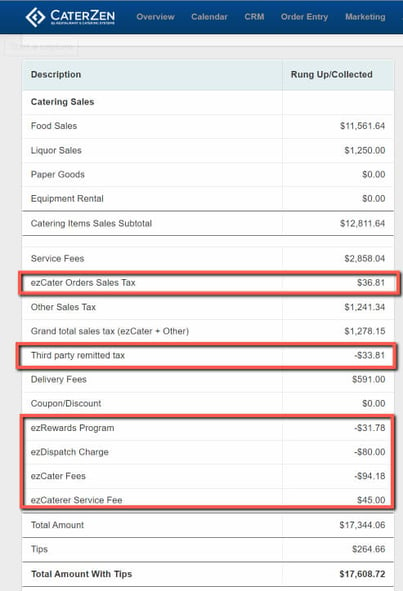 Our Sales Tax Report now comes with an ezCater Sales Tax Report feature. Your bookkeeper can pull up all the ezCater sales for the month and calculate sales tax due and deduct what ezCater remitted on your behalf.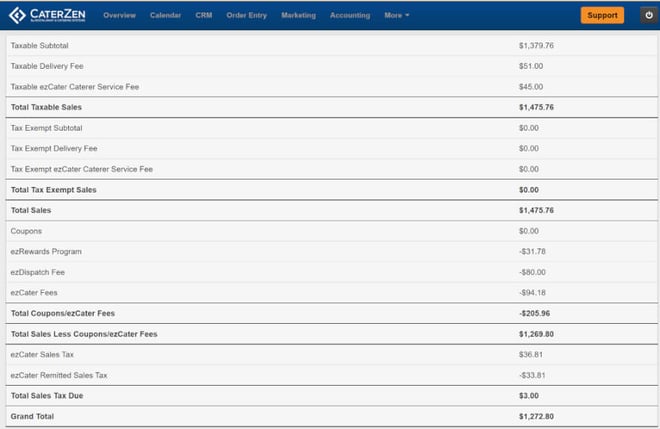 The ezCater module is available for all clients on the Marketing Pro Plus plan. Please send an email to support@CaterZen.com to have this feature turned on for you.
If you aren't a client yet, you can either sign up for a 30-Day Free Trial or a personalized walkthrough of the software.
The landscape and needs of caterers are ever-changing. CaterZen is listening and working to give our clients the features they need to save time, generate more catering sales and ultimately lead to a better quality of life!